Every Gaither Homecoming concert includes a few priceless moments that audience members have come to expect. At some point in the evening, you just know that David Phelps is going to hit one of those stratospheric high notes, Mark Lowry is going to make merciless fun of Bill, and sound engineer Rory Rigdon is going to stare straight into the camera and give "the look."
For those of you that have never seen it, "the look" is a little hard to describe. Suffice to say it falls somewhere between deadpan and startled, with a dash of Buster Keaton and deer-caughtin- the-headlights thrown in for good measure. Speaking to me from his home in Asheville, N.C., Rory laughs good-naturedly when I ask him to give me the backstory on how a single facial expression became his comedic claim to fame.
"Well," he begins, "back in 2005, my good friend Kevin Williams left the Homecoming tour for about 18 months. His girls were really little at the time, and he just felt strongly that he needed to be home more. I want to go on record as saying Kevin Williams is one of the funniest guys I have ever known. Bill can make one little mistake on stage, and Kevin will work that for the rest of the night! But he was leaving, and of course Mark had already gone, and we weren't really using a lot of comedians on the tour at that time. Somehow Kevin managed to convince Bill that I was funny, so they moved me out from behind the soundboard to sitting on stage, playing the bass and being on camera."
Rory continues, "I was doing a lot of the same lines the other guys had used, and it was working pretty well, although my humor isn't nearly as quick and quippy as Kevin's. One night Bill was setting me up for a comedy bit, and for some reason I just decided to lock my eyes on him with a completely straight face and try to get him to break up. I thought, 'I'm not going to crack a smile or say a word until he laughs.' And he did! He totally lost it and the crowd loved it." According to Rory, "the look" has not changed one ounce from that first night, though there are now several variations on it. The crowd's all-time favorite version has Bill sidling up beside Rory and doing "the look" with him until Rory suddenly turns and kisses Bill on the cheek! "To this day someone comes up almost every show and asks me if I'm gonna kiss Bill tonight," he grins.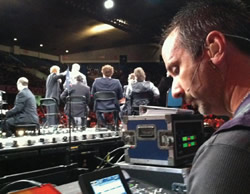 When Kevin Williams rejoined the Homecoming Tour in 2007, Rory was more than happy to step out of the spotlight. But by that time "the look" had taken on a life of its own, and as Rory recalls, "Bill said, 'H-h-hey, this is funny stuff!' So we kept it in, but I did get to go back to what I do best, which is running the monitors."
Sitting behind the monitor board is indeed Rory Rigdon's dream job. Born to a Baptist preacher father and a church pianist mother, Rory and his two older sisters grew up in northwest Florida, but moved to Asheville when he was 13. His dad loved to go to singing conventions, and music was always a big part of their family life. A high-school athlete who lettered in four sports, Rory also sang with his sisters at church—for a while, anyway. "When my voice changed, it went from something musical to something ungodly," Rory laughs. "So I stopped singing. But I still loved music, so right after graduation I got myself hired as a go-fer for the Kingsmen Quartet, just helping out with whatever needed to be done and traveling with them everywhere. I'd followed those guys since I was a kid, so man, I was loving life!"
Rory decided to make himself indispensable to the group, so he started teaching himself to play the bass while simultaneously learning everything he could about running sound. "Sound has always been my first love," Rory admits. "But Anthony Burger was playing for the Kingsmen at the time, and he started showing me some things on the bass. Eventually I ended up playing bass full time and I was with them for about 10 years."
By 1998, traveling 280 days a year had lost its appeal for Rory and he left the group. By that time he had also met a beautiful girl named Melody and was starting to imagine a future with her. But just when he was thinking of slowing down, fate intervened in the form of the Gaither Vocal Band. Rory was running the monitor board at the National Quartet Convention when Guy, David, Mark and Bill came in to do their soundcheck. Apparently he did such a great job that by the end of the day, Bill asked him if he would like to help out on some upcoming productions such as Praise Gathering, Homecoming video shoots and Jubilate. "So it started out as 'come do this' and 'come do that,'" Rory says. "The next thing I know it's 13 years later, and I jokingly say, that I'm still not sure I've ever been officially hired!"
Rory's passion for his work is evident. "Being a monitor engineer is unlike any other kind of audio engineer in the world, in that we work so intimately with the artist," he explains. "Through those little things in their ears, I completely control what the singers and musicians are hearing onstage. I take pride in doing my best to make the artists comfortable enough that they don't even have to think about audio; they are free to just pour their hearts out. If they are distracted by what they're hearing or not hearing, their performance won't even make it off the stage. It's a difficult job, because I have to be right on it every time a singer opens his mouth, always watching and monitoring. My favorite part is that I get to be with the artists; I literally live and breathe those guys. A lot of what I do is technical, but to be a good monitor engineer you really need to be musical, too, and I absolutely love this music. So I may not be able to tear a console apart and put it back together to save my life, but I sure know what my Vocal Band needs to hear when they're onstage!"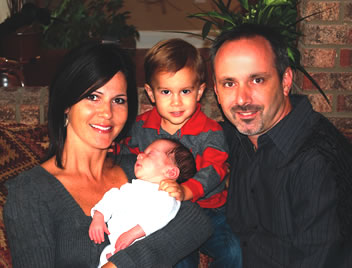 These last 13 years have been busy in other ways, too. Rory married his Melody, and they are now the proud parents of Kruz, 2, and his brand new baby brother Sohl (pictured above). "I don't recommend everybody wait until they're 40 to have kids," Rory says, "but I'm glad we did. I married the woman of my dreams, and now I'm father to two precious little boys. I get to work at the coolest job in the world, turning knobs and making people laugh just by doing a funny look. Honestly, I'm almost embarrassed by all of my blessings, and I can't wait to see what's next!"