When country superstar Vince Gill married Christian music sweetheart Amy Grant 11 years ago, local Nashville wags joked that they were the perfect musical tag team: Vince's music could take you honky-tonkin' on a Saturday night, and Amy's could get you saved come Sunday morning! When I recently catch up with Vince after a long concert weekend in Canada, and (have the questionable taste to) remind him of that quote, he laughs good-naturedly. "You know, maybe there's a little bit of truth in that. I've always said that Amy and I are basically singing to the same people. I never did really see a whole lot of necessity for labels anyway, because lots of songs don't fit into just a 'gospel' or 'secular' slot!"
Not surprisingly, Vince's early musical influences include a little bit of everything. He was born April 12, 1957, in Norman, Oklahoma to a federal judge father who played part time in a country music band and a homemaker mother who played a mean harmonica. His parents recognized Vince's passion for music early on, and encouraged him to learn to play the guitar and banjo when he was just a little guy. He progressed rapidly, eventually mastering the piano, mandolin, fiddle and Dobro as well. But Vince immersed himself in all kinds of music, teaching himself songs and chords by listening to a record collection that contained everything from folk music to country, bluegrass, jazz and rock. "I'm especially a fan of black music of all kinds," he tells me. "I'm drawn to any kind of blues derivative in a big way, whether it's Ray Charles, Mavis Staples, Aretha Franklin, Billie Holiday—it doesn't matter. It just moves me. There's always a bit of a sadness to it, but the music is just so free.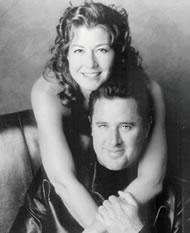 "When I really started progressing as a musician," Vince continues, "the music I studied the most was the bluegrass stuff, which was a totally different style, totally different kind of instrumentation. And gospel was a huge part of that music, too. It's funny, because since I married Amy, people always just assume that I've been around gospel music my whole life," Vince grins. "But I actually haven't! I remember seeing the Goodmans when I was a little boy, and I watched some of the gospel shows on Sunday morning. My family didn't have much of a church life, so I didn't sing in quartets or in the choir. Most of the experience I had was just me as a young teenager, kind of searching and trying to figure things out and whatnot. I did know a few gospel songs, and my church-going grandmother would sometimes play the piano around her house on the weekends when we would come visit. In fact my first conscious memory of music is of her playing "How Great Thou Art," so that song has always been the one that has the most meaning for me."
That song is also at the heart of a now-famous performance this past April in Las Vegas, when Vince joined Carrie Underwood in a jaw-dropping rendition of the classic hymn that brought the audience to its feet and threatened to turn the ACM "Girl's Night Out: Superstar Women of Country" concert into a revival meeting. The next day the press ran out of superlatives, trying to describe the moment with phrases like "joyously uplifting" and "emotionally powerful showstopper" splashed across the news media and Internet. "The whole thing was just unbelievable," Vince marvels. "Over seven million people have watched that video of 'How Great Thou Art' on YouTube now. Everybody got all excited when it 'went viral,' but I don't even know what that means!"
Of course, once the subject of videos comes up, the talk naturally turns to Bill Gaither. Vince's indelible presence was prominently featured in the Homecoming Country Bluegrass videos, and his achingly beautiful rendition of "Go Rest High On That Mountain" with Sonya and Becky Isaacs remains an all-time Gaither favorite. Vince recalls the first time he ever hung out with Bill and Gloria: "We hit it off immediately! It's hard not to, they are both so engaging. There's this one story Bill told me that I've never forgotten, and I use it all the time. He told me that on the very first date he ever had with Gloria, he barely had any money. So they go out to a restaurant and sit down and he says to Gloria, "I'm JUST gonna have a grilled cheese sandwich—what are you JUST gonna have?" Vince belly laughs and says, "That still cracks me up! Here's the funny thing: I eat breakfast at the same place every morning here in Nashville, and I have a lot of the same folks that wait on me and know what I like to eat. And every time I go in there one of them will say, 'So, what are you JUST gonna have this morning?' It stuck!"
Vince has also taken the opportunity to have some serious songwriting discussions with Bill and Gloria over the years. "I think it's so interesting to see what I'm drawn to write about at 54 as compared to when I was 24. It seems like the songs I write these days have a different depth to them. I guess you could listen to some of them and think they're gospel, though that wasn't really the intention. I'm just trying to write songs that are relevant to anybody. Bill once said to me, "What you have going for you in such a great way is that your songs are not all filled up with God-speak or Christianese. I think the best way to describe them is that they truly come from a place of pure storytelling." Vince pauses, and then says, "I take it as a really neat compliment that Bill Gaither kinda likes the way I write songs!"
Bill is not alone. The music industry in general and Nashville in particular consider Vince Gill one of their favorite sons. He is also one of the most successful men in the history of country music, with some staggering statistics to his credit: he has sold more than 26 million albums, is a revered 20-year member of the Grand Old Opry, has been inducted into the Country Music Hall of Fame and has earned 18 CMA Awards and 20 Grammy Awards to date. But the reason Vince and Amy are considered a true power couple in this town has less to do with their star wattage and more to do with the content of their character. One of the cornerstones of the life they have built together is their hands-on involvement with literally hundreds of charitable causes and events. They can always be counted on to lend their support wherever possible, and have publicly raised millions of dollars for organizations such as St. Jude's Research Hospital, the Nashville Symphony and Habitat for Humanity, as well as privately reached out to countless people in trouble. In 2006, Vince's generosity of spirit was gratefully acknowledged when he was named Humanitarian of the Year by the Academy of Country Music.
In typical Vince fashion, he downplays the accolades, preferring instead to end our conversation by catching me up on all the current family news. We are both properly dumbfounded at how fast our respective kids are growing up, and commiserate with each other about sending daughters off to college and caring for aging parents. Vince's love for Amy and the blended family they share is obvious and deep. His last words as we get off the phone say it all: "We're just in a really great place right now—I think life is about the best it's ever been!"
For more articles featuring Vince Gill, click
here.