WESLEY PRITCHARD:
Preaching to the Choir
Wesley Pritchard is a pretty easygoing guy. His amazingly versatile vocal ability and good-natured presence have been featured on countless Homecoming videos and concerts. He is Bill Gaither's favorite go-to man if he needs someone to fill in for a group member. The Gaither Vocal Band, Ernie Haase and Signature Sound, the Hoppers, the Booth Brothers, the Martins and many more have all benefited from Wes' skill as a designated "stunt singer." He is also an award-winning producer, as well as the senior pastor at Fayetteville Community Church in his hometown of Fayetteville, North Carolina, where he and Teresa live barely 10 minutes away from their two married children and five grandchildren.
A conversation with Wesley is always a pleasure, and we start out by just catching up and swapping stories. But when I happen to mention that the focus of this issue is worship, the entire tone changes — laid-back Wes suddenly turns into passionate Wes as his eyes light up and he says, "Well, I've got to tell you, I'm really opinionated about that!"
Before Wesley took over as senior pastor from his father seven years ago, he spent 15 years as Fayetteville Community Church's music director and worship leader. "I always felt like I had my thumb on the pulse of what was going on when I walked into the church on Sunday morning," he begins. "It was my responsibility to feel the pulse of the people and implement that knowledge into the way I led them in worship. See, for me, worship is a lifestyle choice. It's not really supposed to be about us, it's something that we choose to do because we want to offer up a sacrifice of praise. It's not like going to Baskin-Robbins and picking what flavor we feel like that day, or sitting back in our pew and enjoying the show going on at the front of the church. It's also not like a game of Whack- A-Mole where if we don't go and do it every Sunday, God is going to whack us on the head! The entire experience is designed to create a lifestyle of longing to be of service to the King, who made us in his image because he desires to have communion with us.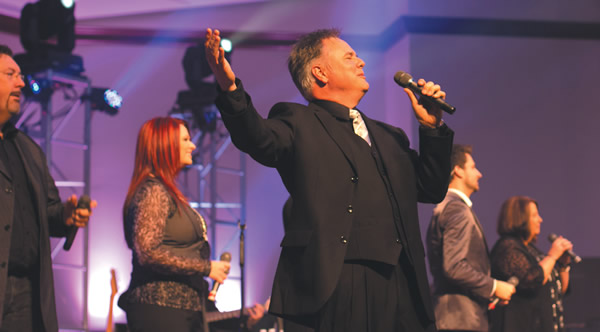 "Here's the thing," Wesley continues, with growing conviction. "Worship isn't a performance. There's a place for that — a concert or a program where you know when you come in that you are the audience and the ones on stage are the performers — but that's not the point of Sunday morning worship. I'm not saying you shouldn't have a band or choir or worship team — our church has all those things, we have had them for years. I'm not saying that certain styles of music are better or holier than others. Give me a guy with a guitar, put the two of us together on a couple of stools, and we're going to lead the congregation in worship. Give me a hundred-voice choir, front singers, a full band and an orchestra and we're gonna lead the people in worship. It's not the form, it's not the song, it's the attitude of worship. But if the congregation isn't engaged, if they're sitting there watching the show and not having their own experience, then we've missed it. The purpose of a worship leader is to take people on a journey and lead them into the throne room of God. Of course we want the service to be enjoyable; we work hard to hone our gifts and talents, we do all different kinds of music so that people can sing along if they want to, but we're not there to worship the worship! I mean, are we singing, "I Exalt Thee" or "I Exalt Me"? Wesley laughs.
"Somewhere along the way things got skewed," he continues. "I think churches thought that adapting a new model of worship was our ticket to relevance. I think we changed things to try to be cool, because we thought the young people were looking for something else. Relevance is not about a style of music, it's about engaging people to do something for the kingdom. Young people are not looking for a boy band with skinny jeans and five guitars, they just want to break away from hypocrisy and find something real. You may entice them in by having the hottest worship team going, but eventually, if that's all you've got, someone down the street is going to have a better band with a better drummer and a better-looking lead guy, and everybody's going to leave and go down the street."
"Here's the question," Wesley says. "Are you different after you come out of that worship experience than you were before? Look in the Bible at the people who had an encounter with Jesus, like the woman at the well, or the woman with the issue of blood. Look at those four boys who took their buddy and lowered him down into the house. There were probably a lot of other places that night where believers were gathered, but the difference in that one is that Jesus was in the house — and nothing can be the same after Jesus has been in the house! Our services on Sunday need to serve as a rehearsal for when the alarm clock goes o at 8:00 on Monday morning and we start our day. Will we choose to start it by thanking and giving praise to the most high? If we're not training our people in spirit and in truth for a lifestyle of worship, if we're not taking them to where Jesus is, then we are failing as worship leaders."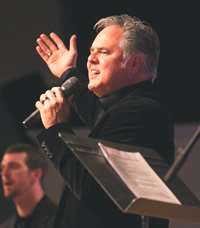 At this point Wesley stops and with a sheepish grin says, "I feel like I'm preaching at you, I'm sorry! It's just that this really is my heart, because I feel like so many of us are missing the mark of what worship truly, truly is." He pauses for a moment, then says, "Worship is vulnerability. It's being wide open, surrendering all, laying everything down at the feet of Jesus. It's a serious responsibility for a worship leader to bring people into that vulnerable place. Sometimes it's hard not to get caught up in the emotion and the music and the attention, but the glory has to be directed to God. John the Baptist gave us a great example of the right perspective for a worship leader. He said 'I'm just the predecessor, I'm the mirror for what's coming. When you look at me, I'm going to do everything I can to point you to Jesus.' Every Sunday morning we should be polished up and ready to do our job. But we have to remember when we're standing up on that stage that our goal is to deflect away from ourselves and reflect above ourselves. We are there to help people turn their eyes away from everything but Jesus."
Wesley Pritchard is a man with a gift for singing, a call to preach and a heart for worship. He ends our interview with this: "There's only one thing we can take with us when we go to heaven; do you know what that is? People. That's it. Not riches, not fame or fortune. That's why worship is so important. It gives us the ability walk to right into the presence of God and take somebody with us."