Wikipedia states: "In modern society and sociology, people no longer simply worship recognized deities, but also/ instead worship consumer brands, sports teams and other people (celebrities)." Sociology therefore extends this argument to suggest that "religion and worship is a process whereby society worships itself, as a form of self-validation and self-preservation."
But what's "modern" about that? Isn't that another way of acknowledging pride as the preferred choice of mankind? Isn't that the way it's been since the beginning of time as we know it, since the Fall? Unrighteous pride was Satan's sin. It stands inexorably in opposition to the worship worthy of our holy God, the Creator of the universe. So, it stands to reason that when we worship products, teams and celebrities as a way of validating ourselves, there's no room in our hearts anymore for God.
"Worship" is a contraction of "worth" and "ship" (also meaning "send"). When we send our emotions, time, energy, enthusiasm and financial resources to monuments of our pride, what are we truly worshiping? Studying the Scriptures, singing, praying, gathering together (and more) are all important components of worship, but living lives where God's ways are our first priority is the essence of worship. Total surrender to Him. Though we will certainly fail at times, we know we have an advocate in Jesus Christ with Whom to realign through heartfelt repentance.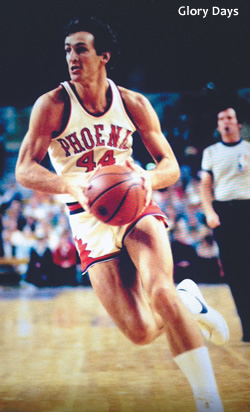 For over 40 years I've been blessed to enjoy participating in basketball at the highest level our country can offer. There's little about it that I don't love. But it's not real. It's a vapor. In 1975, shortly after being traded by the Boston Celtics to the Phoenix Suns, our team was preparing to play a game against the Celtics in Phoenix. The Boston announcer had been retired as a player for a few short years, and I was beside myself that I was about to be interviewed by the great Bob Cousy! I grew up watching him play—the man who brought the behind-the-back pass and dribble to a league that had never fathomed such "hotdogging" as viable to success. Not only did the championships he was a vital part of validate his style, he also opened up the imaginations of players for all the generations that would follow to whole new possibilities of competitive expression. Bob Cousy earned the nickname, "Mr. Basketball," and I was in awe of him.
I was a young player who had done virtually nothing in the NBA yet, but I had a uniform and Mr. Cousy had moved on to business suits. The fans gathered around our interview were waiting until it was over to ask for autographs—but not from "Mr. Basketball." As far as they were concerned, he was just some old guy with a microphone. They wanted my autograph, not his. I felt so uncomfortable, even embarrassed, as they brushed him out of the way to get a signature from someone who would never hit the heights that Bob Cousy had reached over and over. Bill Russell, Wilt Chamberlain, Kareem Abdul-Jabbar, Julius Erving, Michael Jordan, Shaquille O'Neal, Kobe Bryant and LeBron James have all taken their turns as the acknowledged best player alive. Kevin Durant, or someone else, will be next. One thing we know ... someone will always take their place.
Resurrection Day, perfectly timed to coincide with the Jewish Passover, stands as the ultimate irrefutable validation of God's triumph over mankind's sin and pride. When Jesus came out of that tomb, as prophesied, mankind's claims of self-aggrandizement became beyond ridiculous. I wonder why Wikipedia and "sociology" didn't point that out?
_____________________________________________________
Paul Westphal
is a 12-year NBA player and five-time All-Star who was the head coach for Phoenix, Seattle and Sacramento and currently serves as assistant coach for the Brooklyn Nets.