Multi-talented New Haven Records and RSI Music Group recording artist Gordon Mote was recently invited to perform at the artist induction ceremonies of both the Gospel Music Hall of Fame and the Country Music Hall of Fame, underscoring the Academy of Country Music award winner's rare position as a top crossover performer whose talent is winning acclaim across multiple genres of music.
"It is a rare talent that finds favor in both the Gospel and Country music worlds. We are honored that Gordon Mote calls New Haven Records 'home,' and we are thrilled about the ever-broadening attention that Gordon's music and ministry is receiving," says Ken Harding, president of New Haven Records.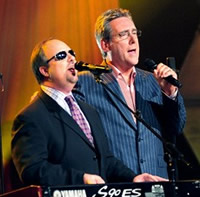 The Academy of Country Music award winner recently performed when Aretha Franklin, Ricky Skaggs, Dallas Holm, The Hoppers, Love Song and Rex Humbard were inducted into the GMA Gospel Music Hall of Fame at a ceremony recorded for broadcast at TBN's Trinity Music City auditorium. Mote performed Holm's hit, "Rise Again," which is featured on Mote's recent CD,
Songs I Grew Up Singing
. Near the end of Mote's performance, Holm joined Mote onstage for the final verse and chorus, resulting in a rousing standing ovation. (
Pictured left: Gordon Mote, left, and Dallas Holm, right, perform during the induction of Dallas Holm into the Gospel Music Hall of Fame - Jim Sulcer photo)
Mote also performed at the Country Music Hall of Fame and Museum's Medallion Ceremony, during which country superstar Garth Brooks, songstress Connie Smith, and blind session keyboardist Hargus "Pig" Robbins were inducted. In a packed-to-capacity ceremony at the museum's famed Ford Theater, Mote, sightless since birth, emulated Robbins' trademark keyboard licks while accompanying Crystal Gayle as she performed "Don't It Make My Brown Eyes Blue." The ceremonies included a star-studded audience, with James Taylor, Bob Seger and George Strait among the performers.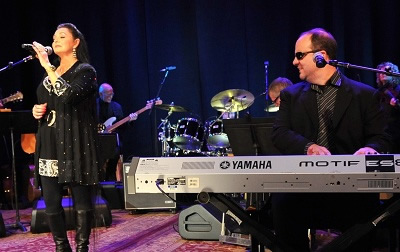 Gordon Mote, right, accompanies Country superstar Crystal Gayle, left, paying homage to Pig Robbins' original keyboard performance on "Don't It Make My Brown Eyes Blue," a song made famous by Gayle. Robbins, a renowned Nashville studio session player, was among the 2012 Hall of Fame inductees.
(Peyton Hoge photo)
"Being asked to perform at both induction ceremonies was a real honor for me," Mote says. "The Country Music Hall of Fame event was especially amazing, because we were honoring my mentor, Pig Robbins."
"Pig is the person most responsible for my career as a session player," continues Mote. "Back in 2001, Pig asked me to fill in for him when he got sick at the last minute. When I showed up, the session was for Alan Jackson's
Drive
album, which eventually garnered five No. 1 Country hits! I will never forget cutting 'Where Were You (When the World Stopped Turning)' right after 9/11. What an amazing experience for this young keyboard player! I'm sure that Pig's induction into the Country Music Hall of Fame was a highlight of his career, but simply getting to participate in it was a highlight of mine."