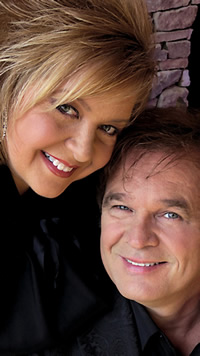 Homecoming friends Jeff and Sheri Easter are scheduled to appear on the Grand Ole Opry on Saturday, August 4, for two shows at 7 and 9:30 p.m.
The popular couple will be premiering songs from their upcoming release,
Eyes Wide Open
(Spring Hill Music), which will hit stores on September 18. They will be performing with other artists, including Carrie Underwood, Little Jimmy Dickens, Jeannie Seely, Jim Ed Brown, Jean Shepherd, Bill Anderson and many others. "Jeff and I feel so at home at the Opry," says Sheri. "We both grew up in families of bluegrass gospel artists, so we made a lot of longtime friends over the years, many of whom are part of the Opry family. It always feels like coming back home when we're there."
Jeff adds, "Our music has always been country; our lyrics have always been gospel; and we love to sing love songs to each other; so stylistically, we fit in well with not only the Opry artists, but also the Opry fans."
To learn more about this week's Grand Ole Opry shows, visit http://www.opry.com or call 1-800-SEE OPRY.
ABOUT JEFF & SHERI EASTER
Two-time Grammy®-nominated Jeff & Sheri Easter are gospel music treasures, featured regularly on the Gaither Homecoming videos, sharing their music on over 15-million videos sold and international Homecoming tours in addition to their own heavy schedule of appearances. Jeff & Sheri are the recipients of six GMA Dove Awards, 15 Singing News Fan Awards, three Society for the Preservation of Bluegrass Music Association Awards, two International Country Gospel Music Association honors, 16 Voice Awards, four Southern Gospel Music Fan Fair Awards, five SGN Scoops Diamond Awards, four Hearts Aflame Awards and three Cash Box Awards. The group is known for such hits as "Roses Will Bloom Again," "Praise His Name," "Thread of Hope," "Speak to the Mountain" and many others including "Born to Climb," which garnered their latest Dove Award.
Jeff & Sheri's performances now include the contributions of their three children, Madison, Morgan and Maura Easter, and drummer Landan Smith, as well as daughter-in-law Shannon Easter, as they share a love of Jesus through their music. The Easter children each add dimensions to the show – vocally, musically and even with uplifting comedy.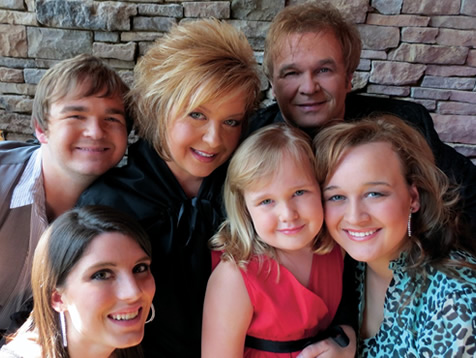 For more information about Jeff & Sheri Easter, visit jeffandsherieaster.com or bsaworld.com. And click here for more
articles about Homecoming artists Jeff & Sheri Easter!