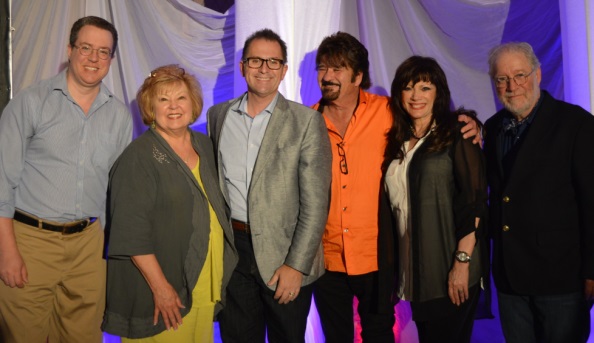 Aaron Robinson, Gloria Gaither, David Scott, Dony McGuire, Reba Rambo-McGuire, Michael Kelly Blanchard at the 2014 Songwriters Intensive
Worship leader and songwriter
David Scott
has been actively involved in music for more than 30 years, but he was still shocked that his song "How We Overcome" was a Grand Prize Winner in
Homecoming Magazine's "Lyrics of Your Life"
contest in 2014. David's prize package included a trip to
Gloria Gaither's Songwriters Intensive
held this past June in Indiana. We caught up with him there and asked to hear the story behind his winning song.
Homecoming
: Tell us a little bit about your background first…
David
: Well, I come from a pastor's home, and I started performing in church at age 8. I started writing songs in my early teens, at the latest.
Homecoming
: We'd love to hear about the inspiration behind your winning song, "How We Overcome."
David
: Well, I've been in full-time worship ministry for years, and we've always tried to do a big variety. The project I've just recorded,
Let the Light Shine
, represents a lot of styles that I love to do. Anyway, we had enough songs on the project already and were already settled with them. But this one came to me after we had already done the demos.
I was just walking around my neighborhood and thanking God that I was able to get these together—this is something that had been in my spirit for two or three years. All the scheduling and everything had worked out with all the people I needed to be involved in it. And I was so excited that it was going to be representative of how we as Christians—at least from my perspective—keep our faith encouraged. I was thinking,
if we didn't have this, I don't know how we'd overcome
. And I thought, "Now, wait a minute…" (
laughs
) I'd heard that phrase a thousand times, and I thought, "Oh, we need a good overcomer song on the CD!"
I literally walked around the neighborhood and wrote it in my mind, singing through the neighborhood streets, not at a piano. And being a pianist for 40 years, I don't know that I've ever done that. I think that is the only song … it was at least 80 to 85 percent done when I walked in the great room from the street. I sat down and started charting … my son plays piano and he was playing it, then I got my iPhone and recorded it and went and charted it out, and it was done!
I delivered a demo and said, "Should we add this? Because it's driving me crazy…" I figured their response would be "Please, stop!" And their response was, "Are you kidding me? Absolutely." Then Gayle Mayes sang it, and she's remarkable—love her spirit—and she's a major, major singer. She was the perfect fit … it was one cut, and she was done. She's a super pro.
Homecoming
: So you went on to win the "Lyrics of Your Life" contest, and attending the Songwriters Intensive was part of your prize. How was that experience for you? With all your writing experience, has it been beneficial?
David
:
Truly
beneficial. It was surreal to win that kind of contest; I was really taken aback, I'll be honest with you. I've learned so much at the Intensive. As much as I love it and I've done it for years, I feel like such an infant. So, absolutely! I've written three—no, four—in two days! So yes, it's been a remarkable honor and I'm sure I'll come again in the future.

Homecoming
: Do you feel that it's beneficial for someone who is just starting out, as well as someone who has been writing for a long time?
David
: It's really funny you say that; I talked to my wife and said, "I don't know how their planning goes—no clue." She's an educator, and I told her it's remarkable how it meets every possible entry point. Each one of the three-hour courses, each instructor has given everybody tools. Whether they are a complete novice—maybe they're not even sure they can write—down to someone with 32 albums under their belt. That was probably one of the most impressive things, and just the teamwork, the openness, the people collaborating.
Homecoming
: So you feel like the clinicians were well chosen, then? [
Clinicians included Gloria Gaither, Dony McGuire, Reba Rambo-McGuire, Aaron Robinson and Michael Kelly Blanchard, pictured at top
]
David
: Remarkable. Remarkable. And each one of the nuances—I'm sure Gloria and the staff planned it to be this way — but it was remarkable. I've done a lot of these things over the years, a lot of conferences, and you know, you get a certain pulse—you know what you're going to get when you get to a certain meeting … which is fine, that's why you go. But the incredible variety, and every one of them a champion … a success story in their own right, in their genre or field. Kudos to them!
Homecoming
: Well, thank you so much. Was there anything else you'd like to share?
David
: Just an incredible thank you. It's just awesome, and I feel like it will really hit me in about two or three weeks. Even though I talked a lot, in my mind, I'm speechless. It's truly an honor.
Lyrics to "How We Overcome," shared with permission from David Scott, all rights reserved
:
HOW WE OVERCOME
by David Scott
Grand Prize winner of Homecoming's "Lyrics of Your Life" contest
VERSE 1
There are times looking back
At this journey we're traveling on
We can often start to wonder
Why we keep believing and holding strong
And although some, ask us why, at times we even try
We'll hold on 'til He says "Well done," this is how we overcome
CHORUS
(I know that the) Storms rocked the ship
Waves tossed and turned
There were times we got weary
Didn't know which way to turn
But we kept our hands to the wheel
'Til we heard Him say "Peace, be still"
Oh yes, the battle's won
This is how we overcome
VERSE 2
Through hard trials and tribulations
We have already come
Climbed high mountains, and forged through valleys
He made a way when we thought there was none
We kept the faith and we kept our song
Even at times we prayed and prayed all night long
And through Jesus Christ, the Son
We always overcome
ENDING
But we kept our hands to the wheel
'Til we heard Him say "Peace, be still"
Oh yes, the battle's won
Oh yes, we've overcome
Oh yes, we've won the victory
Oh yes, the battle's won
This is how we overcome!
Visit
gaithersongwriting.com
for more information about the 2015 Songwriters Intensive. And follow us on
Facebook
for information about our next "Lyrics of Your Life" contest!