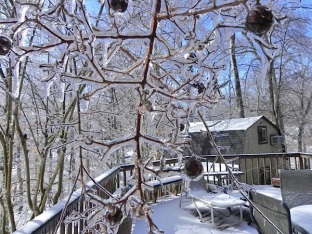 Does it look like this photo where you live right now? This is just outside Nashville, Tennessee, from the farm of the
Oak Ridge Boys' Joe Bonsall
. Joe will be doing a Skype interview from his home with the Weather Channel tomorrow morning at around 8:30 a.m. CT, so watch for him if you can!
The ice is so pretty, but it has been creating some hazardous driving conditions here in Music City, for sure. If it's icy and snowy in your town, we hope you are wrapped in a blanket with a mug of hot tea or cocoa, spending time with family, reading a great book or listening to the Gaither Vocal Band! :)
A thought from the Word ...
Isaiah 1:18
"Come now, let us settle the matter," says the Lord. "Though your sins are like scarlet,they shall be as white as snow; though they are red as crimson, they shall be like wool."
| | |
| --- | --- |
| | The Homecoming family grieves the loss of Mosie Lister, one of the original members of the Statesmen Quartet and one of gospel music's most outstanding songwriters. He was a long-time friend of Bill Gaither, who says Lister was "a gift to everyone who knew him." Click here to read about Mosie's life and legacy. |
| | The McGuire family appreciates your prayers as Dony McGuire continues to recover from a recent heart attack. His wife, Reba Rambo-McGuire, has posted updates throughout, and you can read more about that here. |
| | Last year, we were excited at the Gaither Vocal Band's induction into the Gospel Music Hall of Fame. Now, Gaither Homecoming Friends Mark Lowry and Candy Christmas will be among the honorees in this year's GMA Honors Ceremony. Click here to read more! |
| | As we all know, kids say the funniest things sometimes! We thought you might enjoy these quotes from children sharing what they know about angels. It could be fun to share at your next Bible study or Sunday school meeting. It's priceless! |
| | Enjoying these newsletters? If you know someone else who might like to read them, be sure to forward this one! Signup is a snap, and that can be done here! You can keep up with more Homecoming news at HomecomingMagazine.com. And be sure to "like" us on Facebook and follow us on Twitter to stay updated on your favorite Homecoming artists! |