The Homecoming Friends share their stories of literal picnics and the metaphorical picnics of life — those magical moments when we are whisked out of the mundane and into the spontaneous recognition of the joys of life!

A few years ago, I sang for a weeklong conference at a large church in Southern California. In order to hear all of the incredible speakers, I was on the move day and night to the sessions. By the weekend, I was spiritually full but physically exhausted. I decided to spend a relaxing day at Disneyland.
As I began to walk through the gates there, I read the sign — "the happiest place on earth" — and the little girl in me became so excited. I sat down on a bench with the map to plan my day. Suddenly out of nowhere, a feeling of loneliness surged over me in such a way that I began to cry. Not really knowing what I should do, I just looked up and addressed God: "Lord, I have been traveling and ministering in song for many years — all alone. I even live alone. I know that You have called me to this life of singleness and that's OK." But then I made a statement I really wanted Him to hear: "God, no one should be alone at Disneyland!" I was in "the happiest place on earth," but I was not happy.
Those words were barely out of my mouth when I heard a bass voice singing "…the comforter has come…" I had sung that song several times during the week. There coming toward me was one of the Homecoming Friends — the singer John Hall who had also been at the conference. He and his family walked toward me as I was wiping my tears, showing loving concern. I told them what I had just said to God. They were so kind. I was invited to be a part of their family that day — and did we have fun!
Our fun day ended after the fireworks. As we walked back through the gates, I again spoke to God. This time I offered Him thanks for the "comforter" and allowing His little girl to have a fun day at Disneyland. Indeed for that day, it was "the happiest place on earth" for me.

I can remember being a kid working on the farm and having a problem in life and not knowing what to do. One of my best problem solvers was the family tractor. I could be discing or plowing a field and could think through my problems. They might not get fixed, but they seemed easier to handle. I would pray and sing and get my mind off my problems. Now I have a tractor to mow the pasture, and I still love to hop on and sing and pray. It doesn't always solve the problem but it eases the stress. And I'm passing this secret on to my son Nathan!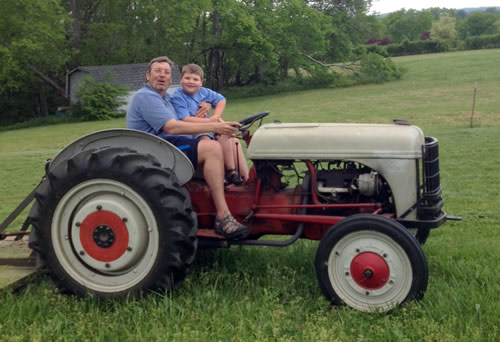 [Nathan and Daddy Gene tractor all their troubles away]

As Christians we face many battles, and through them we can learn to "turn lemons into lemonade." Through every storm of life — and there have been many — I cling first to God and then my wife and kids. The first storm cloud was back in December, 1982, when our son Ryan was only a year old. While washing his face, Teresa noticed a round, slightly red spot but other than that, there were no signs of any illness. He acted fine and full of life, but a warning bell went off in her head and she called the pediatrician. As she described the symptoms, he grew very quiet and told her to bring Ryan in immediately. After examining Ryan, he looked at us and said, "There is a walkway from this building to the hospital. You need to go now and check him in." We were floored and asked what exactly was going on. He began to tell us his theory and said that if we had waited even a few more hours to call, our baby would not have made it. Ryan was diagnosed with a rare virus, and the only medicine that could cure him had a 60 percent chance of completely destroying his bone marrow. Teresa and I were in shock and totally devastated. I was traveling and singing part-time with my brother's group at the time, so I immediately called him and asked him to pray. I then called every pastor and every church and friend I could think of. Days went by very slowly as we sat by the metal crib, making sure the IV they had put in his foot did not come out. Teresa and I spent hours praying and later we found out people all over the country were doing the same.
Night after night, we took turns staying at the hospital sleeping in the recliner by his crib. On the seventh night I laid my hands on Ryan and prayed that God would heal his tiny body with no side effects from the only cure. The next morning I was awakened with Ryan jumping up and down, rattling his crib and laughing.
On Christmas Eve, after many prayers and tears, our doctor came into our room and said, "I really do not understand this, but this child seems to be completely well. We can find no trace of the virus in his blood at all. I will allow you to take him home since it is Christmas Eve. And, by the way, there has been no side effect from his medication whatsoever. It is kind of a miracle, if you believe in that sort of stuff." When we got home, after putting Ryan down for a nap, Teresa and I wept for our days at the hospital, for our joy of his healing, for the other children, for the parents of those children, for God showing us in no uncertain terms that He is our strength and hope, even when doctors say there is no way.
This miracle story had a profound effect on my life, and as I began to sing professionally, I would hear parents pour out to me their grief over a sick child. I could honestly tell them my story and how God does care and works great wonders. It has been many years since that hospital stay and even though we have been through many other trials, I can tell you that through every dark, desperate moment, my Lord was there. My family is my world. Teresa, Ryan and Josh are gifts entrusted to my care. Now my family is expanding and I have a wonderful daughter-in-law, Sandy, who is a fantastic mother to my two granddaughters, Olivia and Ellie.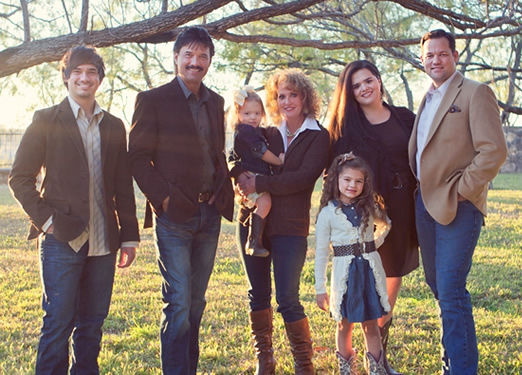 [Ivan Parker and family]
If the lemon was the sickness that tried to overtake Ryan, then the lemonade would be the celebrated victory won over the sickness, and the sugar in the lemonade is his beautiful wife and two precious children. And how sweet that lemonade!

Unexpected joy is a beautiful thing. When my nephew Steven was born, it was not the typical "mother and son are both fine" report. Just moments after Steven was born, the family got the news that he was born with Down Syndrome. The first several years of his life were filled with health issues, physical difficulties and hospital stays. There were times when we wondered if it would ever level out and even begin to approach anything that resembled normal. Thankfully, over several years, the problems became more manageable and the constant turmoil eased a bit.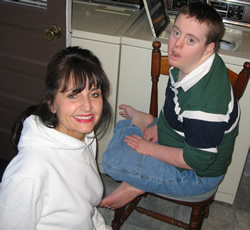 But still, Steven never spoke. He made sounds, laughed, walked, played, cried and smiled, but he never said a word. Even now that he is in his 30s, he does not speak. His weekend visits to his grandmother's house (my mother, Betty) usually paralleled with laundry day. Steven was fascinated with the washing machine, and he loved to watch the motion of the agitator. He loved it so much that he wanted to wash anything and everything in the house! Rugs, placemats, towels, shoes and more would wind up in the washing machine at any given moment. (Pictured right: Vonnie with Steven)
Steven lives in a wonderful group home provided by the Michael Dunn Center in Kingston, Tennessee. The center helps to provide high-quality services to children and adults with developmental disabilities. So when they got word that Steven had a passion for laundry, they helped him start a business. Not only did his business have a washing machine, dryer and company van, he also had "employees" who did the folding and preparation after the items were washed and dried. He rode along to collect and deliver the items to be washed. His clients included barbershops, beauty shops and even the Oak Ridge National Laboratory uniforms! In my career, I have attempted to say whatever it takes to do good business, and my nephew started a very successful business — without speaking a single word!
So, even now when I visit my mother, smiles are plenty as tennis shoes and other items tumble into the washer. To watch him work is a simple pleasure for the whole family. He is truly a special gift, a rare delight and a constant reminder that what looked to be a terrible misfortune can be worked together for good by a loving God who specializes in unexpected joy!

It seems that all of our most memorable family events have been the unscheduled, unplanned, unstructured moments of hilarity that penetrate our hearts so deeply. I remember one "picnic" of sorts while we were vacationing in Jekyll Island, Ga., when Madison was 7 and Morgan was 2. We had been in the sun all day and just too tired to go out for a meal, so we ordered in pizza, and the four of us sat in bed having our little picnic!
Jeffrey is such a gadget guy that he began to try out our newest video camera, filming absolutely nothing that you would think would be worth remembering. The Olympics were on and although we weren't actually watching, the television was turned to that channel for background noise.
Suddenly, Madison noticed the gymnasts and began turning somersaults and doing headstands. Morgan, never to be outdone by her big brother, began her freestyle dance, singing at the top of her lungs, "DOOP DE DAH, DOOP DE DAH." We started giggling at her silliness and she became even sillier. Jeff caught all of this on video and by the time we stopped laughing, we could barely breathe.
Sixteen years later, if anyone in our family ever gets too serious or anxious about things we can't control, we sing "DOOP DE DAH" to each other to remind us all of how beautiful "silly" feels!

I find my new hometown of Franklin, Tenn., to be very charming and rich with both history and beauty. Since we've moved to the Nashville area, our summers have gotten remarkably hotter and more humid than what the children and I were accustomed to in Norway and Colorado. To help our Nordic blood cope (and keep me from panicking), we plan for days when we invite friends along for canoe trips on the Harpeth River and pack coolers with delicious foods: cut-up honeydews, homemade sandwiches or fried chicken, lemonade and always a thermos of coffee with a sweet treat for a late afternoon pick-me-up. This way, we picnic on the shore and are in no hurry to get home. It's amazing how good food tastes when enjoyed outside in fresh air, and especially near water. And it's amazing how much our day can change when we intentionally opt to see and appreciate the good and the worthwhile. Instead of doing all our activities inside, with simple planning, a spontaneous picnic on an often mundane weekday can turn into the highlight of the week.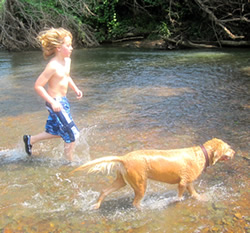 My dad taught us kids from when we were very young to pay attention to details; to notice the spectacular intricacies of nature, hearing the minute nuances in harmonies and chord changes as well as birdsong and the howling winds; the touch and appearance of textures, as well as savoring the smell of grass, wood or various plants. (Pictured right: Solveig's son, John, romps in the Harpeth River)
As a mother, I hope to instill in my kids to not take things for granted, and like their "bestefar" (grandfather), keep the "wow" in our days. I hope they'll appreciate the sweet taste of a ripe watermelon from the local farmers' market; take in the simple thrills of lying on your back on a well-used blanket, studying the clouds and watching the shapes change; and notice the smooth feel of a river-washed rock between your fingers.
One of the ways God has brought refreshing, healing and most definitely, a lot of laughter, to me and my family has been during those times we've stepped away from life's daily worries and schedules and made a lot of good memories and joy — with a picnic!

My magical rainbow moments are not filled with gumdrops and fairies. They are what others may perceive as ordinary. I was 16 when I got my first car, and I was the consummate volunteer. Before my mom was done explaining that we needed milk, I was already out of the driveway headed to the grocery store. Then, as time progressed, picking up the dry-cleaning, dropping off a file to the CPA and running errands became less glamorous. I missed the days of taking a nap while Mom or Dad was in the driver's seat.
A few years ago on a Gaither Homecoming Cruise, Dr. Archibald Hart was a guest speaker. After hearing his presentation, he joined the ranks of those for whom I am willing to get out of bed, in early morning on a cruise ship — just to hear them speak! I purchased his book,
Habits of the Mind
. It has helped me develop new eyes of perception and increased positive thinking. Dr. Hart wrote, "Remember this: You can change the way you think. You simply need some direction about how to do it." No longer is it, "I have to get gas" — it's "I get to fill up because I am blessed with a car and the means to make it run." I don't "have" to take out the trash anymore; I am blessed with excess that I can dispose of. By taking control of negative thoughts with His help, life's mundane occurrences become magical.

Moving to San Antonio 18 months ago shook up all our routines.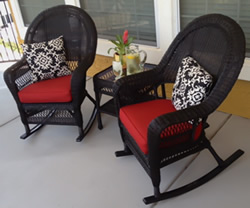 Michael and I had to find new favorite restaurants, make new friends and find new ways to unwind. For now, we're living in a lovely, sprawling apartment that overlooks a small wooded area and beyond that, a golf course. The weather in San Antonio is perfect for outdoor evenings on our patio. It's so relaxing to spend the hours between dinner and bedtime in the quiet, watching the deer, sharing the events of our day. Sometimes we don't even wait till after dinner; we take our plates and head to our little refuge. It's even cozier since the addition of our new rocking chairs, courtesy of a sweet friend from Tennessee. (Pictured right: The Sykes' favorite new spot to relax)

I remember the first bus we ever bought, in 1986. My kids were young: Ben was 14, Sonya, 12, and Becky, 11. Before that, we had been traveling in a green Dodge van (without windows in back) for about five years. The kids actually slept in sleeping bags on the floor of the van coming home from concerts. The seat belt laws were not in effect yet! We would pack a cooler with lunchmeat, bread and drinks, and that's what we ate for the weekend. We found an old 1960 GMC bus we thought we could afford. Joe had to rebuild the motor and transmission. He and Ben worked on that bus for weeks (in our driveway!) and finally got it roadworthy. The entire inside of the bus was empty. We got an old couch and chair to put in the front room and put a bunch of sleeping bags in the back. I strung a clothesline in the back lounge for our clothes. We found a little portable potty and grabbed our faithful cooler. We took off that weekend for some church dates and felt like KINGS! One night, after a concert in Fort Payne, Ala., a family invited us to spend the night at their home. We followed them there, but we were so excited about our new ride that we all slept in the bus! We opened all the windows and fell asleep to the sounds of the country band Alabama singing in the background. It was their June Jam festival playing nearby! None of us would ever have dreamed we'd later meet Randy Owen and the guys, let alone sing with him on a Gaither video and become great friends! We'll never forget those "good ole days" in that bus and all the memories and adventures it gave us.

We serve the homeless here in Nashville, so I'm faced with needs on a daily basis, working with people who are going through hard, hard times. I find myself in the grind of heavy situations. When you are surrounded by the troubles and challenges of others, it can bring your spirits down.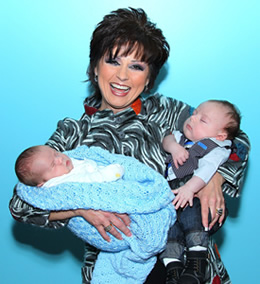 I am happy to have both my daughter and daughter-in-law work for me in my office. Back in September, my daughter-in-law Carrie and son Joshua gave us our first grandson — Charlie. Five weeks later, my daughter Jasmine gave us our second grandson —Cooper. And, of course, since they work here, they bring the boys to the office while they work. They have filled our office with love. (Pictured right: Candy Christmas with her grandsons)
It's like God has given us a new gift. Some days here, it can be like a machine that grinds and labors because there is no oil. But these two boys have brought such joy and life to a space that often is bogged down by the serious and grave work that we do.
Through our facilities, we have homeless people and people in various stages of drug rehab working in the warehouse. I love to carry Charlie and Cooper in my arms, and we head down to the warehouse where I dance to "our song" that I've written:
Dancing in the warehouse two by two,
Dancing in the warehouse me and you,
Dancing in the warehouse Charlie and Coop,
Dancing in the warehouse, two by two.
Joy and love have filled our office — their lives have put a song of love and light in the midst of very serious situations.

My mother has suffered from Alzheimer's for the last 10 years. After Dad died, she moved into a retirement community that had a special facility for people with Alzheimer's, where she has been able to receive excellent care from a skilled and compassionate staff of people.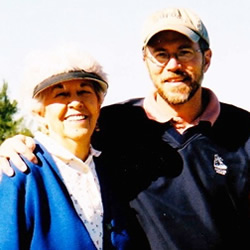 Though I live about six hours away by car, I manage to visit Mom about once a month. On my earlier visits I would take her for rides in the car, always stopping at the Dairy Queen for ice cream, which she relished. (Pictured right: Buddy with his Mom, Edna)
This last year, Mom's health has really declined, so she's either confined to her bed or a wheelchair. She no longer recognizes any of her children and spends most of the day sleeping. Now, when I pay a visit, I always bring my guitar and harmonicas and lead the residents in a sing-along of old hymns, folk songs or popular songs from some bygone era.
We're quite a congregation — people at various stages of dementia, singing along or staring into space, sleeping or just looking around with God knows what, if any, thoughts left in their heads. The nurses and visitors gather with us and sing along, making requests and smiling, laughing or crying, depending on the song. Somehow the presence of all of us gathered together — making the most of whatever voices and emotions we have left — brings me joy and comfort as I try to deal with my mother's "absence." Occasionally, I'll even get the added blessing of seeing a little light return to Mama's eyes.

My mother was 17 when I was born... child with child. She loved to play dolls, color pictures and lay on the thick grass of the rolling fields in Kentucky with me as we traced cloud figures with our fingers. It was a lot like having a big sister. Even though we were poor, Mom loved to make everyday happenings more special and festive. So many days I bounced through the door after school, only to find she had moved the furniture in our tiny living room against the walls to make a picnic on the floor. She spread out a couple of Ma's handmade patchwork quilts on the hardwoods for cushioning, then covered them with a red and white checked tablecloth to keep from staining the heirlooms. There were frosted vases brimming with fragrant colorful flowers, heart-shaped sandwiches she made with an antique cookie cutter, fresh-squeezed lemonade with cherries in pretty little dime-store glasses, dark purple concord grapes and sliced crisp Rambo apples from Pa's orchard. (Yes, there really is a Rambo apple!) The air was filled with glorious classical music spinning from our tiny Sylvania turntable, a strand of twinkling Christmas lights wrapped around a pole lamp or anything else she could imagine and the aroma of marshmallow banana cake wafting from the oven … heaven!
Wanna know the best part? Mom would lay out all her colorful can-can petticoats on the couch and chairs and I could wear as many as I wanted! I would layer them like a princess ball gown and then place the white one on my head to create a bridal veil. Mom would put one of the petticoats on her head, clap her hands and spin around singing, "It's the bride's picnic!"
That childlike spirit was the best part of my mom … the best part of all of us.

Sitting outside on the deck and eating dinner with my family doesn't sound very magical, does it? Well, it may not seem like a big deal to most people, but it is one of my very favorite things in the world. As soon as the weather turns warm enough, our deck becomes our dining room. There are big pots of flowers and herbs sitting around everywhere, and we have a nice peaceful view of the backyard. Tori picks fresh lettuce and cherry tomatoes to make a salad, and the girls set the table. I always water all of the plants right before dinner, which for some reason is very relaxing for me — I call it my "zen moment!" Then we all sit down and start passing the food around. Sometimes this is the only part of the day that we spend time all together, so it's really about a lot more than just eating a meal. We catch up with each other, and talk about our day — there's always lots of laughing and teasing, and feeding the dogs under the table. When I look around at those faces I love so much, all of us healthy and happy and enjoying each other, I feel more blessed than any man has a right to be. It is like magic to me.

A few years ago, Rickey and I decided to take the kids, Matthew and Kari, to a fishing lake near our home. Along with fishing, I brought hot dogs to roast over an open fire at the picnic area. We had it all planned out. It was going to be a fun day. Once we got to the lake, it seemed like we spent more time baiting hooks and casting the rods than patiently waiting for a fish to bite! Rickey and I started stressing over the fact that no fish would think twice about swimming toward our wild bunch! Looking back, I really don't think that Matthew and Kari were concerned with actually catching a fish. After a while, they got bored and hungry, so we headed to the picnic area to cook the hot dogs. When we arrived, the kids jumped out of the truck and headed to the woods to find the right stick for their hot dog. Rickey showed them how to carve the stick. They were thrilled. In the meantime, I had the table set with lots of goodies. The fire was just about ready for roasting when all of a sudden, out of nowhere, we felt a couple of raindrops. Rickey and I looked at each other, nodded our heads in agreement that we had better move things along very fast. Once you have camped or have been in the mountains, you know when it starts to rain, it feels like a monsoon. There's no such thing as a sprinkle in the mountains! We roasted as many hot dogs as possible. The rain was getting stronger, then the wind started blowing. Rickey told me to take the kids to the truck and he would grab everything else. By the time we got inside the truck, yes, the monsoon came! We could barely see Rickey. The rain and wind were so powerful that he could hardly walk while trying to load the truck. Drenched and frustrated beyond control, he finally finished his last load. He jumped inside the truck and shut the door. Never said a word. I slowly drove out of the picnic area. Matthew and Kari started giggling, then screamed out, "Daddy, you look so funny! Can we come back here tomorrow? This has been the best day ever!" Rickey and I looked at each other and burst into laughter! We laughed all the way home! Here we were all stressed and the kids were having a ball! (Boy, the lessons that I have learned from my kids.) That laughter still rings in my ears. It was a magical moment that I will cherish forever.

When we first moved to Washington, D.C., to pioneer our church, we had very little money and a 2-year-old. We were looking for things to do that would make memories for our little family. Often on Mondays, we would pack a ham sandwich, chips and a soft drink, grab a blanket, and off to downtown D.C. we would go, either to one of the parks or to the Mall area. We would spread our blanket and sit there and feast on our simple lunch and play with our toddler. Sometimes we would bring a kite or a frisbee. It cost us nothing but the time and effort. To this day, our daughter, Tara, remembers all the simple things we did to make our lives fun and to make memories. It only takes a little thought and time, and it lasts a lifetime.