Screenwriter Howard "Howie" Klausner was becoming known professionally as the Christian film industry's Script Doctor. After establishing his Hollywood bona fides writing Warner Brothers' 2000 hit
Space Cowboys
for Clint Eastwood, it seemed by 2010 that most faith-based (or faith-friendly) movies arriving in theaters were Klausner's work.
Soul Surfer
,
The Grace Card
,
The Last Ride
,
The Identical
,
Hoovey
, and
The Secret Handshake
all traced their path to the cineplex through Howie's Tennessee-based word processor.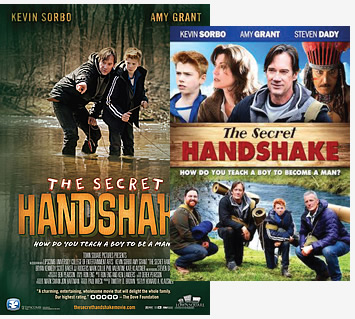 But the last flick on that list could change everything. Y'see,
The Secret Handshake
marks Howie's entrance into the world of feature film directing. That he also produced the movie may be old hat, given his previous production credits on four of the six films listed above. And of course he wrote the screenplay. You may even have heard that Handshake co-stars CCM legend Amy Grant and Christian comic/actor Brad Stine, as well as God's Not Dead leadingman Kevin Sorbo. While these facts are all compelling reasons to run out and get the just-released DVD, the big thing about
The Secret Handshake
is its subject matter: helping a wayward teenage boy find the path toward manhood. Turns out there's just a wee bit of autobiographical overspill here.
"When I was 13 years old I was singing for the Gaithers, and that's when I lost my dad," says Howie. "It leaves an indelible impression, obviously, on anybody's life, but especially at that transition moment. It's funny — my wife has told me, 'I'm glad you finally get this, because I think — even though you don't think so — you've been dealing with this for 40 years.' And she's absolutely right."
Heather Klausner's "get this" comment echoes the tagline for her husband's newest release: "How do you teach a boy to become a man?" And since Handshake is a family film, why shouldn't young Kate Klausner have a part in helping a boy grow up? Oh, did we mention Howie and Heather have three daughters — and that the letter "h" was not chosen to start all three of their names? While oldest daughter Kate plays the "unattainable" girl in the movie, the boy in this story isn't a stand-in for Howie. No, Howie's written this script as a dad, and truth be told, the movie is really about — if not
for
— dads.
"On the humorous side, there actually was a 13-yearold boy right here in our neighborhood ... who was ... stalking one of my daughters. Not the frightening kind of stalking, but still really awkward. Turns out his father had died, too. I think it's common that so many of these boys and girls don't have father figures in their lives because of the breakup of the family in our culture."
Amy Grant plays a recently widowed mom trying to raise a teenage boy. Her newly fatherless son isn't navigating adolescence as smoothly as she had hoped. Unfortunately the lad starts hanging out with some pretty sketchy "friends," and his extra-curricular activities are trending closer to juvenile hall than to church youth group. Kevin Sorbo plays a married father of three girls living near the single mom and her troubled teen. What could possibly go wrong?
Wait — back up a little. Did Howie say he had been singing for the Gaithers? Was that a typo? I don't recall seeing him next to Vestal Goodman at the Kennedy Center, or dueting with Jake Hess at the Ryman Auditorium. No, but if we set the way-back machine a few decades earlier, no less an authority than Gloria Gaither remembers a 13-year-old Howie Klausner from a 1973 recording project. "Our relationship is a very long one, because Howie was one of the kids on our very first Sunday-school picnic album. That sandpapery little singing voice [of his] was worth its weight in gold." If Gloria Gaither goes on record as liking your voice, you don't quibble over her chosen adjective. Hearing the endorsement, Howie laughs: "Thank you. I guess."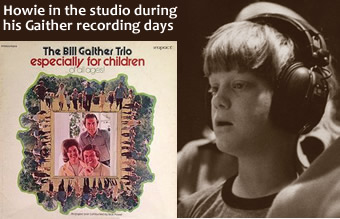 Yes, Howie Klausner's creative talent was evident from his youth: singing on Gaither kids records (and others as well) at Nashville's Hound's Ear Studio was an early indicator of an artistic future. And he's stayed in touch with the Gaither family through adulthood, recently writing the script for the 2012 Benjy Gaither-produced film,
The Last Ride
. That script is about a musically talented young father (Hank Williams) dying before his prime, which hit very close to home for Klausner. Having lost his own dad right as he became a teenager, such loss is ever-present with Howie.
"What really launched the meaning of
The Secret Handshake
was my own journey. I thought at first it was a movie about the boy, but y'know what — it really isn't. It's a movie about the dad. And we've heard it a million times: 'men, you've got to step up.' But men feel we're not qualified. We don't know what to say to a boy when we get out in the woods because we're all suburban guys! We don't hunt and fish and live off the land … so we kinda disconnect from that whole thing of 'what is it to be a man?'"
Kevin Sorbo has described the picture as "boys learning how to be men, from men who never learned themselves." Which is kinda funny. And actually, for all the seriousness of widows, orphans and single-parenting, the new movie from Klausner, Sorbo and Grant is in fact a
comedy
. Sorbo called the script "hilarious." The scenario in the film has Sorbo's character enlisting two of his buddies to take the teen on a camping trip because, well … isn't that the way to teach a boy how to be a man? The writer/director knew such a scenario would be ripe for laughs.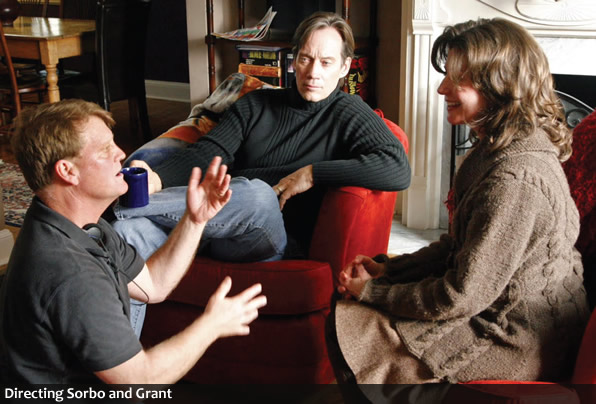 "All three of the men together are a representation of the modern American male: the overly macho guy, the sorta soft I-don't-really-know guy, and Kevin in the middle — a little bit of both of those guys." Klausner laughs out loud when he is reminded of the title of the Bill/Gloria/Benjy-Gaither-penned song (with Doug Johnson and Kim Williams)
Somewhere Between Jesus & John Wayne
. Turns out the tricky part for a guy is figuring out what it means to be strong. "I think strength comes in going back to the greatest mentor of all, Christ—in knowing who I am. Not throwing down a bunch of rules and regulations, but strength comes out of gentleness and love. Let's just say it: the secret is being more like Christ."
The funny guy sums up his directorial debut. "It was an 'aha' moment for me—I didn't set out to write it this way. So yes, a boy needs to know that that strength will be there for him when he needs it. But the irony is that until a grown man passes down that secret of strength to a boy — to the next generation — that man has missed something in his own growth."
So maybe the title of that 1973 Bill Gaither Trio LP on the Impact label was prescient. Maybe the child is father of the man. Do you remember what that recording was called?
Especially For Children . . . of All Ages!
Visit
thesecrethandshakemovie.com
.