My husband Hutch and I had tickets to see the Gaither Vocal Band in February at Long Beach, California. We especially wanted to meet Michael English in person, because he looks like our prodigal son, Jeff. Our son lives on the street because of his addictions, and Michael gives us hope because he has come home.
On January 21st, my Hutch had a massive heart attack and was in intensive care, so we gave our tickets to our friend Debra Joy. She took a picture of Hutch and me at our church and enlarged it. She took it to Michael English, asked him to sign it, then took a picture of him holding our picture. She then enlarged both pictures and gave us two copies. One is on our piano today and the other one was on Hutch's wall in intensive care at USC until he went to be with Jesus on April 2nd.
God bless you, Michael, for being a big part of Hutch's homecoming journey. May 21st would have been Hutch's 75th birthday and June 21st would have been our 54th wedding anniversary. I miss him so much. Thank you, Bill and Gloria, for your wonderful music. Hutch and I watched you on TV and on DVDs every day. You inspired us to keep on keeping on with Jesus. Michael touches our hearts and makes us cry with his singing and testimonies. I love you all and God bless you as you have blessed my Hutch and me over many years.
— JULIE HUTCHINSON
Covina, California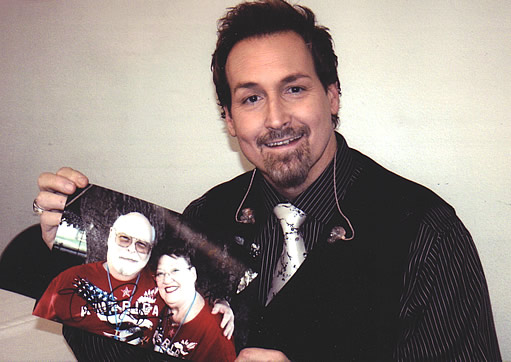 [Michael English]