Since the beginning of the event, I've attended as Gloria's "bestie." That's the teenage term for "best friend," and I learned it from Patience Randle who is the last word in teen talk.
I stay in a room near Gloria, drive back and forth to the convention center with her, sit by her...tell her when there is spinach or lipstick on her teeth, or...when she's ready to go on stage, I make sure her skirt isn't stuck in her pantyhose. I'm the one who hands her a tissue, with the unspoken message that there is something on her nose that shouldn't be there. I have toothpicks, safety pins, a lint brush and those Tidy Bowl breath mints in my purse just in case. Once she asked me to hold her Bible and I lost it. (Personal note to Gloria: Did you ever find it?) Such a little thing: hold her Bible, for heaven's sake, and I failed!
This year all of Bill and Gloria's children and grandchildren were there! What fun! (I have no grandchildren; I live vicariously.) One of the great adventures this weekend was...uhh...hmmm...not the music, not the speakers; it was watching for snakes! Outside our rooms was a gigantic woodpile and yes, there were snakes in it—we saw them. I told the kids it was a playground for the snakes—a jungle gym, and that the snakes love to play there, winding their way around from top to bottom, swinging back and forth, playing hide-and-seek, chasing each other.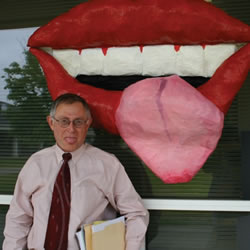 I love those kids...including little Mia, who calls me "SueSue," but talking to Will and Jesse (Suzanne's two) makes your brain sweat. There is nothing they aren't interested in; nothing they can't talk about. Will begins college in the fall and Jesse is still in high school. Jesse told me about his recent art project. Here is a picture— you can see for yourself. It's called "Random Acts of Culture." Jesse and his fellow classmates worked secretly on it for months and arrived early one morning to set it up and make the final tweaks. Not even the headmaster knew, and they were slightly worried they'd get expelled for such a bold move. The headmaster had his picture taken in front of the "mouth"—so no, they weren't expelled!

Now to the good stuff about Karen Peck and her sister Susan that for obvious reasons I saved for "I Can Tell You Stuff."
Where to start?
I'll start with a spiritual dilemma. You, dear reader, are free to answer — in your heart if nothing else. "Was the hair spray that brought Karen and her husband Rickey together anointed?" I'm not a theologian, but I would say yes! In a roundabout way, but nevertheless...?
Second, and I think I may have told you this before, but years ago Karen had a crush on Michael English. She said everyone swooned over (my old-fashioned words, not hers) him, and wanted to go out with him. She DID!
Karen also likes to tell a cute story about Jeff Hawes. She says that sometimes from the stage, she tells that Jeff was a high school, 12th grade, honors English teacher. One night, she says, an 84 year-old lady came up afterwards and said, "Well, I'll tell you one thing: I NEVER had a school teacher who looked like THAT! If I had, I would have FAILED!"
Now here is a little tidbit that's interesting. Karen's mother re-married after the death of Karen's father (another of the two sisters' life-shattering traumas) and her new name is Sue Peck Music! Get it? MUSIC?
Wondering how Susan met her husband? Just ask me: I know stuff! In 1993 the bus caught on fire and he was the person who came to their rescue. He was her hero...I think she threw herself at him, but perhaps that was my own interpretation.

This next little nugget is worth the price of your subscription! I finally mustered up the courage to ask the question that is on everyone's mind: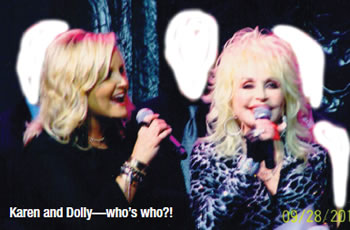 "Karen, have you ever been compared to Dolly?"
"Oh my goodness! Yes!" Karen says. "In fact...sometimes God just drops an unexpected nugget into your life." Then she gave me this exciting news!
Karen has been cast in a Dolly Parton/ Queen Latifah movie that comes out January, 2012!
Apparently the opportunity came about when a casting agent was researching the project, found Karen and voila! It was a role tailor-made for Peck. It's about a church-choir competition, and Karen plays the lead vocalist in a choir. She almost didn't take the call. She was at the dentist getting her kid's teeth cleaned and when she didn't recognize the number assumed it to be a telemarketer. She DID call back after she listened to the message, although she was sure it was a joke. She even has a few lines in the movie, but she tells me she's sure they will end up on the cutting room floor. We'll be watching!
"Dreams really can come true for a hometown girl," says Karen with her famous and very similar-to-Dolly lilting voice. "And little is much when God is in it."

After my interview with Karen, she said to her sister, "Sue is one of us." That is soooo flattering. If you see me sitting with Susan and Karen at the next concert, handing them floss, and rolling their shoulders with my lint roller, sticking mints in their mouths, you'll know that I have new "besties," and that they appreciate me more than Gloria does. Or maybe the fact I brought up the Bible saga will cause Gloria to think about it, and she'll drop me like that dancer got dropped on that TV dancing show—which I know you don't watch because of the scanty costumes. Whatever!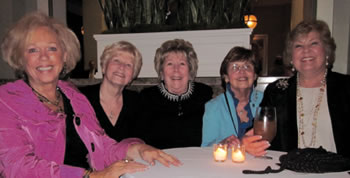 We all got really gussied up and attended the Gaither Tribute concert at the fabulous Schermerhorn concert hall here in Nashville. I've never been prouder of them and of Ronn Huff who did the arrangements. I'm outta space, but here is one last picture, taken that night, of what Gloria calls her "posse." (pos-see, noun: body of persons assisting a sheriff.) That's me, Joy, Lois Bock, Peggy Benson and Gloria.