Once upon a time, many years ago, there was a little girl who loved dressing up in her mother's fancy clothes and almost-real jewels. She put on fashionable high-heeled shoes that let her plain ol' toes poke out of the holes. Her mother said, "No ma'am! You may not paint your toenails today, tomorrow or the next day." And that was that! The little girl had learned a Bible verse that said, in no uncertain terms, that obeying your parents is right. She intended to do right.
She chose a big flouncy hat with a wide, wide brim and a veil down to there, and around her neck she flung an animal that bit its own tail.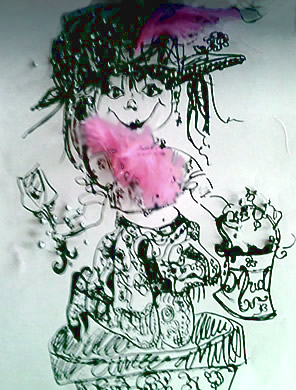 (Pictured left: Art by my creative daughter Melinda Buchanan. The pink feather boa has replaced the animal fur in recent years in respect to PETA.)
"This is the day the Lord has made," said Mrs. Vandertweezers as she turned this way and that in front of the long mirror. "Let us rejoice and be glad in it."
The little girl was me! Is still me today, for goodness sake! I love the fancy stuff! And oh, how I treasure those words of scripture I learned many years ago as a small child. They have comforted and empowered me and gotten me through the worst times imaginable.
I'm no theologian, regardless of what you might have been told, BUT! … I know for certain that scripture, once hidden in your heart, will never leave you. I couldn't get rid of it if I tried. (Look for my piece in the new Homecoming Bible.)

Last month you read about Rhonda Vincent. What a dynamo! When I saw her bus, I insisted on taking a picture, which I'm sending to Hershey.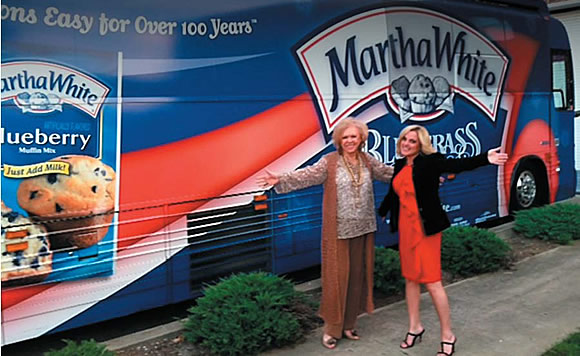 [My bus will be covered in Hershey bars and I'll throw Hershey kisses from the windows.]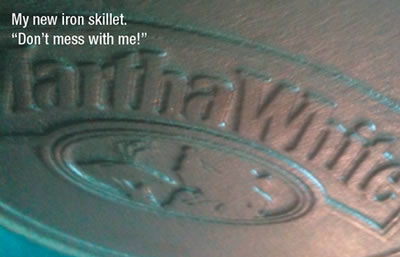 Rhonda gave me a Martha White iron skillet … and showed me just how to hold it in case I have a home invasion and want to belt someone in the forehead.

Now to the Martins! Jonathan, to be specific. You'll remember I'm often featuring his sisters, Joyce and Judy. I've shown you a picture of me meeting up with Judy in an airport, shopping with her in Hawaii, her vintage clothes that I helped her pick out … and in the last issue I showed you the two sisters' snazzy, drop-deadfabulous shoes!
It occurs to me that Jonathan must be pouting. I haven't said a word about him. (Oh, Jonathan, if you are reading this, please forgive me!)
Step aside, Judy and Joyce! This is about Jonathan.
I can tell you he, too, is a fabulous dresser, and he is polite! He says "yes ma'am," "no ma'am," and he says "Miss Sue" and "Miss Gloria" which, of course, means he has a good Southern mama. His wife, Dara, is the cutest little ol' thing and a bundle of energy. She sparkles, and I love her to pieces. AND … she sent me pictures when I asked and answered my questions almost before I asked them.
Dara tells me that when Jonathan comes home from a trip, the first thing he does is kiss her, then turns his attention to the children — listening, playing, laughing, hugging … and then … as you might expect, he falls asleep. That's when havoc begins!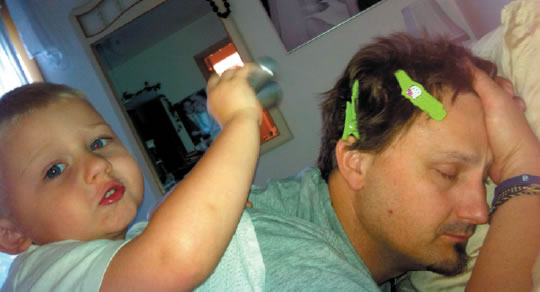 [Jonathan may be finished playing, but the kids aren't!]
Going to the children's activities is high on Jonathan's list, as witnessed in this picture at gymnastics.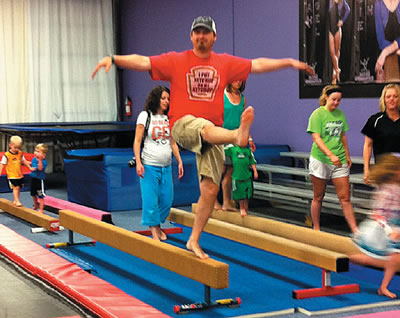 [Jonathan responding to the coaxing voices of his children: "Do it Dad ... do it! YOU do it!"]
Question: Is Jonathan getting ready for the Olympics or the circus?
Here is something that just came to me, and I haven't even thought it through and don't have the time to because the editor is breathing down my neck. Keep in mind, it's my own opinion and I certainly haven't run it by Bill...
When performing, Jonathan gets stuck in the middle and sorta, kinda blends in. What if … he would give those flashy sisters, with the eye-poppin' shoes, a little elbow nudge … and WHAT IF he would push to the front occasionally. Do a little Signature Sound twirl or two? I'm just sayin'!

Ian Morgan Cron was a speaker at Family Fest this year, along with Ken Davis, whom we've heard before and could listen to forever. Ian is an Episcopal priest … robes, incense and a fancy tall hat with tassels … the whole enchilada! (Sorry! Once again, turns out I've exaggerated … but what do I know anyway? I'm a Presbyterian! Ian doesn't wear a hat; it's the bishop who wears the tall, tasseled hat. With an apology to my Episcopalian readers, I'm leaving it in! I like the mental image I've created in my own mind.)
Not that Ian wore his vestments in Gatlinburg, mind you; he wore a regular ol' sport shirt, which was much more appropriate for the vacation crowd. He brought a message about the important spiritual discipline of listening and waiting for God's voice in silence—something we know very little about in our noisy, TV-intense homes and praise-and-worship churches.
The crowd loved him and Bill literally sat on the edge of his folding chair during Ian's message, later praising Gloria over and over for finding this dynamic and thought-provoking speaker.
Knowing our audience, my guess is that none of us had ever given much thought to silence. AND … I doubt Ian had ever seen anything quite like a Homecoming concert. Not that he doesn't know music; he just hadn't been introduced to OUR music. If you read his book (and I'm saying you MUST! Don't make me have to tell you twice!), Jesus, My Father, The CIA and Me, you'll see what a diversely talented person Ian is, and it turns out he sings and has played and recorded with many wonderful musicians.
When I checked my facts (which I don't often do, so don't count on it as a regular thing), he corrected me about the hat and assured me that it's true, Homecoming music was new to him and he added:
"I was blown over by the musicianship, the amazing singers, the way they mastered complex arrangements, Bill's unwavering commitment to musical excellence and to the tradition of Southern Gospel, and the community of musicians and singers that welcomed me in so quickly and warmly."
I could tell you more stuff, but I'm out of room! Until next time....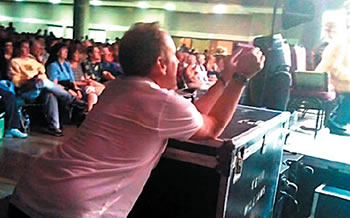 (Bad picture from my cell phone, but I just had to show it to you. Ian is practically standing on his head taping the final performance on his cell phone.)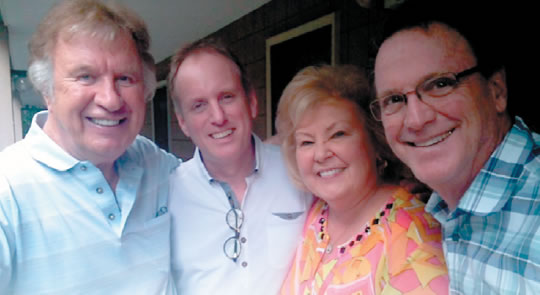 [Ian with Gloria, Bill and Ken Davis at the BBQ lunch we have every year at B & G's Gatlinburg place.]