Here is what I know for sure from experience, so lean in close:
You can't be an overcomer all by yourself. Some might say "It takes a village." Gloria Gaither would frame it this way: "It takes a posse."
Pictured right at the top here is part of my posse — Gloria herself. (We have horses and outfits... guns 'n' holsters and big cowboy hats and all, but I don't have a picture to show you.) There isn't space to tell you about all my crazy friends who loved me through breast cancer (you can read about them in my book:
I'm Alive and the Doctor's Dead... Surviving Cancer with Your Sense of Humor and Your Sexuality Intact
) but, I'm living proof that if you have a strong, dependable "posse", you WILL be an overcomer!
No ifs, ands or buts!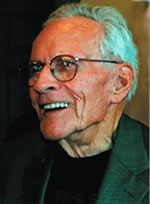 One person who was part of my posse — though I doubt he knew it at the time — was George Gaither, Bill's dad, who was recovering from a heart attack at the same time I was experencing cancer and chemo. (Here's George, pictured left, on his 90th birthday. I miss my buddy!)
George and I never stood around and discussed "poor, pitiful us". Never compared aches and pains and doctor visits. I guess you could say we gave each other short progress reports. After a concert, or when I'd be at Bill and Gloria's , I'd feel a farmer-rough hand take hold of my arm with a firm grip, turn me around, and there would be George's sun-weathered face, smiling from ear-to-ear.
"I'm OK. You OK?" he'd say.
"I'm OK. You OK?" I'd reply, taking his cue.
That was pretty much it. Once when he was unsuccessful in reaching me acriss the product table, I got down on my hands and knees, and — in my high heels — crawled under. (Too bad there's not a picture of that!)
Sometimes people pound you with words and advice and questions; it's their style — but then there are the George Gaithers of the world... (smile!)

"Talk is cheap." Maybe talk is cheap because supply exceeds demand? Ha,ha,ha,ha,ha! Y'think?

"You gotta meet somebody!" Three voices were coming at me at once, almost in harmony. I was surrounded. I was being herded... like a sheep in a pasture. I was being pushed, pulled... dragged!
The dragg-ERS were the three Isaacs gals. And they were propelling me toward a cute little lady wiht a smug look on her face. My head was spinning.
"Joyce Smith, Sue Buchanan. Sue, Joyce!" Becky says, turning one way, then the other.
Sonya, with baby on hip, points like she's Vanna White to the words on this Joyce person's shirt. Like I'm supposed to know?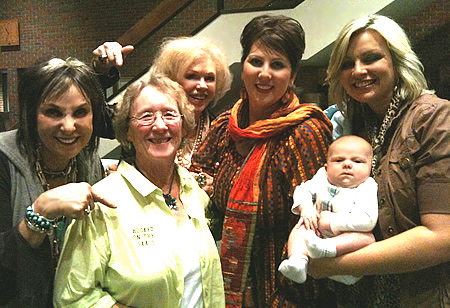 "Hooked on the Isaacs," it says.
Cute, I'm thinking, but so what? Joyce is a fan! Big deal!
Then, I'm thinkin' there just might be a story here and whatever that story is, I need to know it! I need to get it for my devoted readers — through rain and snow and septic water — whatevah!
"What...?" I ask.
Lily nudges her daughters out of the way and, three inches from my nose, she takes over the conversation.
"Joyce sat right on the front row of one of our concerts," she says, "and we noted her sweet smile and enthusiastic spirit. Afterward, I was working the merchandise table when I heard a timid voice ask, 'Do you have any wire cutters?' It was Joyce, who pulled back her jacket to reveal a fish hook firmly embedded in her chest."
"A FISH HOOK! IN HER CHEST." (Don't yell at me! I heard you the first time!)
"In her BREEAAST!" shouts Sonya, who is determined to be heard. "Mom panicked of course," she says, pointing at Lily. "She faints at the sight of blood, you know, and screamed for Becky, who got the wire cutters from the bus... and we took Joyce directly into the bathroom."
"It was impossible!" Lily says, "It was a job for a man!" And who else?
"Ben!" the three answered in unison.
"We knew from experience, Ben (who they already called their resident surgeon) could handle anything," reports Sonya, shifting the baby to the other hip.
"Although this was a new one, Ben just marched right into that ladies' room and took charge! As though he'd done it a hundred times before. In no time, and without too much blood, the fish hook was free."
Only then did Joyce tell her story. She had driven to Marengo, Indiana all the way from northern Ohio, was early for the concert, saw some people fishing and decided to stop, stretch for a bit, and observe. Apparently she was standing a little too close as one of the boys was casting, and somehow the fish hook hit her chest, and embedded itself in her breast tissue. Although the on-lookers insisted she needed to get to an ER, she refused. She would not miss an Isaacs concert. Finally, her fishermen friends agreed to cut the line and she took off, got to the concert on time, and enjoyed every last minute of it with the hook in her breast.
Now she wears a cute pin made out of the fish hook and whenever she shows up for an Isaacs concert you can count on the fact she'll be wearing her "Hooked on the Isaacs" shirt ... and I'm told, it's not just on her shirt, but that the phrase is embroidered on every garment she wears. Oh my!
An e-mail from Lily this morning says, "Please tell our fans that everything was decent and aboveboard. That Joyce had her shirt on at all times and only a small part of the top of her breast was visible." I told Lily not to worry, that our fans are not judgmental. (Well, there is that one lady who writes in every month ... named ... never mind! )

Whaaa ... boo-hoo ... whine! I'm jealous! Now I'm gonna make you jealous! So jealous, it will become a sin, and you'll have to get on your knees and repent.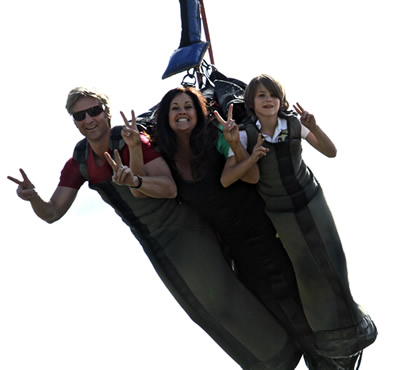 Reggie and Ladye Love have just had the trip of a lifetime. They traveled to Australia! For concerts! And they tell me they "met MANY enthusiastic Gaither fans!"
Ladye, Reg and Bret managed to pack in a lot of sightseeing while they were there. Bungee jumping, visiting a farm where they fed sheep and black swans, experiencing the Skyline Tower in New Zealand and the Thermal Wonderland, where they witnessed a geyser erupting and the volcanic aftermath.
The one thing Bret wanted to do was to "go see Bindi [Irwin]," who is often seen on Animal Planet. She was there filming at the Australian zoo the day they visited. Bret's dream came true!
And ahem ... cough, cough. Apparently Reggie's did too! On his birthday, which occurred while they were in Australia, they went to a concert ... well, see for yourself!

This just in: I just got a phone call from Karen Peck, which is like turning somersaults on a lovely summer day. Joyous!
More joyous than usual, because Karen was telling me all about attending the premiere of Joyful Noise in L.A. She was in the movie and was spectacular in her part. She sang the song "Mighty High," which, by the way, she'll be recording and adding to her performances with Karen Peck and New River.
Karen told me she thought she was "Cinderella for a day" as she walked the red carpet into Grauman's Chinese Theater. She said she felt like a real movie star and was praying, "Lord, let this be the longest night of my life; I'm lovin' it!"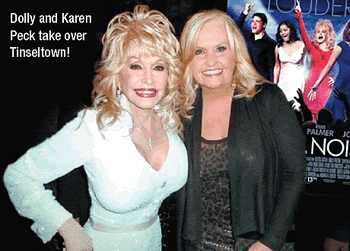 "They knew me!" Karen said. She was surprised how well the media had done their homework on her and on Southern Gospel music. Her husband was with her, of course, and I ask you: who could be a more debonair escort than Ricky? The after-party was elegant with both Queen Latifah and Dolly mixing and posing for pictures.
"They talked about the Lord," says Karen, and Queen Latifah told Karen personally that she and Dolly had prayed that the movie would change lives and give hope to those who need it.
When Ricky and Karen got back to the hotel, Ricky said "I'm married to a movie star!" Then Karen says they "fell over laughing." She also said that when she got back home the next day, she started "cleaning house and doing laundry ... and turning right back into a pumpkin!"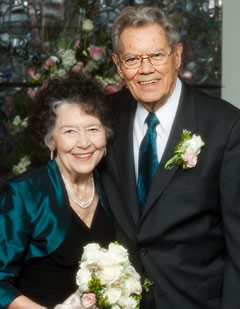 I've run out of space, but I think you'd enjoy seeing a picture of a couple of recently married lovebirds who are in their 80s — Laura Lee Oldham, (Doug Oldham's widow) and former president of Anderson University, Dr. Robert Nicholson. (I was friends with Laura Lee through the years, as was Gloria. However, neither of us was asked to be bridesmaids!)