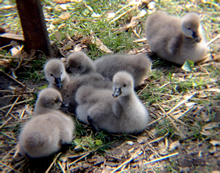 Picnics! Through the years, I remember more picnics than I can count at Bill and Gloria's house. Gloria can plan a humdinger of a picnic at the snap of a finger, throw stuff in her little red wagon, gather up the kids, grandkids, aunts and uncles, visitors … stray dogs scratchin' fleas (maybe not) … and she can drag you over the hill to the gazebo by the lake before you have time to say "Don't forget the fishin' poles and night crawlers" three times fast. I've never once seen her check the weather … and yes, we've had a few picnics in the rain! Sometimes we go behind the barn at the yellow house where Bill's ancestors lived, and he builds a bonfire with flames to the sky. Hot dogs and s'mores? You shouldn't have to ask!
(Top right: "I just thought you'd like to see Bill and Gloria's new babies!")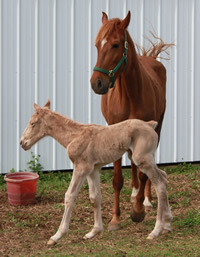 The David Phelps family had a new baby too, a Tennessee Walker named Cierra.
Lori tells me their entire family sooooo (her soooo, not mine) enjoyed the process of caring for "momma in foal" for three months before the birth. When Mama Aria had to stay in the corral, they all took turns caring for her. They had to make sure she had fresh hay and water and her daily allotment of special grains, plus keeping her groomed and, as Lori says, "loved on!" (Left: Aria and baby Cierra)
They invited me to come spend the day, have lunch and visit, but sadly they found the little filly dead before I got there. I'll go another time.
The life experience was a rich one for the Phelps family, never to be forgotten.
All of our stories don't have happy endings, right? Right!
You probably know by now that David Phelps has a new hairdo—the curls are gone, gone, gone, and before you moan and complain and write letters and quote scripture, don't forget women change their hairdos at the drop of a hat … and that Bill WISHES he could change his … and … for heaven's sake,
it's not a spiritual thing.
Get over it!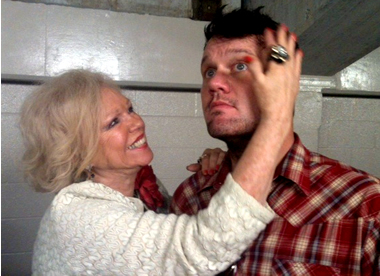 ("A little spit and spiff before a performance")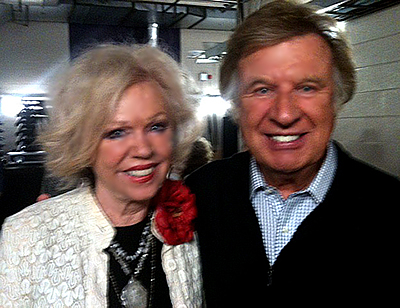 ("Bill WISHES!")

By the way, Lori, who has become a treasured friend, said something very telling about my writing. She said, and I quote: "I'm sure you'll take my information (about the horses) and use your creative license to morph it into what you need." Morph it? Now, what is THAT supposed to mean?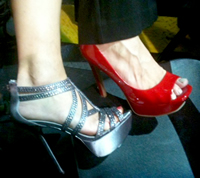 Another thing. Not only do folks doubt my truthfulness, but apparently they believe me to be shallow—only caring about things like hair and makeup and … shoes! It's pretty bad when you get a call from a friend (Jane Cox from last issue) just to report on her latest purchase of fabulous new shoes, and it's pretty bad that before you even have time to find your seat at a Homecoming concert, the Martin sisters are sticking their feet in your face to show you … well … see for yourself!

My first picnic of the season this year was at Marsha Blackburn's house. She is the tenacious and feisty congresswoman from Tennessee you've seen on TV. If you live in Nashville, you'll find Marsha and her personality-plus husband Chuck on the civic pages regularly as movers and shakers for charities. They are vibrant, outspoken Christians and caring church members. I know them as friends.
Chuck and Marsha live in Minnie Pearl's old house — a French country place that sprawls all over a hillside — just outside of Nashville. When I saw the theme for this month's magazine, I thought of Marsha's book
Life Equity
. While she speaks mostly to women, it's good for anyone.
Marsha says: "Mom was right; there will always be someone richer, smarter, prettier and more talented, but no one else is uniquely you." In a nutshell, the book is about recognizing your abilities, deploying your gifts and realizing your true value. In other words, life ain't no picnic BUT there's a lot we CAN choose for living fuller and richer lives. (Take me, for instance—I'm from West Virginia, I went to college not to study, but to kiss and be kissed … and I'm blonde! Just look at me now! Writing for this high-kaflootin' magazine and all!)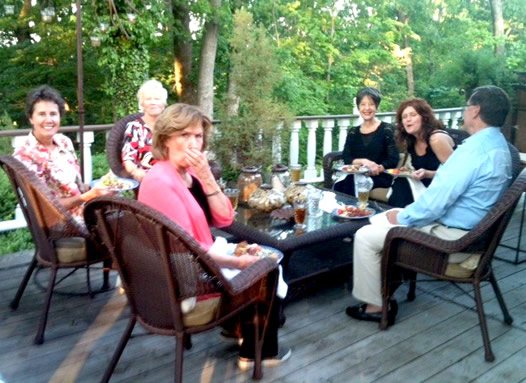 ("First picnic of the season on Marsha's sun deck.")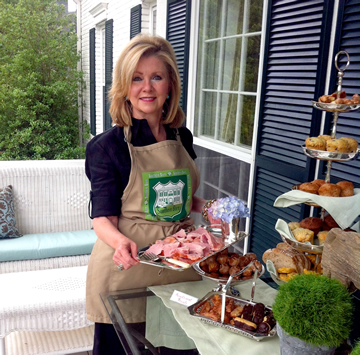 (Left: "Marsha in her best apron.") Let me insert here that when Marsha has close friends and family over she doesn't look like this, she looks just like you and me — sweats, old stained apron, grubby tennis shoes and flat hair. This is a posed shot for another magazine.

This next is just too funny to keep to myself, although you'd be surprised what I know that I don't tell. I met the group Adam's Voice at the Gaither Family Resources Fall Festival and fell in love with their spirit and their music. David Adams is always telling me funny stories via email — like the time they sang outdoors in a tent in the steaming hot weather and their clothes were clinging to them like glue … and Charlene, thinking she could duck behind the big video screen to loosen her garments that were "stuck to all parts" … DISCOVERED SHE WAS NOT ONLY PROJECTED ON SCREEN — SHE WAS BACKLIT!
One story Adam tells involves Gordon Mote, who was playing for their last recording session. Charlene, David's wife, was trying to tell Gordon what she had in mind as to styling. She said, "It needs to be a funky beat … something that makes you wanna get down and dance."
"OK, dance music!" Gordon replies, with a nod of understanding.
Suddenly Charlene remembers her church background.
"Yeah, sure!" she responds. "We're Nazarenes …
you should SEE us dance!
"
Gordon, always with the last laugh and always the funniest person in the crowd, had a quick response: "I wish I could see you dance!"
That reminds me of a picture I have in my files of Gordon and his wife Kimberly.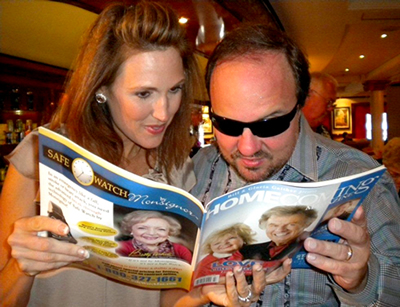 ("Gordon is quite the fan of Homecoming magazine, as you can see.")

Recently Gloria signed me up for what I thought was a writers' seminar, led by the author of Blue Like Jazz, Donald Miller. It turned out to be much more. It was very much about what we are talking about in this magazine. It was about living a better life … a better story. The crowd was young and lively (mostly 30 to 50-year-olds,) but I would recommend it for any age. It's a "life-gift" for a parent to give an adult child who is temporarily off-track in his or her career, who perhaps didn't finish college, or has had overwhelming conflict in a marriage or job. It's a paradigm shift and I promise you — it's truly a gift that will keep on giving and giving! (mystoryline.net)
As Gloria says: "God has put eternity in our hearts. Let's draw on a little of it to infuse this moment with JOY!"
… and I say, "All that's fine and good, but … watch out for the yellow jackets under the picnic table." And remember, I CAN tell you stuff!

Click for more articles featuring Homecoming friend and author Sue Buchanan!
Click to read more scoops from
Homecoming columnist Sue Buchanan!