The other day I passed the magazine counter at CVS and my eyes went straight to Nashville Lifestyles magazine. "25 Most Beautiful People" its headline screamed. I grabbed it up like a vulture going for its prey and began to claw through the hurt-your-eyes glossy pages, perspiration beading on my forehead... looking for...I'm almost, but not quite, embarrassed to tell you this! ME! I was looking for ME among the most beautiful. Sadly, I wasn't there! But...!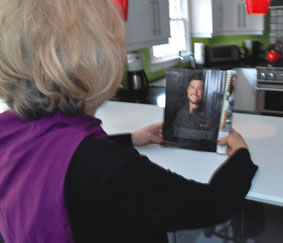 On page 76 I found a familiar face looking back at me. It was Jason Crabb! Looking just like...well, Jason Crabb! And I know that most published photos are "touched up" as we say in the business, and I have a good eye for these things, but between you and me, I don't think there was an airbrush anywhere near that picture.
Jason was as surprised as anyone, as was his wife Shellye, when he heard about the honor.
"I told my wife and she burst out laughing... we were on the phone. I asked her why she was laughing and she said,'Well, I wasn't expecting anything like this!'" (When Jason told me this, although he didn't say so out loud, I could tell that her remark kinda-sorta hurt his feelings...like SHE, of all people,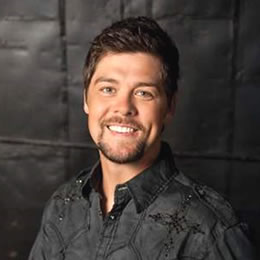 should think me most beautiful!)
The always supportive Shellye isn't the only one to tease Jason...and yes, she was teasing. On stage he is now often introduced as "Mr. Beautiful," but he never forgets that he is just an "aw shucks, good ol' boy" from Beaver Dam, Kentucky.
"This is a far cry from a deer stand in the woods," he says. "I'm as down-to-earth as dirt itself."
"For me to be 'uptown' and recognized in this light—by this magazine and in the context of 'big city living'—is very different from the way I grew up."
Jason is most proud that this is a showcase for his music. Our music!
Jeff Easter was designated by all the other Homecoming artists to give advice to Jason about holding on to his looks. In other words, beauty tips!
*
To keep your hair in good condition so it will shine in pictures, use Quaker State 30 weight. A little dab will do you.
*
Use black pepper in your hair to cover the bald spots. It burns a little but it works! And you sneeze some.
*
Use Clorox on your pearly whites. Go easy. Don't dip your toothbrush straight into the Clorox bottle; water it down some. Otherwise it will hurt your gums. Maybe permanently.
*
Brut is a good fragrance, but if you run out, number two diesel fuel works just as well.
*
You don't have to go to the gym to exercise. Moving around the old junk cars in your yard will keep you fit as a fiddle.

Bullet point of interest: I stayed with Gloria after her recent knee surgery, and I'd walk on my lips before I'd criticize...BUT
...her refrigerator is a mess. WAS a mess! I cleaned it out. You couldn't open it without stuff falling out, and I have a sore foot to prove it. There was a half-gallon apple-butter jar that was empty and dry as a bone. It looked like it had been in there since the last Praise Gathering.

Bullet point of interest #2: Landy Gardner had surgery a few weeks ago and I visited him in the hospital.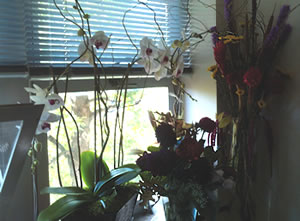 I commented on the many glorious flower arrangements, and Joy told me that she had suggested they tell people not to send flowers, to which Landy replied: "I want flowers! Fill this colorless room with flowers!" Of course! He is a top Nashville decorator, as you know, and he loves being surrounded by beauty. His daughter Dionne told me he must have said it to all of Nashville, because the day he went home there wasn't a single bit of surface area uncovered, and the bouquets kept coming as he recovered at home.
"More than anything else, this has let my dad know just how many people love and respect him. It's been overwhelming!" I hear Landy is doing well and almost back to normal. And...taking a rabbit trail, Dionne helped lead worship at the church I attended Sunday morning. What a rich, compelling voice! What a lovely spirit!

Ones to watch! Adam's Voice, who I was introduced to at the GFR Fall Festival.
The group recently sang the National Anthem for an Indianapolis Colts game, and I would call that pretty impressive. Google them.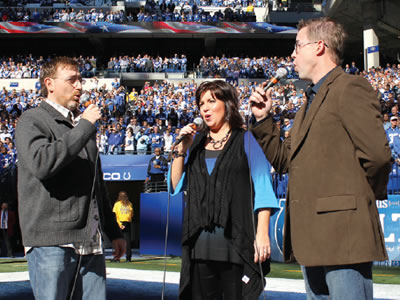 (Bill Gaither says: "Adams Voice is a breath of fresh air.")

Last month we had an article called "And the Happiest Season of All!" in which they asked the various artists questions about their Christmas memories.
One of the questions asked was,"Were you ever in a Christmas pageant? What is your fondest memory of the experience?"
Kelly Nelon Clark played Mary, as did Tanya Goodman (and had a picture to prove it). Sheri Easter memorized the book of Luke. Wes Hampton knocked over the set, and Lily Isaacs was an angel. Mark Lowry was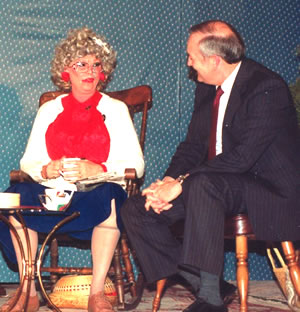 a chipmunk. Jeff Hawes was Tiny Tim, and Janet's escapades with her sister Kay were humorous—the kind of things you would expect.
Nobody! Nobody, I'm just sayin'...came in on a Harley. Which is exactly what I did, right down the middle of fellowship hall, in my church pageant. This is me (pictured right) dressed as Aunt Edna, a sour old lady who squelches all the fun — a character who is my exact opposite, of course.
Do I know stuff, or what?