I've had the most wonderful time gathering what I call "the guts" of the article on Allison Speer!
(Check out the Allison Speer article here!)
While speaking with her husband Brian (son of Brock and Faye Speer), I realized he is a wonderful example of what we're talking about in this issue. Talented folks who serve God faithfully behind the scenes. Brian is certainly one of those people!
Travelling with the Speer Family as a young kid, Brian claims to have done nothing more than "ride the bus and play guitar." Apparently though, he was absorbing a lot more about ministry than he knew, along with any and all things technical.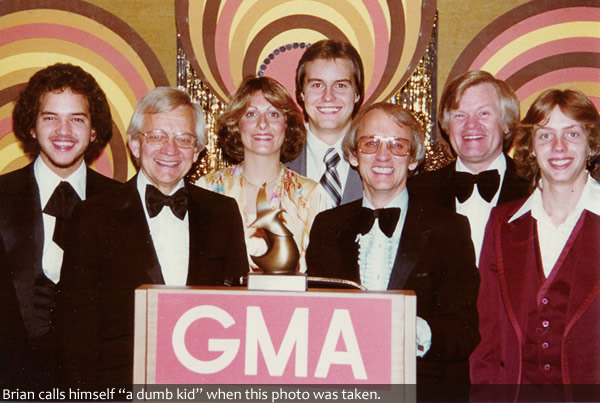 Now, he uses all that knowledge he didn't know he had as road manager, sound tech, driver, roadie, masseuse, psychologist, sounding board and punching bag! (His words, not mine.) He handles the office and the accounting, runs the studio he and Allison have in their home, and sees recordings all the way through production to final product.
And we all know he has a servant's heart.
I don't want to be snarky, but it occurs to me that all Allison really does is look beautiful, sing and be funny! What a life!
Brian and Allison conduct a summer seminar in Nashville, the mission being to make ministers out of musicians. Visit
godsongmusicacademy.com.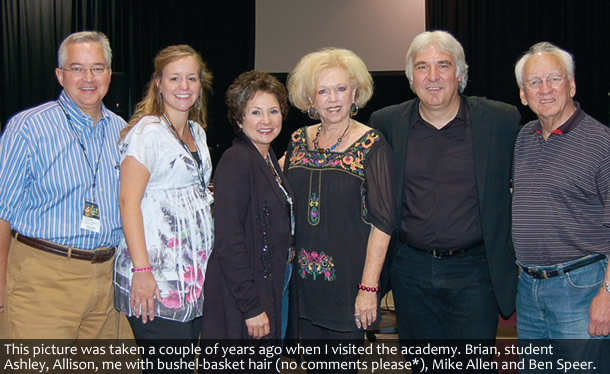 I hate to admit it, but Brian knows more stuff than I do…by far!

When a country song has the word truck in it, you fully expect there to be a line or two, or six, about a girl wearing Daisy Dukes,** a tied-at-the-waist, open-downthe- front shirt, and…you EXPECT… SHENANIGANS IN A TRUCK! (It's true, we are fine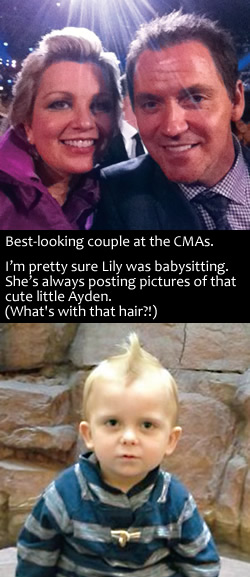 Christian people, dear reader, but we didn't just fall off the turnip wagon. Shenanigans happen!)
Jimmy Yeary's "I Drive Your Truck," CMA's song of the year, is a refreshing departure from the usual! The story was crafted from four words spoken by the father of a hero, Army Sgt. 1st Class Jared Monti, who was killed in Afghanistan while trying to save a fellow soldier.
Paul Monti was asked in an interview how he keeps his son's memory alive, and he answered "I drive his truck." With that, a song was born. Hit songwriter Jimmy Yeary, if you still haven't caught on, is married to Sonya Isaacs. (TRY TO KEEP UP PLEASE, it will save on parentheses!) He is often seen on stage with the Isaacs and in the Homecoming videos.
Note: As I'm writing, I glance down and see I'm wearing my daughter Dana's black cashmere hoodie sweater. My song might be: "I Wear Her Hoodie." (It will soon be four years since Dana died.)

Gloria feels closest to her mother in the house where she lived. It's where her offices are now.
I've noticed a wistful look on Gloria's face when she stands by the expanse of window in her office, her eyes sweeping the lush landscape of plantings…following the flight path of a bird. Beyond the shadow of a doubt, she is seeing beyond the house itself. She sees her mother, the builder and hammer-upper of birdhouses and feeders, the knee-deep-in-dirt planter of trees, and shrubs, and flowers … lover and nourisher of all God's creatures, great and small.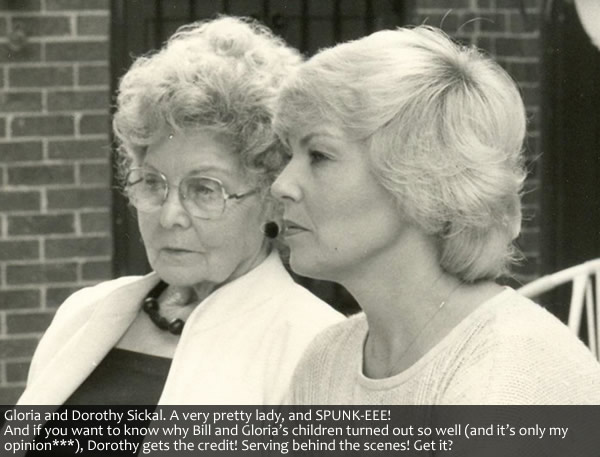 Now a couple of follow-ups:
Gloria has never told me what to write or not write in my column, but she has asked me specifically, as has Bill, to please NOT sing along when they are taping.
This time, however, she did request a follow-up of the story about Destiny's tattoos (July/Aug 2013). She wanted the readers to know that we had a "heartwarming response." Yes, we always have one or two negative, let-me-set-youstraight letters, and we respect everyone's opinion, but most everybody said how thankful they were that someone was finally addressing this subject in a positive light.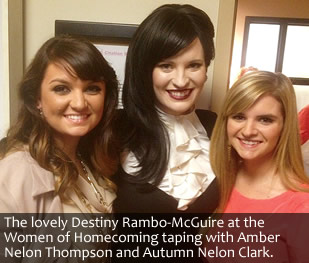 Destiny remembers one dear lady at Gloria's Fall Festival. "She almost made me cry. She came to me so sweetly and shared how she hadn't spoken to her grandson in years. That when he began getting tattoos she immediately cut him off, judging him to be rebellious. As she spoke, she teared up, saying our article was the first time she thought of tattoos as not being an act of defiance. She asked her grandson's forgiveness for her coldheartedness and now they have a restored and amazing relationship again!"
"Funny thing," she said to Destiny, as she gave her a hug, "His first tattoo was a cross, and I never realized it." Jesus can move in even the most controversial of places! Destiny said that, and I say amen!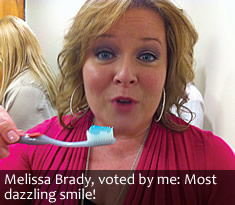 I'm still hanging onto some pictures from the Homecoming Women's taping and just gotta share them!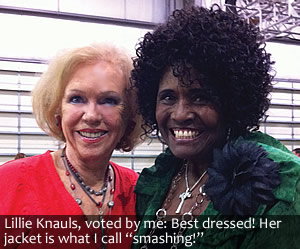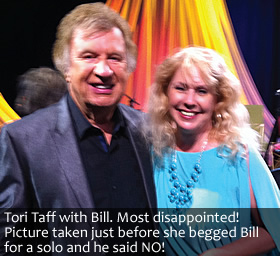 ______________________________________________________________________________________
*
Go to my website and buy my book:
The Bigger the Hair, the Closer to God.
**
Daisy Dukes: extremely short denim shorts, as worn by the character Daisy on the television program "The Dukes of Hazzard." But you knew that, right?
***
My opinion is pretty much always right.