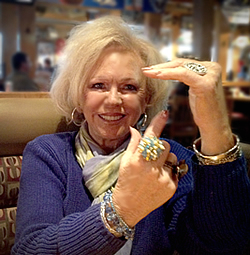 The theme this month is "Be the Light," and that reminds me of that old, old song "This Little Light of Mine." It was a big hit in our church when I was a child, and I've never forgotten a word of it. I suppose that's what I like about church songs — you never forget the lyrics.
"Hide it under a bushel? NO!" goes the song. AND … as I was singing it just now, seeing if I could remember the motions,
the strangest thing happened
! You know how things come to you years after the fact, and you find a hidden truth never before revealed? Like … an enlightenment? Well! The church I went to wasn't much for jewelry; they said that "wearing jewelry can get in the way of your testimony." (It's true! This is me at the
moment of my epiphany!)

This next stuff is serious. And wonderful! AND almost unbelievable!
Annie Campbell, Buddy Greene's sharp-as-a-tack assistant, and my close friend, sent me a link on nationalgeographic.com. It was a story listed under "Travel Magazine" and called "Unbound." (Have fun finding it!)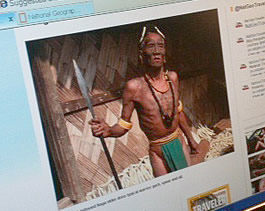 For those of you who don't have access to a computer, the first thing that catches your eye is a picture of a skinny black man covered in body markings, dressed in nothing but a loincloth and holding a spear. Rather scary looking! Your mind shouts: "
headhunter
"
and all that goes with it!
And you are right!
Reporter Boyd Matson has done a remarkable job of capturing the story of a remote area of Nagaland, in India, once a hotbed of disputes and civil wars that for many years were settled only with machetes and spears.
In the '60s, the government of India, in a last resort effort, gave Christians permission to try their methods of persuasion for peace among the tribes. Now, these many years later, there are churches everywhere, and the skulls of those who were murdered and were proudly displayed are buried under the floors of the church meeting houses. Peace reigns.
As Matson visited one of the villages, he heard a familiar sound coming from a small hut, and not quite believing his ears, asked his guide, "What is that music?"
It was the Gaither Vocal Band!
I don't do this story justice, dear reader. I'm hoping you can find the link and see for yourself.
For as long as I've known Gloria (40 years or more), I've known that she always wanted to be a missionary — hoped to travel to the ends of the earth with the good news! When she talked about it there was a wistful look in her eyes, almost as though she felt she had missed her calling. I also knew that she and Bill, in recent years, had both found deep fulfillment in going around the world with their concerts. This article is proof of how far their ministry really has reached and that they are the missionaries they hoped to be, and more. Gloria has not missed her calling!

I have the cutest girlfriend who lives in Atlanta. Jane Cox is her name. She was Eva Mae's traveling companion, and although I saw her many times over the years, we never formally met and we never had a real conversation. To tell you the truth — and you know I always tell you the truth — she is one of those Southern ladies who is … well … perfect from head to toe … and … she intimidated me a little.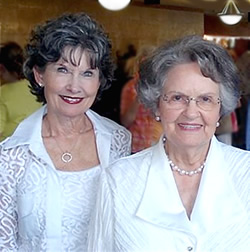 (Right: Here's a picture of Jane and Eva Mae, as always, looking spiffy!) I've gotten to know Jane recently and found her to be great fun. Now we talk a mile a minute: clothes, shoes, music. Gloria, who is also her friend, tells me she is one fabulous decorator. One day I asked if she could give me a few of Eva Mae's fashion tips. From her lips to mine:
1. Everybody needs pearls. You can wear pearls with everything and need more than one set. White, pink, black pearls. It makes no difference. I just don't like them tight around my neck.
(Jane's note: I have seen EM sleep in hers.)


2. Everybody looks good in black and it never goes out of style. A classy look. Of course, sometimes you need a little color. In summer, white pants are cool.
3. Hot pink or red nail polish. That white stuff … what do you call it? Well, it is pretty on some folks but I like color.
4. Sequins day or night. Makes no difference!
(Jane's note: EM loved bling!)
Jane says she can still hear Eva Mae's infectious laughter when she would get tickled at herself, and she tells me that for Eva Mae's funeral she (Jane)
just had to
wear pink shoes since that was Eva Mae's favorite color. She said she could just hear her friend say, "Wellllllll! Those shoes have my name all over them, but darlin' I would certainly never wear them with
all black
if I were you."

You haven't lived until you've dropped in for breakfast at Vonnie and Woody Wright's house, which is exactly what editors Roberta Croteau and Joy MacKenzie and I, your humble servant, did not long ago. The Wrights live in a big country house with wraparound porches and cozy swings and gliders. We were barely out of the car before we were overcome by the smell of freshlybaked breads and rolls which we were soon slathering with butter and jam. Lotsa fun was had by all!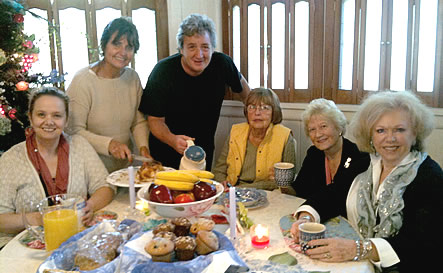 [Our cozy group including Peggy Benson]

The Collingsworth family has become a favorite of us all. I've become so close to Kim that I asked her to give me pointers for my piano performances. Of course I've barely touched the piano since high school, but you never know.
When I asked Kim if her children were as perfect as they appeared, she gave me that look. You know the one I'm talking about! Then she related a couple of incidents that made me know the Collingsworth kids are much like yours and mine. She said once she and Phil were singing for an early morning conference at a beautiful hotel and after the challenge of getting everyone dressed and ready, she gave strict instructions to the kids to "sit and be quiet!" while they sang. After a few minutes, Kim looked down to see Courtney and Phillip having a sausage link fight. To her horror they were hurling sausage links across the table like they were baseballs. She nearly passed out!
Another time when Brooklyn (the reserved one) was 4, they put her up to sing a solo. She got off to a pretty good start, then stopped right in the middle, looked at her daddy and said "I don't like all these people looking at me." Then she promptly went and sat down.
Kim says, "Needless to say, everyone found out that morning what we already knew! Our kids AIN'T perfect!" ... Not perfect, indeed!...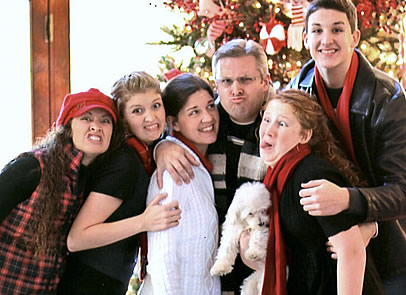 This is my friend Nancy from Pennsylvania whom I met a couple of years ago at Family Fest. Her life dream was to horseback ride on the beach. She got to do that exact thing when she went on the Homecoming cruise to the Caribbean. Nobody could have been more thrilled! Her email to me announced: Dreams really do come true!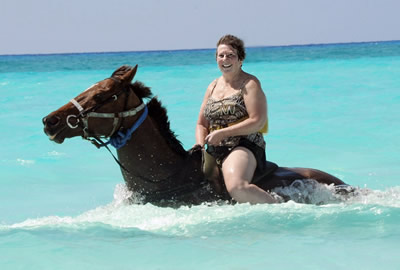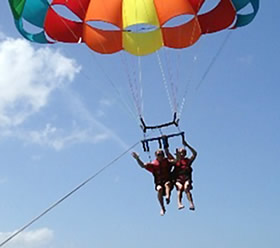 Last little item: This is Bill parasailing (on the cruise). His last words to Gloria just in case he crashed and burned? "Don't forget to renew the copyrights." AND just as he lifted off, there was something about "Watch Mark, he's trying to get his hands on 'Because He Lives.'"
You'll have to admit, I really can tell you stuff!

Click for more great "stuff" from Homecoming Magazine contributor Sue Buchanan!