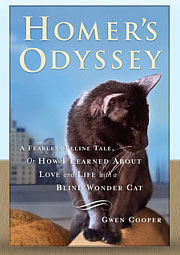 Aww… the suh-weetest thing happened! Remember last issue when I said that Gloria and I had issues over my love of cats? Well! Apparently she realized how snarky she had been, or maybe God spoke to her heart. Whatever! Yesterday I got a book from her.
Homer's Odyssey… A Fearless Feline Tale, or How I Learned About Love and Life with a Blind Wonder Cat.
It's the loveliest of stories with a life application you can't forget. You, dear reader, would love this book even if you are a dog person!

One thing I know for certain: Gloria loves me pretty much unconditionally — not that she always agrees with me—but there are few friends in life you can say that about. (I know, I know, editor, perfectionist that you are, to be correct I should say "few friends about whom that can be said." OK, OK!)
We four friends once spoke at a "Friends Through Thick and Thin" conference, and Gloria was taking these gigantic pain pills for back pain, after having fallen down Benjy's front steps. As usual, Gloria and I roomed together and Peg and Joy roomed together. (Why? Because two of us are neat freaks and two aren't, OK?) The next morning I complained of something and Gloria shoved one of her pills in my mouth and handed me a glass of water. I gulped, and the damage was done. Later, when I stood to speak, the room was spinning. I staggered to the podium like a Saturday night drunk.
I had to hang onto the podium for dear life, and the words that came from my mouth sounded crazy even to me.
"Did you take one of those pills this morning?" I questioned Gloria afterward. "No," she responded, "I figured SOMEBODY needed to make sense!"
In other words, she didn't EXPECT me to make sense!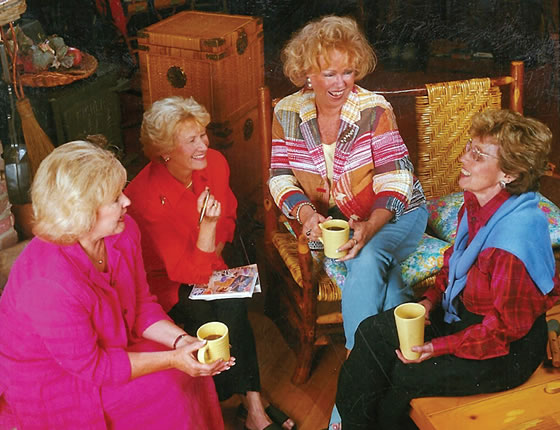 Friends through more thick and thin than you can imagine!

Sometimes I have really deep thoughts, but having been pegged a dumb blonde, nobody gives a rip about the wisdom I might impart if given a chance. However, true friend that she is, Gloria once said to me ,"I know you are a thinker, I know you are wise, but I won't blow your dumb-blonde cover."
This issue about beauty and art struck a chord, dear reader, and has caused me to veer off course for this issue. The only other departure from my usual was when I wrote about my time with my daughter Dana before her death, and to that, I received an overwhelming and heartwarming response.
The power of art and beauty imprinted my psyche at a young age. The application … the spiritual epiphany … was progressive and continues to this day.

Visiting the Blenko factory in Milton, West Virginia (not far from Charleston which is where we lived) is one of my earliest memories. The tour — a sort of indoor-outdoor, you're-on-your-own, stay-on-the-walkway-of-uneven-oldboards — was at your own pace. No earphones, no signage with buttons to push, and no uniformed guide or guard. You couldn't have heard anyway, over the sound of the furnaces.
As though a spell had been cast over me, I would inch my way along on tippy toes, hanging over those rusty rails with the heat of the ovens burning my face to almost sunburn proportions. Mesmerized! Not missing a single motion, as those magnificent artisans — disguised as workmen, in singed, stained and tattered overalls — danced the dance of the refining process to the deafening music of the glowing ovens.
From searing blob on a long pipe, to fiery oven, to the bailiwick of a master craftsman who with great skill — and with such force that his cheeks looked as though they would explode — blew shape into the nothingness. With long wooden paddle in hand, a second workman (dance partner, if you will) darted in and out and around the fiery mass with such precision that, at times, it seemed like one finelytuned apparatus. Shaping! Turning! Spinning! Trimming! Fluting! In and out of that hellish furnace. Burning. Searing. Making beautiful!
A few years later, for a junior high school report, I devoured pamphlets and books that told the story of William Blenko, who brought his lifelong passion for stained glass windows from London to America in the mid 1890s. Who, after several attempts and many failures, decided to make one last effort, and at 67 years of age, moved to "Milton on the Mud" because of its plentiful supply of natural gas and access to the railroad. He taught the residents the glass-blowing craft, and it became a world-renowned company, designing windows for such magnificent structures as Rockefeller Center, St. Patrick's Cathedral, St. John the Divine and Washington Cathedral.
While in college in the east, I became a follower of Louis Comfort Tiffany — not the lamps — but the breathtaking stained glass windows of the churches in the affluent borough of Sleepy Hollow.
When we lived near Chicago, it was both Tiffany and Chagall! I'd often make my way from the soothing Tiffany angels of Second Presbyterian Church to the Art Institute, where we were members, to lose myself in the funk and flamboyance of a Marc Chagall window! Topsy-turvy floating figures! Chagall was said to prefer a life of surprises. Me too!
The life-applications are obvious and need no explanation.
First of all, that a blob of nothingness could be crafted into something so treasured and beautiful! Get it?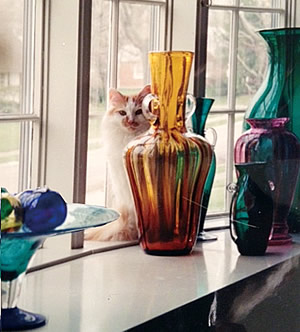 Second, that no two pieces of hand blown glass are alike. Each one has its own unique identity and that often an anomaly will become the very thing that sets it apart and gives it value. (Pictured right: Dana's cat Puddin' admiring the art glass collection.)
That while the Tiffany family dealt in the finest of jewels, Louis made his mark in glass! Mundane, throw-away glass! (My spiritual epiphany is perhaps still unfolding on this one!)
The story goes that for centuries, since Egyptian times, artisans had tried to perfect a color they called "ruby red." Other hues were created comparatively easily when substances such as magnesium or cobalt were added, but not the highly valued ruby red. (By the way, the twelfth and thirteenth century windows at the Met in New York are painted, not blown.) Eventually after years of being obsessed by this mystery, William Blenko Jr. (and remember, after 65 of age!) uncovered the secret. It wasn't some chemical, not some special dye or paint. It was sensitivity to heat! The secret was in the heating process itself. At that moment of discovery Mr. Blenko is said to have proclaimed, "Eureka! I've found it!"
When Ladye Love stopped by I asked her to play Vanna White and show off my Blenko glass.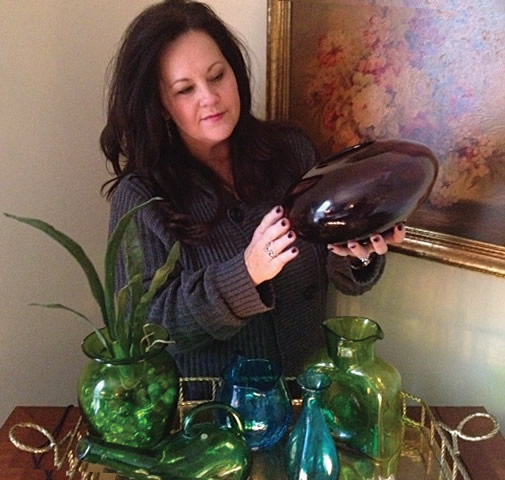 Many of my friends, and yours, have danced the dance of the refining process to the deafening music of the glowing ovens. The Master Artisan has been at work. Shaping! Turning! Spinning! Trimming! Fluting! In and out of that hellish furnace. Burning! Searing! Making beautiful! Without a doubt, a Sothebys… Christie's … Buckingham Palace … L'ouvre … and all the art museums of the world put together …
objets d'art
!
Keep in mind I ALWAYS KNOW MORE THAN I TELL!