Life is an endless struggle,
full of frustrations
and challenges,
but eventually you will find
a hair stylist you like.
— Bonnie Keen
Frustrations? Challenges? Suffering? Been there, done that! My next book is going to be titled My Prayer Request is More Urgent Than Your Prayer Request.
I'm embarrassed to say it, but at times I feel as though nobody on earth has gone through what I have: a long and drawnout, unwanted divorce, financial wipe-out, the sickness and death of my daughter, and recently, a brain injury (that scared the livin' daylights outta me, but from which I'm thankfully recovered).
And that's just the big stuff! Forget the two broken water pipes, the tree that fell on my car, having to get a new furnace and a new roof, the termite scare that turned out OK but nevertheless! On and on!
I'm no theologian (Surprise! Surprise!) but you'll never make me believe that when something bad happens to you, it's because you've offended God: you haven't prayed enough, given enough, fasted enough, gone to church enough. . . whatever enough!
For me, when my back was against the wall and I'd "come to the end of my hoarded resources," I was pretty sure I heard God say, "I've been waiting for you to get to this point, you crazy woman, you! I'll be in charge now, thank you very much."

At Homecoming events I'm always meeting "older" women who have been through the fire. They have stories of loss and hurt that make your head spin, yet they exude contentment and peace and seem to be enjoying life to its fullest.
Just like Joan, who shows up on all the cruises, bright-eyed and bushy-tailed and always with a decoration in her up-do. She drives a motorized chair like it's a '57 Porsche Speedster in a power slide. Joan has a story, trust me!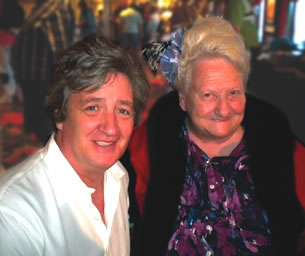 (This is a picture of Woody and Joan, taken just after she ran him down with her motorized chair.)
Another tiny little lady I met is in her eighties. I wish I could remember her name. She's cute as a June-bug; she's feisty and her story will make you cry. She claims the Homecoming people as family, having lost her own over the years.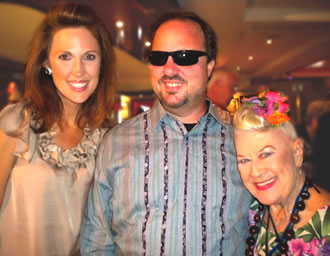 (This is a picture of The Motes with this snazzy little lady on the Hawaiian cruise.)
Alice, a long-time reader and someone I've become fond of through our correspondence, writes:
"Over the past 12 years, God has allowed me to be stripped of everything I held dear, and through it all, He has held me close, peeling back the layers of self-centered dreams for myself and my family like an onion . . . one layer at a time. I have truly learned to say that 'the Lord is my portion; therefore, my hope is in Him.' Oh, Sue, I wouldn't trade one minute of the suffering and heartache for the priceless gift of knowing how much He loves me and how good and loving and faithful He is."

Speaking of Woody—for seven years he and Stephen Hill have done a Spirit of Christmas tour in Europe. (Woody tells me he speaks fluent European.) This last time they were waiting at the gate in the Amsterdam airport when the pilot walked by, did an aboutface and nearly broke his neck when he recognized them, because—you guessed it—he is a big Homecoming fan! And besides that, Stephen had even taught his son at the Stamps Baxter School.
The three chatted awhile and the pilot asked where they were sitting.
"Cheap seats, back of the plane, beside screaming babies, and within smell of the restrooms," remarked Woody.
"We'll do something about that." replied the pilot.
Just before takeoff, the pilot walked back to where they were sitting.
"I can only move YOU to First Class," he whispered into Stephen's ear, trying not to make eye contact with Woody.
Woody, Woody! Do I have to say it? — "That'll teach you! That'll teach you!"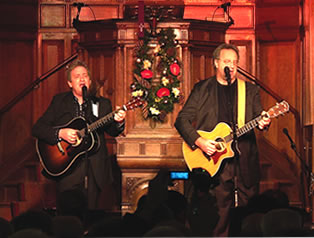 (Woody and Stephen on the Christmas tour in Europe)

Here is a picture of The Lunch Bunch.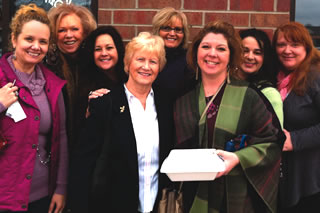 Everyone is involved in Homecoming to some degree. Roberta (editor), me ("I Can Tell You Stuff"), Ladye Love (sings with Reggie), Joy ('nother editor), Teri (wife of Gene McDonald), Lori (wife of David Phelps), Melissa (married to the best bass singer in the business, Tim Duncan), Annie (runs Buddy Greene's life). Missing is Charlotte Richie.
This is a loud, raucous, fun-loving group, and we were at our loudest yesterday when my phone rang and it was Gloria calling from an airport someplace. We couldn't hear a word the other said. Hard to tell what she thought we were up to. Hopefully we'll have a chance to explain.

At last, Alexandria, Indiana, (home of you-know-who) is known for something other than the world's largest ball of paint.
Go to youtube.com and search "gold teeth cat" and you'll see what I'm talking about. Dr. Steele is a neighbor to Bill and Gloria. Ha, ha, ha, I can't stop laughing. This is certainly the right time to point out I CAN TELL YOU STUFF!

Here are some new Homecoming subscribers taking the"PLEDGE."

(In case you don't know what that pledge is, it's a promise to read "I Can Tell You Stuff" first!)

"Life is made up of good moments and bad moments—and most of the time we can't tell the difference," reads the theme for one of Gloria's best messages.
She credits the remark to Bob Benson, whom she says, "has sent me off in so many directions . . . I loved his mind, and have so much to thank him for when I next see him."
From my dreadful accident (you saw the picture!) came two wonderful, unexpected blessings. Two things I could only have hoped and prayed for: a fresh relationship with my daughter Mindy and a diagnosis and treatment for my voice problems. And a lot of tender-loving care from my amazing friends and family.