Earlier in the magazine you read about Ladye Love's daddy.
(In the article "
A Few Good Men
")
What a delightful man he was!
I was privileged to attend his funeral along with Annie Campbell, Buddy's assistant. We kept saying over and over
Bill Gaither would love this … the small town that shut down for the day to honor its own; the creaky, but somehow elegant old funeral home crowded with too many flowers. The many friends from all walks of life, all claiming Mr. Long as best friend … and they told stories to prove it!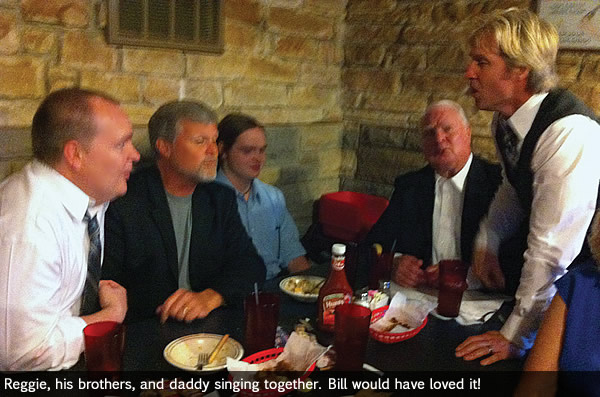 Bill would have loved the gathering afterward too, and the impromptu music that couldn't be contained. As I witnessed the pomp and circumstance of full military honors at the cemetery that day, a shudder of remembrance came over me of my own family heroes buried long ago on a lush hillside in southern Ohio.
My journal from September 23, 2002, recounts what I called "a visit to that narrow stretch of earth between Langsville and Dexter, where my ancestors lived, and loved, and died."
"We visit Robison and Miles, the graveyards of Entsmingers and McKnights, and we remember being here as children, many times — strewing flowers between the slabs of granite and stone—in some blur of passing years.
"At Miles, we reverently pause by the monuments to our war heroes, John and David, who fought because it was right and nothing more.
"We thought of them and loved them for a while on an exquisite fall day. We wondered about them, told stories about them and took each other's pictures on the soil atop where their bones lay."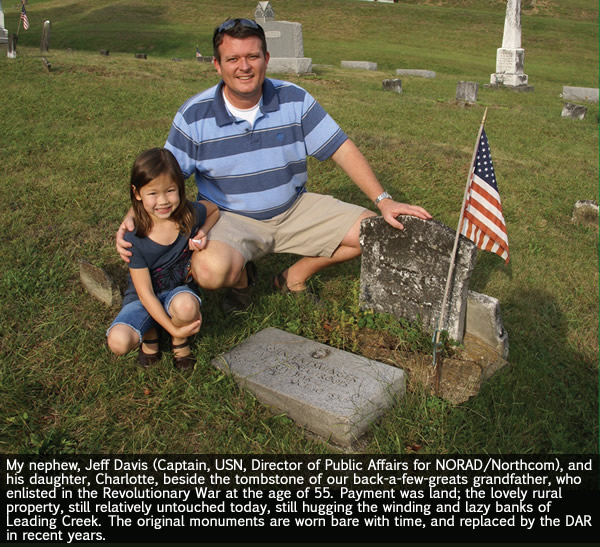 Whether it's an illness, a new baby, a death, as in the case of Ladye Love's daddy, or a recording session, Homecoming folks are there for each other. If someone has a cold, another steps in to fill the gap. They show up at each other's gigs*, ready to cheer and clap, such as was the case last Saturday night for Russ Taff and the Alternators, right here in Nashville, Tennessee. Where you ask? Not in a church. Not at a school. Not in the park. Hang onto your wigs, girls and boys! AT A BAR! Yes, a bar! (Stop rolling your eyes and waving your arms; stop judging, and get up off your knees where you've already begun to "pray more intelligently" now that you KNOW!)
The Alternators is a "bar band" made up of Nashville's primo session musicians, some of whom have toured with Russ in the past, and all of whom are huge Russ fans. They worked up a bunch of his '80s and '90s hits and asked him to come sing with them. It turned out to be an amazing reunion of talent. They've repeated the show three or four times now, and while I haven't asked, the success of it tells me it will go on and on.
If you don't like loud music you woulda hated it. I'm just sayin'. It was loud. It rocked.
And it was sweet and holy!
Russ gave his testimony, just as you would expect in a bar.
WHAT? Hold on! Wait! NO!
You would NOT expect that in a bar.
Holy moly! Never in a million years! But that's exactly what happened, and when he spoke, it seemed that most everyone in that crowd of 200-plus, moved to the edges of their chairs and barstools. (Some may have teetered a bit, for obvious reasons.)
With great intention and spirit, Russ told his story of searching … searching … his whole life, and occasionally getting glimpses … of something he couldn't quite define, but longed for. Through the good and bad places, God just kept giving Russ enough of those "glimpses" to keep him going. Always showing him there is something worth pursuing.
With that, the band (celebrities most) took its cue and Russ began to sing:
Here comes Jesus,
See Him walking on the water,
He'll lift you up and He'll help you to stand;
Oh, here comes Jesus,
He's the Master of the waves that roll.
Here comes Jesus, let Him take your hand.
Need I say more?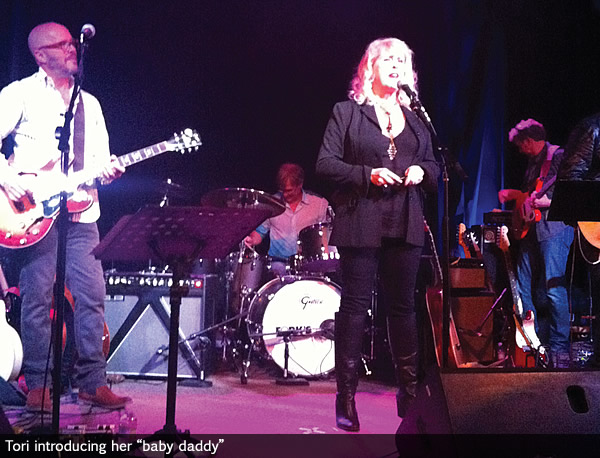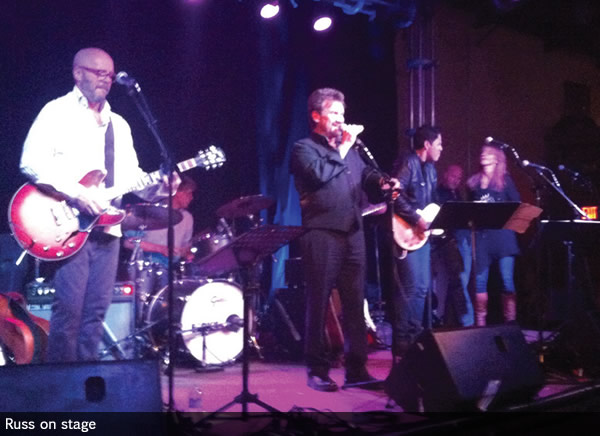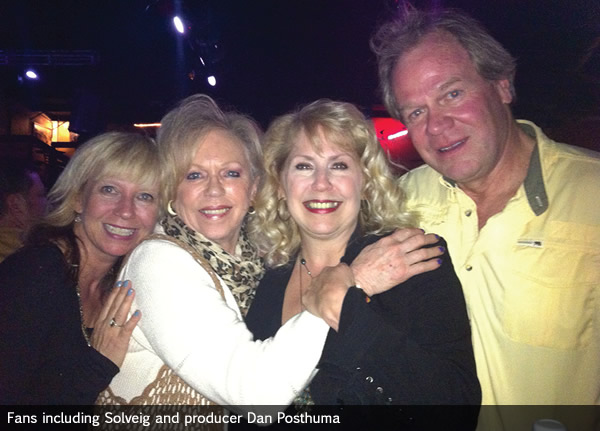 Writing the above and thinking of community, I couldn't help remembering a Buddy Greene show at Puckett's in Franklin when he spotted Joyce Martin Sanders in the audience and called her to the stage.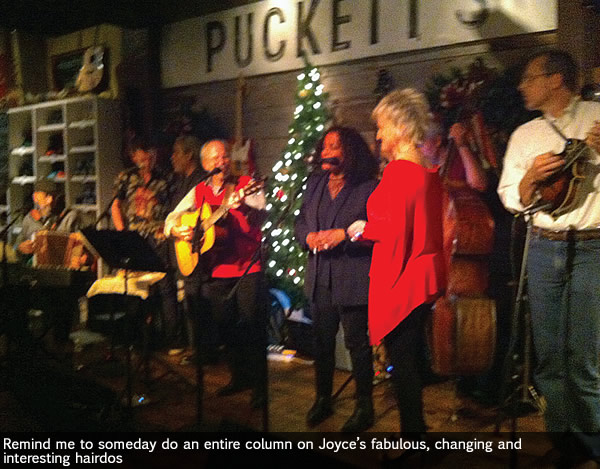 Sometimes I hear from "a voice from the past" which was the case recently, just after my article about Allison and Brian Speer. It came from Theta Hall, a dear friend to all of us, whose husband is the great gospel singer Big John Hall. Our paths hadn't crossed in ages, and I was delighted to hear from her. She told me the funniest story about Brian Speer and Phillip Marshall, son of Barbara and Jack Marshall. (Jack played piano for the Blackwood Brothers for many years.)
It happened at the National Quartet Convention, "probably around 1964." It seems Brian and Phillip were missing. The frantic mothers, Barbara, Faye Speer and Theta looked everywhere. Finally the lost were found … sitting back of the stage where piles of empty soda bottles were thrown. The boys were methodically drinking all the leftover soda in the bottles. "Such precious memories we have," says Theta. "Watching our children grow up in that environment was just the greatest!"
Watching children grow up in our Homecoming family is still the greatest. However, sometimes, especially now with social media, it's a little scary. Witness the photo sent this week from Karlye Hopper. It was titled "Fun with the grandparents in Italy." Love it!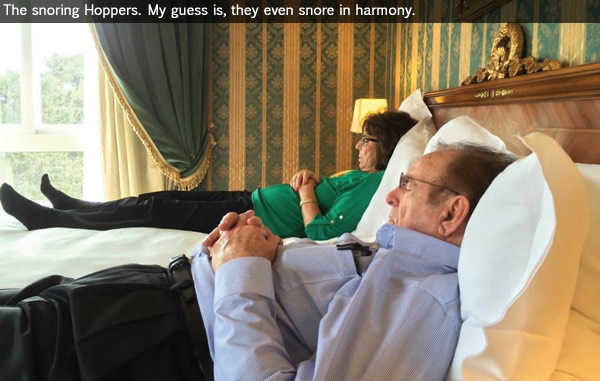 Thank you everyone for your emails and Facebook messages, for pictures of your pets and children and grandchildren … and you, whoever you are, thank you for that picture of your husband, in his recliner, in his underwear, asleep with his mouth hanging on his chest, drooling like a Saint Bernard. Thank you for that.

To wrap things up this time, I'd like to praise the work that's being done these days for our military men and women who are struggling with the scars from combat, whether it's PTSD, depression, anxiety or other issues related to the adjustment of coming back home. My niece Cara Chaney, a licensed clinical social worker, works day in and day out with active duty soldiers at Fort Campbell. When I told her about our theme this issue, she asked me to please make our readers aware of the help that's available for soldiers, by way of phone (800-342-9647) or through a website (
militaryonesource.mil
). Both are free, and staffed 24 hours a day, seven days a week.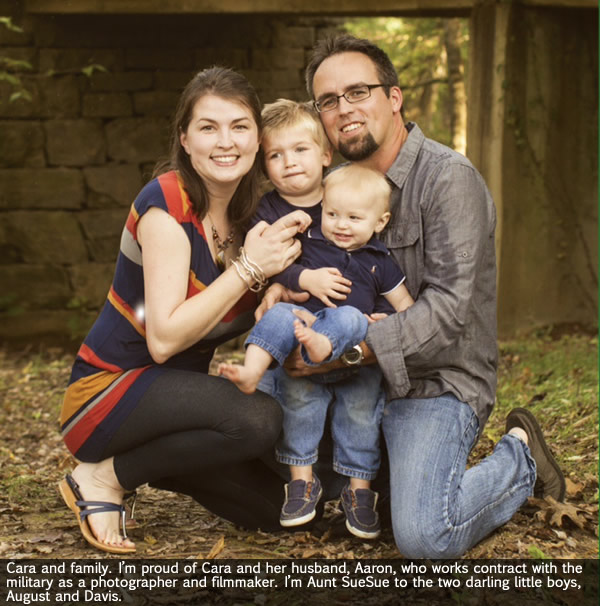 Once again, I don't know every single thing but I can always tell you stuff. Sometimes you can stake your life on it, sometimes you can't. Whatever.

*
NOTE: Gigs … surely you know … it means "live performance." (Some of you remember another meaning and yes, I've gigged for frogs!)