Many folks go to the National Quartet Convention to hear the music. Others go to meet the stars...to get their pictures taken with them...to get autographs. Some go to buy stuff...like CDs, DVDs, T-shirts...and Gaither lights! There are those who go to see and be seen. I can say that since I myself have been known to show up only because I have a new outfit.
You can see from this picture of Tori, Ladye and Lori that there are those who go to shop for jewelry AND have the audacity to take a picture and send it to their faithful friend (me!) who didn't get to go this year. They know gaudy jewelry is my passion, so it's a slap in the face no matter how you look at it... unless...hmm...that's it—they are buying for me!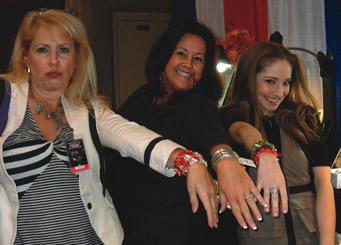 A couple of nights ago I had dinner with Bill and Gloria, and Bill never fails to speak appreciatively about their many Scandinavian fans. Those off-the-charts enthusiastic friends who show up everywhere: Homecoming events, Family Fest and the NQC.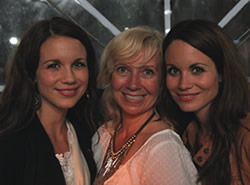 I recently enjoyed a gettogether at Jim and Solveig's home. They were entertaining dear friends from Norway, a gorgeous pair of twin sisters and their husbands, who were in Nashville on vacation. Before the evening was over, the twins, a popular Christian act in Norway, were singing for us. Hildegunn delicately plays small percussion instruments, Ingelin plays guitar and both are compelling vocalists. It was one of the loveliest sounds you can imagine. You can learn more at garnessmusic.com. Jim and Solveig not only have interesting guests, but those pastries Solveig makes? Oh my goodness! Scrumptious!
(Hildegunn, Solveig & Ingelin all grew up within walking distance of each other and their multiple sets of grandparents. Their stories are rich with the flavor of Norway)

OK, my dear reader, I know you turn to this page for your Homecoming gossip, but I'm not quite sure that you are ready for this scandalous next item!
Did you know that as a child and young teen, Sheri Easter felt she had no talent? It all changed in high school when she had to represent her class at Homecoming by competing in, of all things, a talent show! She worked for weeks with her friend, whom she describes as "the warmest, richest baritone I've ever heard," to perfect an act to the song "Frankie and Johnny."
As though the song isn't scandalous enough—and I almost hate to tell you this—Sheri wore a black and white shimmer-and-shake little outfit...AND... she wore a gun in her garter! A garter, dear Christian friends! Oh my! I'm gasping. I'm fanning myself with my funeralhome fan.
Turns out the story isn't gossip after all. It's all there in Sheri's new book— Hear My Heart. Sheri sent me an early copy and I found that it reads like one of those Southern novels you can't put down. I agree with Andy Andrews who endorsed it: "It's a work of creative emotion, guaranteed to touch you in an unforgettable way."
I found out through the grapevine that Jeff and Sheri are re-doing their kitchen. Everybody knows that when a couple remodels there is angst. Known fact. When they are trying to get it done before Christmas...well...angst times 10, right? I repeat: Jeff and Sheri are remodeling their kitchen.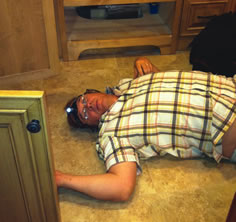 Need I say more? I don't know a thing beyond that fact. I'm totally speculating on the angst thing.
Wait! No angst at all. I just called Jeff to check on the progress and to make sure everything is (wink, wink) OK. AND I quote: "Sheri and I have never had an argument...we just have intense moments of fellowship." Next Jeff said the suhweetest thing, something every wife longs to hear: "When it comes to remodeling or decorating, Sheri is always right. She has a good eye and knows what she is doing." I managed to have someone sneak in and get this picture.
(It looks to me like Sheri is working that boy a little too hard!)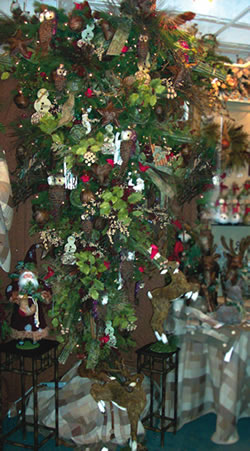 Gloria's store (Bill's too, I think?), Gaither Family Resources, is spectacular at Christmas. It's like every Christmas store you've ever seen all balled up into one, and then some. People drive from all over to see it and to shop. I'm told that even the folks from Norway have been known to show up! One thing that was new to me is an upside-down Christmas tree. It's...well...a Christmas tree that is upside down! And it's hanging from the ceiling. A can't-be-reached-bylittle- children-and-jumpy-annoyinganimals- that-might-pull-it-over kind of tree. A can't-imagine-where-we'regonna- put-a-tree-this-year-Gertrudenow- that-you've-bought-this-newentertainment- center-to-play-Gaitherstuff- on kind of tree.
(The upside-down tree is only one of many trees in the store and I'm told there is a "Sue tree" decorated with pink feather boas!)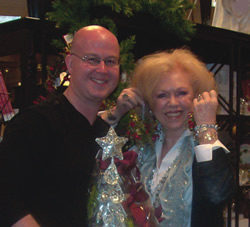 While Gloria's touch is everywhere, she's found the most tuned-in, creative folks in the state of Indiana to work with her. One is Eric Scott, general manager, but really he is the guru of creativity and design. His ideas come at breakneck speed and he can follow any project through to completion. And he looks good doing it.
(Eric approves my holiday earrings selection.)

I belong to an e-mail service called "Wordsmith" where I get a new word everyday. Yesterday my word was polymath, pronounced POL-ee-math. It has nothing to do with math; it means a person who is learned in many fields, who has interests from A to Z. They suggest you use your new word in a sentence.
"If ever there was a gifted polymath, it would be Gloria Gaither!"
This week I also read a quote by Leonardo da Vinci—painter, engineer, musician and scientist. He said, "Simplicity is the ultimate sophistication." I say, "Not when it comes to jewelry!"