Yay! Thanksgiving! Yay happy food! Yay happy people!
And let's hear it for Christmas! So much excitement! So many parties with food-laden tables that extend into the next county! So many calories that soon WE will extend into the next county!
The questions that went out to the Homecoming gang for this issue were, first: "What have you discovered on your journey that makes you wiser?" Second: "What is something you pull out every Christmas that is a treasure to you—and something that says to you that it's the most wonderful time of year?"
My answer to the first is simple. I've learned I can't face the holidays without big gaudy jewelry and snazzy shoes.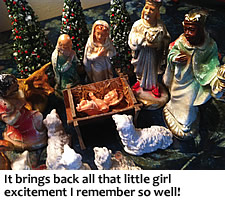 As to the second, I'd say the manger scene I had as a small child is my treasure. It's dripping with nostalgia! I would arrange and rearrange those tiny figures a thousand times. I'd play out the story of Jesus' birth over and over. And perhaps this is weird, but sometimes I would let Mary and Joseph go for walks in the woods, and sometimes they would hold hands and kiss. I would put baby Jesus on the back of a sheep and zoom him all over the house. The wise men would fight over who had the best gift and apparently they would fight unto death. One of them is missing. The others are badly chipped. What does that tell you?
OK, forget I said all that! It really IS weird.

The Gaithers once had a manger scene made from papier mâché, and they also had a hamster.
A really smart hamster! He could reach around the bars of his cage, unlock the door and escape. Each time they would search high and low and bring him back. Finally they lost track of him, and thinking he was dead, stopped looking.
One day they heard scratching in the basement, under the stairs where the Christmas decorations were stored, and discovered the critter had survived after all—on two shepherds, parts of Mary, and a camel!

Tori Taff's standout Christmas ornament is one that Tanya Goodman Sykes sent to her the Christmas after Madi Rose was bitten on the ankle by a shark.
If you remember, we wrote about it in the magazine. Madi Rose was on the news showing her 16 stitches to the world! AND had the best story EVER for the inevitable
What I Did on My Summer Vacation
assignment.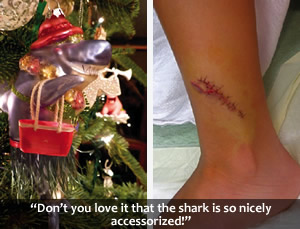 Another treasured ornament from the Taff home is Charlotte's school photo star.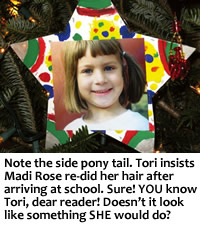 And Madi Rose! Who would think this darlin' little girl would only grow more beautiful with time, to become the poised young woman you see on the
Women of Homecoming
DVD?

Gordon Mote and his family go to my church here in Nashville.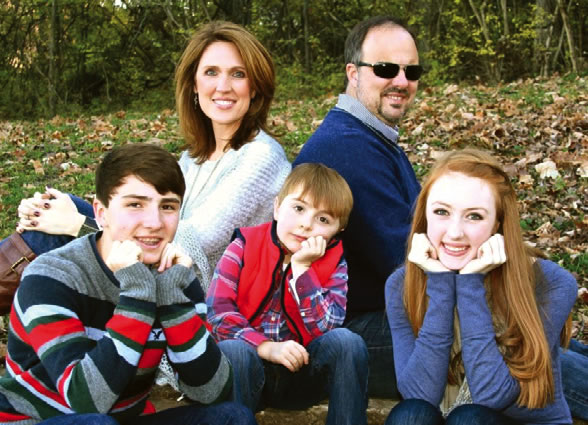 Kimberly is in the choir and is sometimes a worship leader. Gordon is often traveling, but when he is in town he can be counted on to participate in the music wherever needed.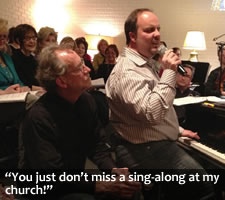 As you might imagine, Nashville is bursting at the seams with incredible musicians … back-up singers and players. (Everyone is called "a picker," even if they play keyboard or percussion.) … and stars … and semi-stars and some pretty good, above-average wannabe's! Recently, Gordon was part of a rockin' not-yer-gramma's sing-along at church. Gordon was at his best, not just with his playing and singing, but with his humor. He said when we sing the song with the lines "I once was blind but now I see," he mutters under his breath, "I once was blind … I still am." He kept everyone in stitches!

If you want good stories, just ask the grandpa!
Mark Means is that to the Hampton boys and he has stories. You'll always see Mark and his wife Rosetta helping to corral the Hampton boys during a concert. When the Vocal Band sings though, they sit in their seats, eyes to the stage, spellbound, never moving a muscle!
Not long ago he sent me this picture, and when I asked the circumstances he was happy to oblige! Wes and Andrea, Mark and Rosetta—who looks like Andrea's sister instead of her mother, have tried to teach the boys a sense of "others."
When their church had "serve day," they seized the opportunity. The four boys spent the week coloring pictures and baking cookies for area fire departments. They went all out, even had t-shirts made. They were bathed and polished within an inch of their lives, and given extensive instructions on how to behave!
Off they went to four different firehouses! (Mark explains that preparing and loading four little boys into the SUV and getting their seat-belts on is like launching a NASA space probe!)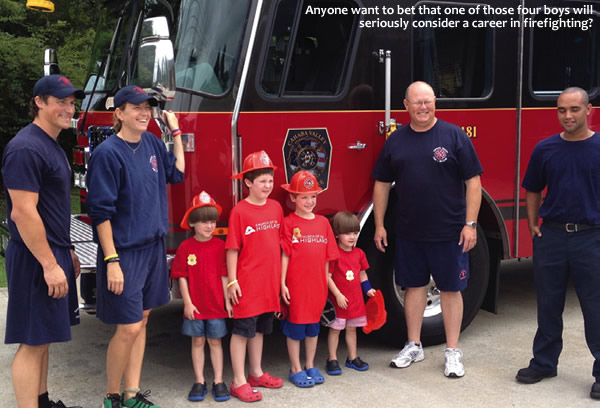 The firemen were like Santa Clauses! Crawling around on the truck with them, explaining everything, tugging out the water hose, ringing the bell, pinning up the artwork and gratefully accepting the cookies. There were hugs, grins and high fives to end each visit in their never-to-be-forgotten day at the firehouse!

Apparently I'm still bothered by the fact figurines have no life of their own.
I won't show you the picture, but I have one … (Very blurry—it was an action shot!) … of me, taken at Jim and Solveig's house two Thanksgivings ago. I'm making her lovely Norwegian china pilgrims … kiss!
See you in the New Year, friends. Together we'll eat right, shed that jellyroll of a midsection, and exercise away that jiggly badonkadonk. We'll stop buying so many
Homecoming
DVDs and save the money for old age! But then again, those DVDs are the very things that will GET US THROUGH OLD AGE … Bill Gaither didn't tell me to say this, it just makes sense … STOCK UP! BUY! BUY! BUY!
Remember, everything I tell you didn't necessarily happen, but it could have under different circumstances!