(Photo: Goober and Lulu at the "Hee Haw" reunion)
Country Music...hmm...what can I tell you? That is the question. I live right here in the middle of it (Nashville) and the problem is: I know stuff I can't possibly write! Most of it is hearsay, but then again, I've spent a lifetime putting a lot of stock in hearsay. Sometimes stuff that I started gets back to me five years later for heaven's sake!
I've been at parties with Dolly, George Jones and many more. I knew Conway Twitty well. He was always in a ball cap, and his automobile of choice was a little yellow Pacer. Simple man. He listened to every demo that anyone ever sent him. He loved coming to our house for soup, which was his favorite thing. It was kinda fun to open the front door and hear "Hello Darlin'" right there in person.
One of my close, close friends is Lulu Roman. She was once the fat funny gal on the hit television show "Hee Haw" but is now a slimmed-down beauty, having lost around 200 pounds. Recently she invited me to a "Hee Haw" reunion taping. What fun! Lu never sang on the show in its day—wasn't thought of as a singer—so she surprised the whole cast when, at the reunion, she began to sing "At Last!" She was as compelling as any torch singer you've ever heard! She belted it, hitting every note perfectly, having rehearsed with the orchestra ahead of time. Her face shone as she told about finding Jesus and how He changed her from a drug dealer and user—the reason she was fired from the show—to a new creature in Christ.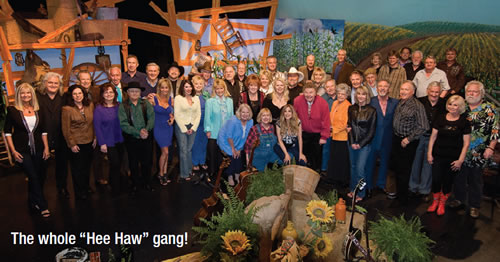 You should have her speak and sing at your church, dear reader. She will have your audience spellbound with her memories of life in an orphanage, of abuse, wrong choices and then finding redemption in the Savior. A serious story, told by one of the funniest women you'll ever meet.


This picture came from Suzanne, Gloria's daughter. Each summer on the Gaither family vacation, a fishing day is scheduled and Gloria ALWAYS catches the biggest fish.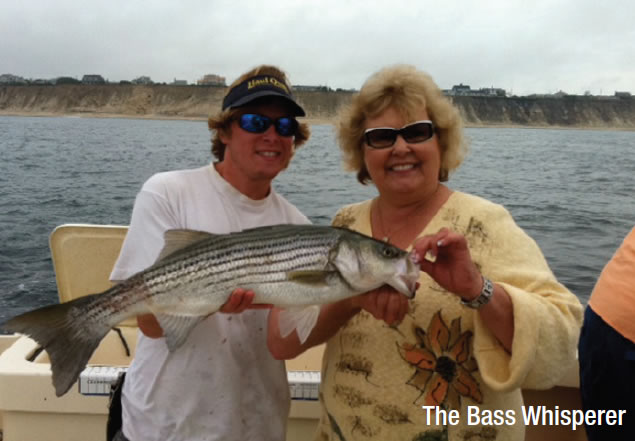 Let me clear something up. In the past, I've shown you a picture or two of Bill holding a big fish, and perhaps I've misled you, letting you THINK he was the one who CAUGHT the big fish. Forgive me! The truth is, GLORIA ALWAYS CATCHES THE BIGGEST FISH. Suzanne says they've taken to calling her the "bass whisperer."

Reggie and Ladye Love are NOT snooty! I just want to make that clear.
Here is a photo to prove it. It was taken late at night after a concert in Holland. (Not Michigan; we're talking the REAL Holland.) They were starved and nothing was open but a McDonald's which was right by their hotel. ONLY the drive-thru window was open. I don't see a sign that says "walk thru" but that's exactly what they did! If you follow Reggie and Ladye on Facebook you'll know that when they are in Nashville they are regularly called on to sing backup at the Grand Ole Opry. It's given them opportunity to meet the greats of country music.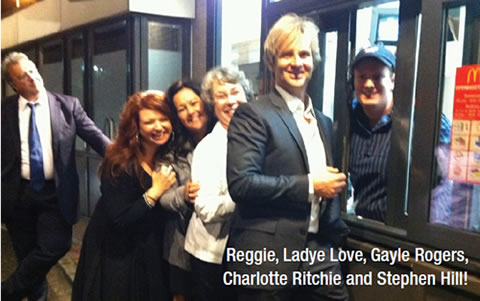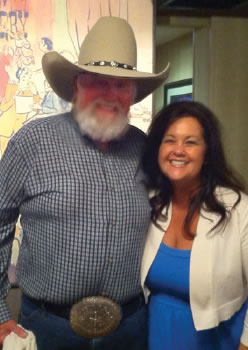 Here's Ladye at the Opry with Charlie Daniels!
Reggie and LL are everywhere. Last week they sang at The Cove (the Billy Graham retreat center in Charlotte) and got to meet Billy Graham. They stayed in Franklin's cabin for goodness sakes.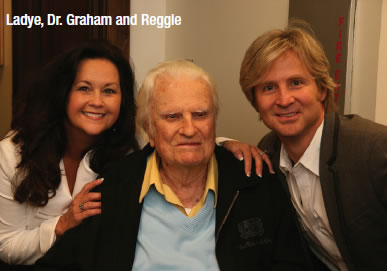 Speaking of The Cove, that's where the latest Homecoming video was shot. Ann Downing was there and she told me all about it: "At one point the thunder was soooo loud and the rain hitting the tent was soooo deafening, we had to stop taping."
"I don't even remember how it came to be...it just happened...Ben (Speer) started singing "Didn't It Rain," and one by one we joined him, Sue (Dodge), Jeanne (Johnson) and me...then Gene McDonald added the bass. We just wailed away!"
It brought back such fond memories because each of them had sung that song years ago with the Speers. Ben told me that "Didn't It Rain" is a compilation of ideas taken from recordings of Sister Rosetta Tharpe, the Golden Gate Quartet and, of course, the Bible. Ben took these ideas and made it into a "new" composition which the Speer Family first recorded in the 1950s. I'll bet that's a little trivia
you didn't know!

Editor Roberta and I often have perks in our jobs at Homecoming magazine. Not much pay, but lots of perks!
A month or so ago we went to the Jason Crabb video taping with Bill and the Vocal Band, the Oak Ridge Boys, and others. It was captivating! Jason, as you know, is an awesome performer. We took pictures but I can't find them—sorry.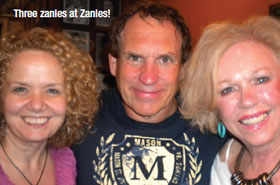 Last week, along with Annie Campbell (Buddy Greene's able assistant) we went to see Taylor Mason at Zanies Comedy Club. He is funnier than ever with Romeo and Juliet and, not to be forgotten, Paco, his endearing pig. Taylor is such a good ventriloquist you tend to forget these characters are puppets! Afterwards Taylor told us his career is on a fast track, with television performances, comedy clubs, Disney and TV commercials. He said to say "Hi" to his Homecoming friends.

Here's a little bit of trivia about a classic country song called, "Little Jimmy Brown." It stayed at the top of the charts forever. If you frequent Homecoming gatherings, I'm sure you've heard the Isaacs' fantastic version.
I had lunch across the table from Jim Ed Brown at a video shoot and he told me the story behind this long-lived hit which he performed with his sisters, Maxine and Bonnie. The three bells represent the three phases of Jimmy Brown's life. Birth, marriage and death. You'll remember it unless you are really young.
Bum, bum, bum / All the chapel bells are ringing / In the little village town / And the song that they were singing / Was for baby Jimmy Brown.
Jim Ed said the song was taken from what was originally a hit in France in 1945 called "Les Compagnons De La Chanson." Or something like that; I do not speak French!
I speak "stuff" in whatever form it comes to me. Keep your cards and letters comin' folks!