The lives of songwriters tend to leak out from their hearts to their lyrics, as is the case with Solveig Leithaug's new album, Finding Home. Many of the album's songs are very personal, revealing truths from the artist's real-life experiences. "There is so much of my heart in this record," Solveig reflects.

A few thoughts about the inspiration behind the songs:

"Faraway Lullaby" is for the nights when moms and dads can't be home to tuck in their children at bedtime, inspired partly by [Solveig's husband] Jim Chaffee's reflections on his own sons.
"Finding Home" is co-written with friend Cindy Morgan. "It is cry of our hearts, that a wounded reed you will not break, O Lord. Anchor us where we belong: in You."
"A Million Miles" is a love song to her husband, Jim. Phil Madeira helped her finish the music, and Buddy Greene shines with his signature vocals and harmonica.
"Nothing is Hidden," which came together with help from Steve Hindalong, is a "prayer song" focused on "the idea of God's eye, not as condemning but as all-encompassing, the Father who sees all with a love that is fierce for us."
"When She Plays" honors Solveig's mother-in-law, Sharon, a church pianist for 40 years who now has Alzheimer's, and includes a postlude of Sharon playing the Gaither song, "He Touched Me." "She doesn't recognize me anymore, but when I visit I can take her to the piano, and she starts playing." The song — which Reba Rambo-McGuire and Dony McGuire christened a "three-hanky" tune — was part of a telethon in Norway last fall that raised millions for Alzheimer's research.
Listen to the song, "When She Plays" here...
"Mother" is a personal ode, the only song on the album sung in Norwegian. "It so describes my mother. I found it in my elementary-school songbook right around the time of her funeral, and it was such a comfort."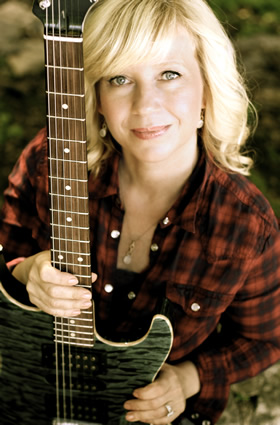 "Safe and Sound" is dedicated to families of deployed military but applies to anyone separated from loved ones, expressing"that longing to have them come home safely."
"Brave" focuses on domestic violence. "Although this is not my own story, there are resemblances; I pray it breathes courage to others going through similar things."
"The World You Made" seeks "to glorify God and describe His beautiful creation—and to inspire us to steward it." It features Jeff Taylor on pennywhistle.
"It Is Good" sets a worshipful tone. "I cry when I do it at sound check. It has that element of, 'it's good to know you, God; I'm so thankful to have you in my life.' It's co-written with Sarah Hart, a Catholic worship artist who recently sang for the pope and 150,000 people in Rome, and who wrote Amy Grant's hit "Better Than a Hallelujah."
"Lacey's Wedding Song" was written for Solveig's niece in Colorado and features vocals from "my lovely redheaded daughter, Kari Henderson, who has been singing with me off and on since she was 2 years old"; and clarinet from Jeff Coffin, a member of Dave Matthews Band.
"You Care More" declares God's deep love and concern for us; it was co-written with Gary Sadler, who is "like a brother to me."
(Bonus track on the CD) "Give Me Jesus" includes a haunting string arrangement by Tom Howard — one of his last projects before his passing — and is a song that Anne Graham Lotz commissioned Solveig to "make her own" when she led worship for a Just Give Me Jesus event, Norway's largest-ever gathering of women.
Sourced from Phil Newman's interview with Solveig Leithaug for

Homecoming Magazine.

Read more of Solveig's story in the March/April 2014 issue!