Deb Patterson: Hello, Melissa!
Melissa Brady: Hello.

Deb: How are you?
Melissa: I'm good. I'm happy to be home, because we've been on the road a lot lately.

Deb: I'm glad you are. I'll bet you're tired.
Melissa: I got to rest a little bit while we rode today, so now it's just laundry time. We were gone for three weeks straight and then home for a day. Then Jim and I flew to New York for the funeral of a friend and then flew to Florida to sing. We picked up his car in Georgia somewhere today, I don't know where. Then he went straight to Pigeon Forge for a meeting, and I came home to do laundry. We leave at noon on Wednesday. I can say this, we're not bored!
Deb: It doesn't sound like it! And you've pretty much started answering my first question, which is what's new with the Jim Brady Trio? So, how's the upcoming touring schedule? Just as busy?
Melissa: Well, what's nice is we'll take a little time off for Thanksgiving. We have four dates this weekend, I think, and then we go straight into Thanksgiving and we head to Florida to be with family. I am taking Jim's mom to Epcot for the first time in her life.

Deb: Oh, wow.
Melissa: I am so excited. They have a big Christmas thing going on this next weekend. I know there will be some tears and "amens" in the big America Pavilion when we watch that show and there'll be tears and "amens" when we hear the Christmas story and see the parade. I'm really excited.

Deb: Can you tell us a little about the new album, Promises?
Melissa: Yeah, I can. We're still learning the songs, really. First album with Layke [Jones], yay! We're really excited about that. He does a great job on it.

Probably one of my favorite songs on there is the song that Jim wrote for his dad after his dad passed. It's called "Farewell But Not Forever."

Just to make the story quick, Jim got the call at about 6:00 a.m. on a Monday morning that his dad was being taken into the hospital. His brother took the phone while they were wheeling his dad back to surgery for some heart issues he was having. Steve said to Jim, "Do you want to talk to Dad?" Jim said, "Oh, I don't want to bother him," because he was in a lot of pain. Steve just put the phone down to his dad's ear while they were wheeling him back for surgery and Jim said, "Hey, Dad. I'm so sorry you're in pain." His dad said to him, "It's okay. Just write me another song." Those were the last words Jim heard his dad say. He passed away a few hours later.

We got the call, and immediately Jim started working on this song for his dad, and he sang it for his funeral that week. It was right before NQC last year. He sang a verse and a chorus for NQC because everyone knew what had happened, and he wanted to honor his dad.

It's been a really emotional song for Jim and was hard for him to record, but he plowed through. I love that the song says farewell, and there's definitely sadness in it. There's hurt, but it takes you to hope when you hear the line, "But not forever." So many people need to hear it. He sang it on the album, and then what's just incredible is that the day the final mix came out and the song was officially done, it was one year to the day that he had written it.

Deb: Oh, wow.
Melissa: I love that God brings things full circle. Then we have a new song on there that's just upbeat Southern Gospel. It's called "God Is With Me." I love just the idea of reminding ourselves when we're going through all this stuff that we go through that God is with us.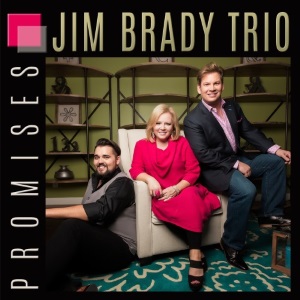 Deb: Especially right now, with so much tension following the election.
Melissa: I'm telling you, the world is absolutely stressed. I love when Jim says that God would not send his Son to die for us and redeem us, create heaven for us, and then leave us here to flounder around on our own. We want to encourage people and remind them that they're not alone on this journey.
I've got to tell you, with all of the stuff that we've been through this last year, year and a half, we went through six months that I call "the upheaval." Simply because we lost three family members—Jim's dad, his sister, and my mom, unexpectedly, and in a six-month period of time.
Then of course within that period, Tim resigned from the group and we needed a new member. Thank God for Bill Gaither, because he was right there when we needed him. We were going through all of this emotional difficulty, having all of these losses, and then all of a sudden we needed to hire someone to sing with us. I looked at Jim and I said, "I don't feel capable of making what feels to me like a life-altering decision." Not just can this person sing, but can we live with this person? Can we travel with them three, four, five days a week?
Deb: Especially during that time.
Melissa: Yes.... Then Bill called. It's such a huge blessing and help to us in this journey.

Deb: I did not realize that he had recommended Layke to you.
Melissa: Oh, yes. Really, we would never have known about Layke if it weren't for Bill. Layke is the perfect person for us. We love him. He loves us, at least I think he does. We're enjoying traveling together, and he sings beautifully. I love his spirit because when he was auditioning and just riding along on the bus … I couldn't even tell you what happened, but I had a really rough day and I was really missing my mom. There were a lot of tears.

Layke barely knew us and there I am, starting to cry. He didn't say anything. There was just this look of compassion and "I'm so sorry for your loss." There was such maturity in this 23-year-old and this compassion that he had for me. I said to Jim that day when I felt the love from him and the compassion for my loss, that I knew I wanted to hire him. I liked his spirit.

Then later, when we were singing at a church on a Sunday morning, we had a concert and the pastor called for an invitation. People came forward. The look on Layke's face when he realized, wow, these people coming forward are part of the ministry that we had today.... We were all moved by it. I was just reminded that yep, his heart's the same as ours. This is the right guy.

God used Bill Gaither and he was a huge help to us. He's even pitched us a multitude of songs that are actually going to end up on a future record. We had to get one out pretty quickly as soon as Layke came along, but Bill has already sent us some amazing songs that we're working on for the next record.

Deb: I'm glad things worked out so well, and it sounds as if you have good things happening now.
Melissa: It's exciting looking forward. Even though we went through an upheaval, I kept feeling like, "OK, God's not done with us yet." That was the confirmation that kept coming in my spirit. We've been through so much stuff and a lot of heartache, and yet at every concert, people tell us their stories.

God has said into my heart multiple times, "You're not the only one. You are not the only one," because people share their hearts with us every weekend and they're going through the same stuff, and sometimes worse and bigger. I'm determined now more than ever that I'm going to go out every weekend, and I'm going to share the love and the hope of Jesus.

I can't say this for Jim, but I know I have some days that I just wanted to stay in my pajamas and cry. Yet, going out and doing God's work and singing His music and sharing His love and hope was changing me and helping me and reminding me this is why I do this.

We sang the day after we buried my mom and I don't know why I thought I could do it, but I didn't say to Jim, "I can't do this. I don't feel like it." We went ahead and sang. It was really hard. Then, about the fourth song in, Jim called for a song from our first CD called "You Can Depend on Jesus."

While we sang the song I remember distinctly thinking in my heart, yes, you can. As sad as I am, yes, you can depend on Jesus. The reason our new CD is entitled Promises is because we have been holding on to God's promises this last year. We want to share those promises with everybody we sing to and remind them you may say goodbye to someone, but it is not forever. This is not the end. There is a better life waiting for us and then to remind them while you're going through your stuff here, God is with you.

Deb: That's awesome.
Melissa: We also started doing the Gaither song "Tell Me," and it's on the new CD. We are so excited. I loved singing the girl's part on "Tell Me" with the Booth Brothers when they did their CD, A Tribute to the Songs of Bill and Gloria Gaither.

We've wanted to bring it back as the Jim Brady Trio, but it really needs four parts. When my brother-in-law and sister-in-law—Jim's baby sister and her husband—started traveling with us this summer, we put Marla on that third part so I could sing my same part as before. Now every night we sing "Tell Me" in concert. That's a lot of fun.

Deb: Very cool. Did you and Jim get to go to the Gaither artists' retreat this year?
Melissa: We got to be there for one day.... We were on the road for three weeks and then broke down on the way home right before the artist retreat. But we were there for the last day and had a beautiful time. Two favorite parts … when Voices of Lee sang, anything that they sang was amazing, and then Mark Lowry's pastor spoke while we were there. He's phenomenal. He just had such encouraging things to say. Of course, Bill and Gloria are constantly just pouring wisdom and encouragement into all of us, so there was a lot of that.
And it was beautiful. The scenery was amazing, and Jim kept saying, "We need to come back out here sometime when we're not so busy." Oh, it was just so pretty.

I love that Bill and Gloria are trying to encourage the rest of us to take care of ourselves, to be still and know that he is God. Gloria told me years ago, "You have to feed your soul." When we get busy, we don't. That's the first thing that we let go to the side—feeding our soul.

Deb: I need that word, too. I'm reading about Christian things all day in my job, but it's not the same as just spending that time with the Lord or praying or reading the Word.
Melissa: Let me tell you what I did one time. I'd been praying for an uncle of mine who was out of church for a long time and he was working three jobs just to make ends meet. When I was praying for him, it was like the Lord said to me, "How can he hear me? He never stops." He would literally go from one job to the second job to the third job and then go home and have a meal and fall into bed.
This was years ago. He's in church now by the way, which is awesome. But God was, at that point, just speaking to my heart about being still and knowing that He is God and reminding me of that verse because if my uncle had more stillness in his life, he would hear what God had to say to him. That became something important to me ... I realized that I'd had my devotions and I prayed, but then I would go about my day and I would never just be quiet, with just me and the Lord.

So I took my phone and I set the timer for 10 minutes after I had my devotions and prayed. Then, I closed my eyes and I waited. My heart was so full in that 10 minutes.

I was just being quiet enough that I could hear what was going on; I heard the birds outside. Then I listened in my heart to see what God had to say. I didn't try to think of Scripture; I didn't try to think of a song. I truly tried to just be still and know that He is God. I did that several times and every time I would do it, it would be so special. It feels difficult to take some days, but when I do it, I love it and I feel like I always get something from the Lord.

Deb: That is beautiful.
Melissa: I'm trying to feed my soul more and be reminded in the chaos of what's going on in the world, in the pain of what goes on my life some days, in the hectic pace of the day, that I don't have to do this all by myself. I don't have to be as stressed as I am some days, and I can let the Lord take care of some of it. I'm trying.

Deb: Well, that is a great reminder for all of us. Thank you for taking time to share with us today, Melissa. Please say hello to Jim, and it was so good to talk to you.
Melissa: I will! You too, Deb. Bye.