A new chapter is unfolding in the lives of seasoned performers Tanya Goodman Sykes, her husband Michael Sykes and longtime friend Johnny Minick. Having all performed with the legendary Happy Goodman family in the past, they have a deep appreciation and respect for the uplifting music that still encourages so many today. To honor this legacy, the three have formed the trio Goodman Revival and are set to release their debut project, Songs in the Key of Happy, in January.

The daughter of Rusty Goodman, Tanya toured with her family and also performed solo concerts. After meeting and marrying fellow musician Michael, the two performed together. Later, Tanya sang with the trio Heirloom, recorded a Grammy-winning children's album, and sang on numerous Nashville studio sessions.

Besides playing piano for the Goodmans, Michael Sykes toured with artists including the Hemphills, Ponder, Sykes & Wright, Sammy Hall, and Willie Wynn & the Tennesseans. He is also a Dove Award-winning producer, having worked on projects for the Gaither Vocal Band, the Martins, the Oak Ridge Boys, the Imperials, Dottie Rambo, Russ Taff, Michael English and others.

A veteran performer who has traveled since age 17, Minick performed with the Goodmans and other groups as a piano player and singer. He has regularly appeared at Gaither Homecoming events and is the pastor of River of Life Church in Smyrna, Tennessee, which he founded in 1993.

We sat down with Tanya and Johnny and chatted about the Goodman legacy and how Goodman Revival is putting their own stamp on the timeless music:

Homecoming Magazine:
The Goodmans had a huge following, and many fans still remember and love them today. What do you think it was about them that drew people in?
Johnny Minick:
In my estimation, they were just very real. They had a way of expressing their music that was real to them, and they were able to deliver it in a way that people felt like they knew them. When they would meet them in person, there would be no difference between that and when they sang on stage. And the enthusiasm and the joy they sang with was also infectious.
Tanya Goodman Sykes:
I agree with Johnny; I think they were very accessible. I also think that … at the time, there was a lot of quartet music, and it was very polished and precise. The Goodmans were more of that revival meeting, "just go for it" — they sang with abandon. In the beginning, they were more methodical and precise. We listened to the whole collection when we were selecting songs, and at the beginning, we could hear that they were a little more measured and polished. Then, with each successive recording, they seemed to be finding their style, and they took ownership of it.
It was really neat to hear that music evolve; that was really fun. By that third album, we were like, "OK, that's the Happy Goodman Family we know." I think they had gotten more comfortable and were starting to create their own brand. So we've tried to put that same enthusiasm into [this album], because we grew up with that. It's a part of who Johnny is; it's a part of who Michael and I are. We grew up with that music, and we've embraced that and tried to put our fingerprints on it.

Homecoming:
Tanya, in the feature article from our Jan/Feb issue, you were very honest about having ambivalent feelings about your family's fame. You said that sometimes you didn't know if you wanted to be part of it or run away from it. Tell us how your feelings about their legacy have changed over the years. How do you feel now, as opposed to when you were, say, 18 years old?
Tanya:
Well, I think that as we age, we become less concerned about what other people think. At least I have, thank goodness! I was one of those people who was always so self-conscious when I was younger. But I think just through maturing, raising children and going through different stages of life, you figure out life a little more. I'm not so intimidated by it any more. I feel blessed; I feel humbled. When we were creating this project, I wanted to give honor, and I wanted it to be good—I wanted to do my very best. I have a great respect for the legacy that my family has, and I'm honored to participate in that.
Homecoming
: Johnny, I know that you were trained in classical music, and you loved jazz. Were you always a fan of Southern Gospel, or was that something that came later?
Johnny:
I grew up in church; my mom and dad made a commitment to serve the Lord when I was 2 years old. After that, I was in the church every time the doors were open! I was musically inclined from an early age. I learned guitar first and was part of the church orchestra at 4 years old, then I learned to play piano at age 6. I had some wonderful musical training; the Lord really blessed me with great teachers. I was always trying to incorporate that part of my music into the church music, with some success here and there. Sometimes you can go too far with that. (
laughs
)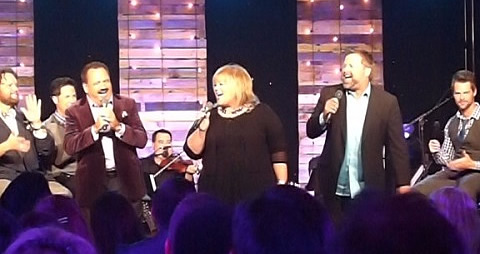 Homecoming
: You mean, incorporating different styles of music into the church music?
Johnny:
Yes, but the church folks were kind and would let me experiment on them. If we stretched it too far, I could tell by the expressions on their faces. (
laughs
) It was very interesting to me when I first met the Happy Goodmans. I had a group that I had organized and was playing for, and the Goodmans heard me play. We opened up a program for them, and Rusty and Sam came to me afterward. They wanted to know more about my background, and they asked me then if I would think about playing for them in the future. Of course, it would be an honor to do that, but I wondered why they would be interested in what I did, because I was way out here and they were more mainstream Southern Gospel.
Come to find out, one of the things that interested them is that they had come to a point in their music that they wanted to evolve or stretch a little more, but they didn't want to do it vocally. They wanted musicians to change [the sound] without them having to re-learn all the songs or change their style of singing. I came on board, and we were able to accomplish that.
The first record I did for them was
99 44/100% Goodmans
— well, I take that back. I did Rusty's solo record first, but then
99
was the first group album I did arrangements on.
Tanya:
That was the first record I worked on, too.
Johnny:
I just told a story on the radio today … we didn't know Tanya could sing. Her dad never told us — I don't even know for sure if he knew how well she could sing. We all showed up for church one Sunday morning, and the featured soloist with the choir was Tanya. She just sang the house down! We were all just staring, wondering "Where did this come from?" (
Tanya laughs
) The Goodman talent came to the surface, and it was a delight to find out that we had another member of the group, though we hadn't signed her up yet! I'm not even sure she really wanted to do it at that time.
Tanya:
Well, I was ambivalent at first, but then I was excited about it.
Johnny:
The audience accepted her right from the first. When the Happy Goodmans love you and present you on the stage, that doesn't hurt.
Tanya:
Well, I was 16 too, and just so doggone wide-eyed and cute, you know? (
laughs
) It was hard to be mean to me back then.
Johnny:
I've got a few years on Tanya … she's been like a sister to me for a long time.
Tanya:
We're like family; Johnny was grafted right on in to the family tree.
Homecoming
: Well, was it in the back of your minds at all to form this new group, or was it just, "Let's work up one of the old songs to sing at church."
Johnny:
That's about what it was!
Tanya:
Yeah, that's really what happened. We'd sung together a couple of times before, but this was the first time we'd really worked on something together as a group.
Johnny:
The other times were off the cuff, and we sang the old arrangements … we never had tried to put our fingerprints on them.
Tanya:
But it really was — it was a surprise. It definitely wasn't something we planned. Even after we sang together that day, we didn't go, "Wow, that sounded really good. We ought to do something!"
Johnny:
We did notice that the people received it — the atmosphere literally changed. As a pastor, I look for that … when you can find an open heaven somewhere, you just want to stay there, you know? When we sang, we felt that anointing. We were moved, and if you are moved, there's a better chance of the audience being moved.
Homecoming
: Tell us if you have a favorite track on the album, if you can narrow it down.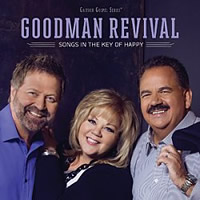 Johnny:
When we started listening, one of the first songs we heard on the earliest album was one that Joel Hemphill wrote called "The Eyes of Jesus," and I noticed that Tanya was very interested and moved by that song. She was quick to stamp that one as a choice.
Tanya:
Yeah, Johnny has the entire collection, and we started from album one, got out a legal pad, and just started writing song titles down. I wrote that one down; I really wanted to do that.
Johnny:
I went out to Joel and LaBreeska's house when we had a rough mix of it, because I'd told them we were recording it. I was so blessed … they were just squalling as they listened to it — they were so moved. And my wife and I were wiping tears. That's not the only song … I'm probably a bigger fan of the songs Tanya sang … they are some of my favorites on this project. She did such a good job.
Tanya:
Well thanks, Johnny!
Homecoming
: Did you find yourselves getting emotional as you were listening through all of the albums?
Johnny:
Well, all the songs have memories attached to them.
Tanya:
They do — and this is probably a horrible thing to admit — I don't listen to a lot of music. I have tons of music around, but I just don't. I guess I'm so busy, and when I get in the car, it's quiet. I think, I plan, I pray. And so, I haven't listened to our music in so long. It was really something to sit down and listen — it was moving, and it brought back so many memories.
Johnny:
I think there was a higher plan in all of that. God knows where to put you and when to put you there, and that was a moment for us, with our little legal pad and making our little notes. It was something. After we'd hear one, we'd think about what key we'd do it in and how we could make it our own. Nobody could ever duplicate what they did, and we don't want to try. We love what they did as much as anybody, but what we do, we need it to be us. Sometimes if they had verses that were unrecorded in the song, we would subtract a verse that they had done and replace it with a verse they hadn't done to make it new.
Homecoming
: Well, I know you all have a tight schedule today, but before you go ... are there any quick, funny stories you can share from being on the road with the Goodmans in the past?
Tanya:
I had something happen to me one time. We were singing at this church in Louisville, Kentucky. I was singing "It Is Well," and I'll never forget … it was hot, and the doors were open. They were dedicating their new building, and people were out on the lawn — it was a big event.
So I'm standing there, and I see a bee … it was way back there, but it was coming for me. There's a reason they call it a "beeline" (
laugh
s) … they don't fly all around like flies; they set their course. So I'm singing "It is well…" and I'm thinking,
It's not!
The microphone was on the stand, and I literally went "With my (
quick, big head tilt to the side
) soul" … and that bee flew right past! People probably thought I was crazy, because they may not have seen the bee.
Another time, we were somewhere and the air conditioner had gone out on the bus, and it was sweaty and my hair was getting gross. We were running late, late, late, and I'm stressing. I'm like 17 years old, and I'm worried about my hair! I'm like, "I'm going to have to wash my hair," and Howard goes, "You need to get you some wigs like Aunt Vestal's got, I'm tellin' you. Then you don't have to worry about that." And he was serious as could be, and I'm thinking, are you kidding me right now? (
laughs
)
Homecoming
: Ha! I know there must be countless funny moments like that for both of you, and I wish we had time for more today! Thanks to you both for taking time to speak with us, and we look forward to hearing the new album!
See our feature article about Goodman Revival in the Jan/Feb issue of Homecoming Magazine.