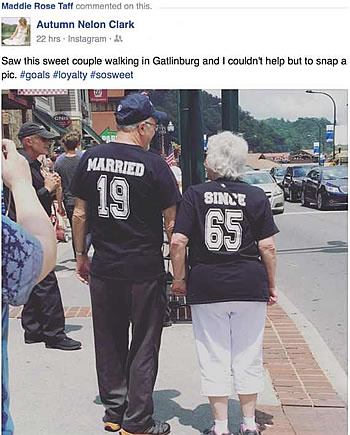 Homecoming Magazine
's Associate Editor, Deborah Patterson, was browsing Gaither.com during the week following the Gaither Family Fest. She was looking on the
"Tweets of the Week" page
and was surprised to see a photo of some people she didn't expect to see there!
Gaither artist
Autumn Nelon Clark
had posted a photo to Instagram and then tweeted, "Saw this sweet couple walking in Gatlinburg and I couldn't help but to snap a pic." Autumn didn't know that the cute couple was Tom and Nila Patterson, Deborah's parents.
Deb says, "I bought those shirts for their anniversary a couple months ago. After all these years, they really do still love each other ... they are a great example, and I am so proud of them. I sure didn't expect to see them on Gaither.com!"
Nila adds, "Our daughter was not the only one surprised! You never know when you might show up on the Internet. Does this give us our 15 minutes of fame? :)"
The Pattersons were in Gatlinburg to attend Family Fest, and Nila says they enjoyed "all the great music, and especially the GVB!"
Here are the Pattersons on their wedding day in 1965, and then on their 50th anniversary in 2015. We wish them many more happy years together!