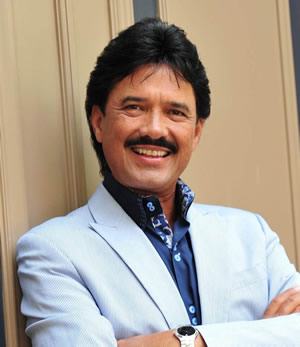 The genial Nashville-based Homecoming favorite, Ivan Parker, raised in the piney woods of North Carolina, has sung everywhere from New York's Carnegie Hall to Johannesburg's Mosaiek Theatre. His new CD takes a fond look back, but he's still headed for that city with streets of gold.
If you visited
IvanParker.com
over the Christmas break — and which Southern Gospel fan didn't — you got a peek at his future in a photo slideshow starring young granddaughters Ellie and Olivia. The girls' parents are Ivan's oldest son Ryan and wife Sandy (Hagee). "They live in San Antonio, and rather than another Tennessee Christmas, Teresa and I flew out there and watched them little darlins open presents. That really took me back. They are an absolutely most precious thing in my life — I love those two grandbabies."
So maybe there's a bi-directional meaning woven into Ivan's new CD title:
Timeless Treasures
. The booklet features an illustrated timeline for the 10 songs that span over a hundred years. The fifth song happens to have been written in 1957—the year Ivan Ray Parker was born in Roanoke Rapids, N.C.—and the year a 15-year-old Andrae Crouch wrote "The Blood Will Never Lose Its Power." The CD also includes a memento from the momentous year 1929 (Albert Brumley's "I'll Fly Away"), plus a 1970 Dottie Rambo composition ("I Go to the Rock"). But nobody who has listened to this CD will soon forget Ivan's luminous performance of Fanny Crosby's 1868 landmark composition, "Pass Me Not."
"I grew up in church listening to all these different songs and singers" — Ivan describes the song selection process—"as my dad pastored several little country churches in North Carolina. So I was looking back at all the different songs I've recorded and realized there are still a lot that influenced me during those years that I hadn't recorded yet." The producer of the CD, Jeff Collins (also co-owner of Ivan's record label, Crossroads) fully agreed: "You can never go wrong in Southern Gospel if you choose a hymn or a best-loved favorite. Ivan felt it was time to revisit and update some of those. It doesn't hurt that he has one of the best voices in Southern Gospel: smooth and easy to listen to."
Staying in a reflective mindset, let's review a little Ivan Parker 101. He first came to the attention of Southern Gospel fans with the Singing Americans in 1982. That group is remembered today for all the talented performers who came through and went on to enjoy long gospel music careers. In Ivan's case, he stayed little more than a year before joining Gold City as lead singer in 1983. He would spend 11 meteoric years with bass Tim Riley, tenor Brian Free and baritone Mike LeFevre, recording a bevy of Top 10 hits ("There Rose a Lamb") and winning buckets of awards — all of which ushered Ivan into the Alabama Music Hall of Fame. In 1994, however, he decided it was time to step out on his own.
"When I launched my solo career, soloists were not very popular in the Southern Gospel arena." This was a time when keeping it simple became very important to Ivan. "Leaving Gold City, I pretty much put it all in God's hands: 'Lord just direct my paths and take me where I need to be.' " Ivan's mother, Katie Parker, spoke to her son about his leaving the nest: "She told me that when I first walked out her front door to go full-time with a quartet, she prayed God would put people in my path who would encourage me and help me move forward. God heard my momma's prayers. He sent Gold City my way, and he sent one of the greatest songs I ever recorded, 'Midnight Cry,' which is my signature song to this day. I don't take any of that for granted. I am thankful God chose me to reach out to these people. I remember that I come from very humble people."
And then God sent Bill and Gloria Gaither. "A huge blessing," according to the mustachioed singer. The timing of Ivan's leap into solo-hood coincided with the explosive early growth of Bill Gaither's accidental Homecoming phenomenon. "They were still called 'Bill Gaither & Friends' when I first began — there I was singing in front of 15 to 20,000 people every night. And through the Homecoming videos, Ivan Parker went around the world without leaving home!"
While on that rocket ride, the Lone Crooner was savvy enough to be taking notes: "Whenever I looked around the stage, it was a dream come true to be with all my heroes in gospel music. I learned from Bill, and from Jake Hess and Glen Payne—guys who were all great businessmen — to not worry about getting myself 'out there.' Just be consistent. I have held that word 'consistent' in my life: be steady."
So Ivan would show up at a Homecoming venue, never sure what to expect. "Bill might need me to fill a slot, maybe with the Vocal Band if someone couldn't be there. Or he'd throw me on stage with Jake Hess and Vestal Goodman to sing as a trio. I was mixed into duets and quartets — Bill helped me scratch an itch by being able to sing harmony, a big change from my solo thing."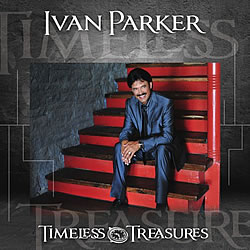 Another entry from Ivan's notebook: "Stay grounded in knowing the purpose of why you're up there. I put the audience at the top of my list. I'm going to sing the songs they wanna hear, give them what they bought the ticket to come and see. I try to take myself out of the picture; it's not about Ivan."
Nearly 20 years have passed now since Ivan took that risky move to trust God out on his own. "I've lived a very full life in my career. Whenever I step back and look where God has taken me, I am truly amazed." These days when Ivan Parker looks back, he sees another Parker onstage with him: "Josh (Ivan's youngest son) just graduated from college with a music degree and is out touring with me. His college studies had an emphasis on guitar. So I'm actually including him in my programs — letting people see his cute little face — he's just turned 25, and looks like he oughta be 13." (
Homecoming
is sure Josh will frame that quote and hang it in a place of honor on the Parker bus.) At their concerts, "the older folks are lovin' on him — it's really kinda cool. He plays the music he loves — contemporary Christian music, as well as praise and worship. But he's been around Southern Gospel all his life, so it feels at home to him. He's really working to take his craft and make it the best he possibly can."
So what does Ivan Parker see ahead when he's finished looking back at the past 30 years? "I see a world that needs to know there is hope in Jesus Christ. We need to turn our eyes to him, focus on him. We can tell by watching the TV news, the world does not offer any hope, but Jesus does. And that's my message in every concert."