He came into this world "screaming and singing." At least that's the way Ivan Parker describes his very first performance before a "captive" audience.
"I was born in Roanoke Rapids, North Carolina, and everybody knows that they grow Gospel singers out there," laughs Ivan. "My dad was just an old-time preacher, and I grew up in his church."
It was at the ripe old age of 2, at a Sunday night church service his father had devoted to singing and music, that Ivan was once again given the opportunity to perform before a "ready-made" audience. "My mom tells me that my dad had simply said, 'Is there anyone who has a special song they'd like to sing tonight?' Apparently, when I heard him say that, I jumped out of her lap, took off running for the front, scared her and my dad to death and sang my first song. Mom also remembers Dad picking me up and holding me while I sang."
Singing wasn't the only thing that moved Ivan at an early age. When he was just 9, he decided to give his life to Christ. "I remember my mom and dad talking to me about being a Christian and that you could not get to heaven by somebody else's excitement and somebody else's joy — you had to accept Christ as an individual," he recalls. "I remember the very night just like it was yesterday. God spoke to my heart; I knelt down and asked Him into my life. I tell you what — I just could not imagine waking up a day without Christ."
Today, even after 21 years of traveling and singing professionally, with a schedule that sees him on the road more than 200 days a year, Ivan still retains the same enthusiasm he exhibited at such a young age. "It's a wonderful life and being able to do what I do … every day is a new day. Not only do I get to do the Homecoming videos and concert dates, but I also do a solo ministry aside from that."
Another project that sparks Ivan's excitement, the annual
Parker Homecoming Celebration
, is also an event that allows him to truly return to his roots. "I came from a singing family. Whenever my dad would go out and do revivals or camp meetings, he would have the family come up," he remembers. "He would play the guitar and we would just gather around and sing."
At the
Parker Homecoming Celebration
, held one weekend a year, the Parker family — Ivan, his mother, brothers and sister — gather together once again to make music in the same spirit as they did at the late Pastor Parker's revivals. "I think it's the most wonderful thing to see how a family of this size has stuck together after all these years," says Ivan. "It's just a lot of fun."
Speaking of families, Ivan and his wife of 25 years and childhood sweetheart, Teresa, now have a clan of their own. "God blessed us with two great kids," beams Ivan. "Our oldest son, Ryan, is at the University of Texas studying business. Our youngest, Joshua, who is 15 … pretty much anything I need to know, I ask him, because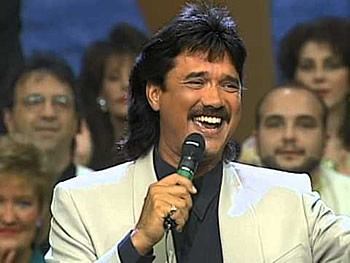 he seems to know about everything," Ivan laughs.
And there's one more family dear to Ivan's heart — his Homecoming family. He remembers fondly the day he recorded his first video with the
Homecoming Friends
, in 1994. "It was like walking down memory lane, sitting in the room at the video shoot. I was looking around at a 'who's who' of southern gospel. Many of them were legendary heroes of mine, so I sat there most of the day in awe."