Jake Hess was a well-loved figure in the eyes of the thousands who knew him as a performer, and those closest to him also appreciated the love and light that he exuded. His daughter Becky and grandchildren Emily and Brent share what Jake's life meant to them.
Brent Buck (Jake's grandson):
I have come to the realization that humans seek feel-good stories, like
Pursuit of Happyness
or any number of other wholesome, idealized tales of success, for inspiration. My grandfather's story is not unlike those we so often enjoy. He was one of 12 children, raised in a rural setting — two traits that would almost ensure hardship and struggle. However, he rose out of this, becoming both a fantastic and successful man. Yet the compelling aspects of his story should not come from his success,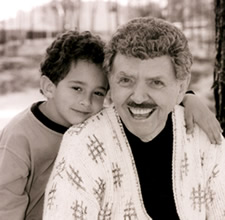 but rather from his love. It was as if my grandfather took the love and mercy God bestowed upon him and shared it with everyone he encountered.
(Pictured left: Young Brent with his grandfather)

Even though I was but a child when he passed away in January 2004, I recall vividly his seemingly unending love that so encapsulated everyone he met. Perhaps most shocking was that a man of his stature and faith did not gallivant around proclaiming hell re and brimstone, with a quick fix of evangelism. He simply loved. In a society so full of vanity and intrigue, I often draw inspiration and hope when I reflect on his life. Jake Hess truly was extraordinary, and I will never forget him.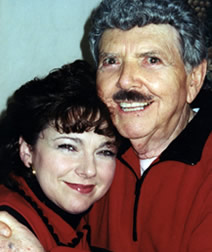 Becky Hess Buck:
I am not a writer; just a daughter who adored her father from her earliest memory to the present age of 58. I don't have the ability to tell you how his light has impacted the lives of his children, grandchildren and great-grandchildren.
(Pictured right: Becky with her father)
We have hundreds of stories about him — there is rarely a day that goes by that a situation doesn't present itself and a story is recalled and retold. Just last week, I told my 18-year-old son about two little boys who randomly called our house and as a prank, cursed Dad. He ended up going to their house, taking them to the TV station and spending most of the day with them. One of my favorite stories is how Dad led someone to the Lord on an airplane. Dad just wanted to sleep, but God had a different plan and the salesman was "gloriously saved."
Recently, a business associate called me and told me he was going to miss an appointment we had that day because he was having heart problems. I shared with him about my dad's heart problems and how he had lived. He doesn't know who Jake Hess is and has never heard him sing, but he later came by our store and thanked me for all the encouraging words and how they had helped him. I'm sorry to say that I wasn't trying to be an encouragement — I was just talking about my dad.
How thankful I am that God allowed me to have Jake Hess as a father.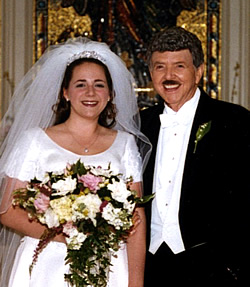 Emily Trotter (Jake's granddaughter):
Jake Hess was an original. From his voice, to his wardrobe, to his outlook on life. He is often imitated, but will never be duplicated. How I wish I could be more like him! He never met a stranger and greeted nearly everyone who crossed his path with a warm smile and a hug. He genuinely loved people. He always gave them his undivided attention. He was encouraging and compassionate … and very funny. I can hear him every day, with his little asides. "Hey Popa, you have something in your mustache." "Well, you have a banana in your ear." "Hey Popa, what do you think about this?" "Well, it will either get better, or worse, or stay about the same."
(Pictured left: Emily with "Popa Jake" on her wedding day)
He loved us. We had a great time together. But the most important thing in his life was to be on the road singing about the Lord. He didn't want to do anything else. He counted the days in between trips, itching to get back on the bus. He sang about what mattered, and there was truth in every word. He believed every word. He was faithful, and the Lord was faithful to him.
He lived decades longer than any medical professional ever predicted. On his sickest days, he was never anything less than "nothing but fine," and trying to figure out how soon he could get back out on the road. He prayed to share the Lord with someone every day. He was the brightest light, and now that I think about it — he still is. The best advice he ever gave me was to pray about it. That was what he said about anything you asked him. That was always so frustrating to hear! I wanted him to tell me the answer. Little did I realize at the time, he was. So when I think about what kind of person he was and what kind of impact he made on people, all I think about is the Lord. He showed Him every day.
For more articles featuring Jake Hess, click here.