Our family recently traveled to Washington Court House, Ohio to see Janet Paschal in concert. We live in Cincinnati, but my sweet husband once told me he'd take me to any concert I wanted within 100 miles, no questions asked. (I'm the real gospel music fan. But I love him for the gospel music fan he almost is!)
We had a wonderful time of worship and enjoyed Janet's music so much. I had an opportunity to talk with her before and after the concert and she's a treat, on stage and off. Her music has meant so much to me over the years and I've shared it with many others.
Here's a picture we took of Janet and my triplets—Austin, Bill and John. In turn, she had her camera nearby and took a picture of them!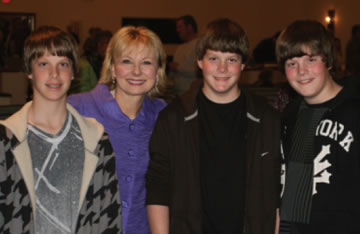 —
SUZIE RICE
Cincinnati, Ohio