The way Jason Crabb talks about his granddad replacing the worn-out tractor seat on his old John Deere, and spending boyhood summers on their Kentucky farm bringing in bean crops, you wouldn't be shocked if somebody said Jason was born in a barn. Admittedly, there weren't any donkeys or sheep in the hospital where Jason entered the world. Still, seeing him onstage in a barn behind Nashville's famed Loveless Café, singing a Kris Kristofferson song with William Lee Golden and Bill Gaither, you just know that despite winning a Grammy in LA's Staples Center and performing at New York's Carnegie Hall, there ain't nuthin' gonna take the country outta this good ole boy.
"So..." Jason asks rhetorically, "...why not go to the barn?" The question was where to record his newest live CD/DVD with his new band backing him on his new solo career. The venue was chosen "because the record we're doin' is songs that I grew up listenin' to...in my church back home in Beaver Dam. Songs that we sang out of the hymnal, songs that people got up as specials." The track list includes Sunday morning and revival-time favorites "I'll Fly Away," "Beulah Land," "On the Battle Field for My Lord" and "I Saw the Light." And there are "specials" like "God on the Mountain," "I'll Take Jesus," "Uncloudy Day," "Jesus on the Mainline," "Through the Fire" and "Never Been This Homesick Before." And this project captured it all in one evening spent with friends and family. In a barn.
But first, rewind to last year, when Jason's self-titled debut solo CD was nominated for a Grammy. Hearing the singer accompanied by pedal steel and electric guitars, blues harmonica, fiddle and banjo, National Academy of Recording Arts & Sciences voters were smitten. They gave the Kentucky preacher's kid a shiny statue in a mouthful category called Southern/Country/Bluegrass Gospel. Career-wise, you'd be hard-pressed to find a better way to launch out as a solo artist. And yet, despite blurring his musical lines in recent years, Jason sums up this new live project thusly: "I would say it's a visit back home. It's somethin' I wanted to do for a lotta people..."
And that sentiment —"for a lotta people"— turns out to be the bedrock of Jason Crabb's approach to life. In conversation, in his writings, in his sermons and in interviews, he is all about encouraging, blessing and ministering to people. Yes, the lead singer of the Crabb Family is, to nobody's surprise, a "family man," taking delight in his three girls: wife Shellye and young daughters Ashleigh and Emma. But he also reveres his late maternal granddad, who became a farmer after the coal mine closed, as "a true servant to everyone he knew." Jason honors his dad Gerald, famed gospel songwriter and Crabb Family patriarch, continuing to record the elder man's new work. He describes his father's "Sometimes I Cry" as "birthed from the pain he was in...a living, breathing piece of the person who wrote it. When you sing it, you connect with the song and your audience in ways that God can use to bring healing." Whatever musical or lyrical qualities other artists may seek in the songs they choose, it is clear that Jason Crabb evaluates music for its power to touch people.
Talk to him for a while and you can practically see the people Jason sings to a couple hundred nights every year. It dawns on you that he intentionally carries those faces along with him; having absorbed their sorrows, been buoyed by their faith and encouraged by their joy...mostly folks in tiny back-road churches. "The church that I grew up in — my dad was a minister, so I was a PK—was just a little country church in Ohio County, Kentucky, with farmers and coal miners and construction workers. That really left a mark on me."
Now Jason is leaving a mark on a lot of people in big-city megachurches and uptown concert halls. Understanding the times and changing musical tastes, the young musical evangelist has figured out that no matter where you go, people are still people. So he takes a page out of Paul's playbook, who went on tour to the biggest, most secular cities of his day by becoming "all things to all people, by all means... for the sake of the gospel." Which means that strapping on an electric guitar, learning some three-chord songs and adding a little twang to the repertoire all dovetail perfectly into the mission.
"Jason makes great choices with song selection and the way he sings those songs... he takes the listener on a three-and-a-half minute journey, and I think that's quite a gift." So says veteran Nashville producer Bubba Smith who worked with Jason and his siblings on their
Blur the Lines
CD. "There's no doubt in my mind in the time I've known Jason that his calling in life is to see people come to know and love Jesus... and he does that through music." Smith has arguably stepped across more musical lines than any other Christian producer, with Shirley Caesar, Petra, Buddy Greene, Sandi Patty, Bruce Carroll as well as several hard-edged Christian rock artists. "To me, Jason Crabb is believable. When he sings 'I'd rather have Jesus than silver or gold'...I believe him."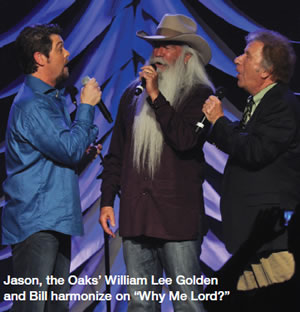 But on this night in the barn next to the Natchez Trace, with Trace Adkins' band seated on wooden folding chairs in the third row, a mini-homecoming is about to unfold. Seated two rows ahead of the country band members are Bill Gaither, William Lee Golden, Michael English, David Phelps, Mark Lowry and Wes Hampton. For the freshly-minted solo artist looking out at the audience "that front row was pretty intimidating." That's a lot of musical talent, even for Nashville. "But I was excited to have them come to hear what we do, and they were also part of the night. The Vocal Band came up and sang a song called "Please Forgive Me," which my dad actually wrote and they recorded...so that was very special." But for a lot of folks at the Loveless that night, "Why Me Lord?" sung plainly and simply by Bill Gaither, William Lee Golden and Jason Crabb will linger as the most memorable moment of the evening.
So these days nd Jason standing alone at the middle microphone. A solo career has taken him to new places, many of which are beyond his comfort zone. As just one example of solo-itis, in Jason's new book
Trusting God To Get You Through
(Charisma House), he recounts his struggle to learn a new song as guest vocalist on a Brooklyn Tabernacle Choir live recording — the song they asked him to sing was the title track "I'm Amazed." "On stage, I experienced the most profound sense of panic I had ever known. The music began and the lyrics escaped my mind. The church pews were full...everyone was pumped up and in position, from musicians to crew to the 260-member choir, but my mind was a complete blank." Asking for prayer from Pastor Jim and wife Carol Cymbala, Jason was able to finally sing the song. Of course, he is most keen to tell how God has subsequently used that recording to transform people's lives — from Angola State Prison in Louisiana to Billy Graham's last crusade in New York City. Jason's conclusion: "Even when weakness tries to overtake the plan of God, His plans and His favor prevail."
He may not be surrounded by siblings making harmony the way they did since he was a teenager, but Jason Crabb's third album in this new venture reveals a foundation that hasn't changed. It's familiar songs, cherished friends and beloved family — the gospel in a barn.
For more articles featuring Jason Crabb, click here.