January 13, 2012 – Nashville, TN – Grammy® award-winning Christian vocalist Jason Crabb rang in the New Year with a Twitter chat on Country Music Chat (#CMchat on Twitter) hosted by Jessica Northey. The chat with Jason Crabb generated 34.5 Million impressions, reaching 1.4 Million people! Jessica Northey is ranked as the most powerful woman on Twitter (tweetgrader.com) and was thrilled to welcome Jason Crabb as her first guest of the new year on the weekly chat.
Jessica said: "Starting 2012 with an amazing artist like Grammy award winner Jason Crabb sets the course for an incredible year for Country Music Chat. Country music and gospel music have always been known as cousins to each other, so it just seemed right to have Jason as a guest. We had a great time and look forward to having him back!"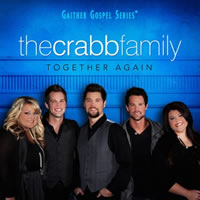 The chat focused on Jason's career, family life, and what the singer has in store for the upcoming year including news about the new Crabb family CD
Together Again
releasing on Feb. 7, 2012 with Gaither Music Group.
Country Music Chat, which was founded by Northey, has generated more than 500 million impressions and reached an audience of over 30 million people. The forum is Twitter's first and only registered live country music chat.
For more articles featuring Jason Crabb, click here.