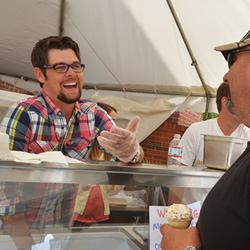 (Pictured left: Jason serves a free scoop of Moose Tracks ice cream to a CMA Music Festival attendee)
During the first day of the CMA Music Festival in downtown Nashville,
Jason Crabb
partnered with Denali Flavors, developers of the legendary Moose Tracks Ice Cream flavor, and Purity Dairies to participate in the 10,000 Scoop Challenge. Ten thousand scoops of Moose Tracks ice cream were given away at the First Baptist Church in Nashville, Tenn. to raise money for charity. Other "celebrity scoopers" with Jason included
Scott Hamilton
(Olympic Gold Medalist Figure Skater),
Rhonda Vincent
(award-winning bluegrass artist),
The Roys
and others. For every scoop of ice cream, Denali Flavors donated $1 to Rocketown, a teen center started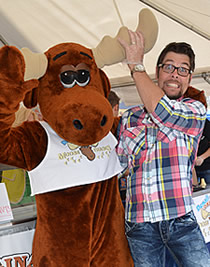 by
Michael W. Smith
, with a grand total of 10,000 scoops eaten and $10,000 raised!
"We had a great time scooping ice cream," Jason Crabb said. "To be able to support Michael W. Smith and the work he does at Rocketown by giving away some free ice cream was a lot of fun! I was honored to be a part of the event today and I even ate some Moose Tracks myself!"
(Pictured right: Jason hams it up with "Mike The Moose," the official Moose Tracks mascot)
(Below: WSMV's Jennifer Johnson, Olympic Gold Medalist Scott Hamilton, Nashville Predators mascot GNASH, Jason Crabb and award-winning bluegrass artist Rhonda Vincent)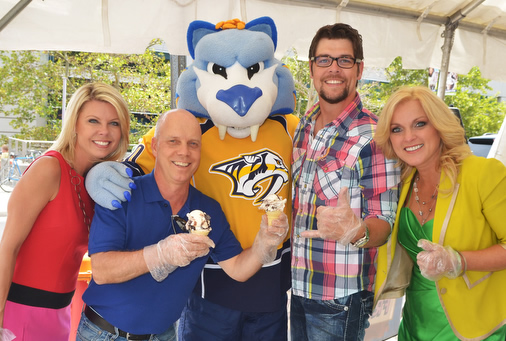 Check out the video:


Click for more on Homecoming artist Jason Crabb!

(Photos by: The Judy Nelon Group)