Beaver Dam, Kentucky has always been quintessential small-town America. For years, Main Street was dotted with a local meat 'n' three, the local bank and a quirky little used-shoe store the locals liked to call Beatty's. Over time, some of the mom-andpop shops have given way to larger chain stores, the local banks taken over by larger ones and they've probably added a stoplight or two. Regardless of the changes, it remains a tight-knit community that feels an awful lot like family with roots that run deep. It's fitting, then, that one of its own follows suit.
Jason Crabb has smoothly sailed into the world of solo artistry, winning over new fans, critics and industry insiders. But, much like his hometown, Jason's roots run deep and hold strong, making him one of the most humble multiple award-winning musicians of any genre, anywhere.
In 2012, he took home Male Vocalist of the Year and Artist of the Year at the Dove Awards. Backstage, it took a while for his own shock to wear off, so that he was able to say something other than, "I just can't believe it."
Of course, anyone who's followed any of the Crabb Family's illustrious career over the years is probably only wondering why he hadn't already won! His booming, warm, big voice speaks for itself. And on his latest solo project, Love is Stronger, he pushes said voice beyond anywhere he's been before and into places that will probably be surprising to some, but undeniably amazing to all.
"I'm very excited for people to hear this record," says Jason. "We're gonna go to familiar places, but also to some places I haven't been in Southern Gospel music."

For the Jason Crabb purists out there, don't worry. There's plenty of the sound you've known and loved on the record. But this time around, he works in songs that sound a bit more contemporary — a bit less Southern — but powerful, convicting and genuine. You might say, 100 percent Jason.
"I've always wanted to make a record like this," he says. "And I was a lot more hands-off on the production. I listened to the producers and am so excited about what came out."
And with good reason. Produced by a veritable who's who of stellar producers in country, contemporary Christian and Southern Gospel — Jay DeMarcus (Rascal Flatts), Ed Cash (Chris Tomlin, tobyMac) and Wayne Haun (Ernie Haase & Signature Sound), respectively, the album not only contains lots of styles, it contains lots of styles done really well. Really, really well!
Excited as he is to share the new sounds and songs with the world, Jason is very aware of the risks he's taking by possibly creating something his dedicated fan base doesn't necessarily connect with. "I never try to be offensive," says Jason. "I wouldn't want to push anyone away or discard people. That's not me. But I also love their grandchildren and their kids. I want them to hear the same message, but maybe just in a different package."
Done.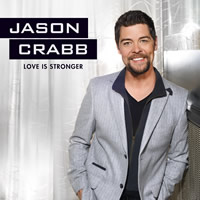 Love is Stronger
has some country, some pop, some Southern Gospel and a whole lot of soul from beginning to end. It's proof positive that Jason really can sing anything (maybe even the phone book!) and blow you away. But it's not so much the song style or production that brings the whole record to life. It's life that brings it to life … Jason's life, the lives of his family, the lives of those he's admired over the years. Each song has a story that's gripping and special, which takes each one to a whole other level, beginning with the title track, "Love is Stronger."
"The first time I heard 'Love is Stronger' I was so excited," shares Jason. "Jay calls it a gem. I knew it was a very special song for me and my family. My wife was diagnosed with rheumatoid arthritis. She couldn't get out of bed. I watched her sit and cry. It was a chore just to get across the room. She couldn't even brush the girls' hair. The lyrics in the song say:
You went down one of those roads nobody should have to go/Life is tough but love is stronger."
After visiting several specialists and naturalists, she is now on the backside of things and doing everything that she loves, including hitting the gym with Jason (who has recently dropped about 30 pounds). "She didn't give up," says Jason. "I see her smiling and laughing again." Which is what Jason does as he shares more stories behind the songs on the record.
From "Give," which "offers a sound spin on things — if you want love, forgiveness — give it," to "That's What the Blood is For," that reminds us that "we can't be victims of our past; we let the blood cover our past and enjoy this gift of life," it is obvious— these songs were all labors of love.
The guest artists who appear on the record — Kari Jobe, Michael English and Joyce Martin — not only add incredible texture and depth to the songs; they reveal just how Jason is revered within the industry — the kind of guy everyone wants to work with. He's also the kind of guy who doesn't spend time talking about himself. Instead of focusing on his own talent and ability, he shifts the spotlight onto others.
"Michael English has one of the greatest voices I've ever heard," he says. "And Joyce — some people pass over words when they sing. She doesn't even pass over the letters! Every word counts. Every note counts."
For this small-town boy done good, it's pretty clear that his life is about so much more than songs and stages. For him, every day counts… every moment he's with his kids and wife counts; every prayer he utters to God counts. These are his roots. These are the things he calls home. And much like the way the small town of Beaver Dam has held onto its identity and values, despite the changes that time brings, Jason has been steadfast and consistent.
He knows his gifting and the responsibility therein. He knows that growth only comes with movement — taking risks. And he knows a God who won't be contained by time or genre.
Jason Crabb lives on a firm foundation of truth and faith. And though the packaging might look different from time to time, those roots hold fast and ring true:
Whatever may come along, no despair is too great … no heart too far gone … no matter what, love is stronger.



Click here to see more articles featuring Homecoming fan favorite Jason Crabb!