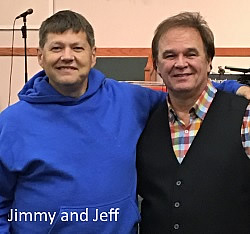 In November, we saw on Facebook that Jeff & Sheri Easter had been plotting and planning ... to fulfill the lifelong dream of a man they'd just met! When they performed at Alto Missionary Baptist Church in Texas, they met a 52-year-old autistic gospel music fan named Jimmy Selman.
"It was a blessing for us because I met Jimmy when he first walked in the church, and he was just so friendly," recalls Jeff. As Jeff chatted with Jimmy during intermission, it quickly became apparent that he was a huge fan of the Macy's Thanksgiving Day parade, though he had never seen it in person. Jimmy loved to talk about the floats, and he remembered the hosts from each year.
Jeff's heart was touched, and he even invited Jimmy up on stage during the last part of the concert. "We sang 'I Saw the Light,' and he sang with Morgan. It was a lot of fun to have Jimmy on stage."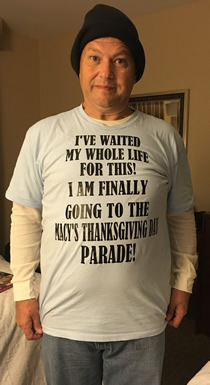 The rest of that weekend, Jeff couldn't get Jimmy out of his mind. "I just couldn't shake it. I kept thinking,
Man, that would be awesome if Jimmy could go to the parade.
When I woke up that next Monday morning, a friend of ours had posted that it was going to be the 90th Macy's Thanksgiving Day Parade. When I saw that, it was like, 'OK, Jeff, it's time to start moving.'"
He called the promoters of the concert, Royce and Anna Traylor, and found out that Jimmy had come to the concert with his close friends Stanley and Kelli Dover. Royce contacted the Dovers and asked if they would be willing to accompany Jimmy to New York if expenses were covered. When he asked that, Kelli started crying. She had been thinking the same thing, and had been hoping to raise enough money for him to go the following year. But the Dovers agreed to go with Jimmy, and the wheels were in motion.
Jeff and Sheri helped to secure flights for Jimmy and the Dovers, and the Traylors got on the phone to raise more support. "People got excited and said, 'Well, I'd love to help. Let me know what I can do,'" says Sheri. "All of a sudden, between the Traylors' church and their businesses, Jimmy's church, and some other businesses, everybody ended up donating."
Jimmy and his friends had a wonderful time watching the parade, and he texted the Easters the whole time. "He would write, 'Jeff, here comes the Pillsbury Doughboy!' and 'Thank you, Jeff and Sheri, I'm having a great time!'"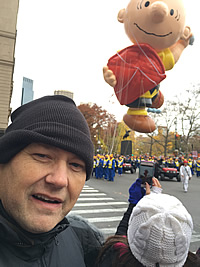 "It was precious to see him get to do that after all those years," Sheri says. "That was important to Jimmy. And the couple that took him ... they've just been wonderful, because they wanted him to be able to experience it."
Sheri recounts another unexpected blessing from the trip. "They walked down where the parade would start, near the Ritz-Carlton New York, Central Park. They met Terry McAneney, the hotel manager, who talked with Jimmy for a few minutes, then said, 'Here, you stand in our section.' It was the best seat in the house; Jimmy was in a roped-off section where he could see the parade coming toward him. It was just a God thing all the way around."
Kelli Dover adds, "Terry gave Jimmy a nice book about the parade and was constantly checking on us, asking if we would like hot chocolate. God put him in our path and he was truly a blessing."
Summing up the experience, Sheri says, "It grew into a very beautiful expression of Thanksgiving by the end. Anybody who knows Jeff knows that he's a servant. He loves people. When he gets something on his mind, he doesn't stop until it's done, and that's what happened. And I can't say enough good things about everybody that was a part of it. It may have started with Jeffrey's brainstorm, but it ended up being 25 or more giving people who wanted to be part of making Jimmy's day."