Two legendary bluegrass-gospel families were forever intertwined in 1985 when Jeff Easter, son of James from the famed Easter Brothers trio, and Sheri Lewis, granddaughter of "Pop and Mom" of the Lewis Family, tied the knot. Thirty years and more than 30 albums later, after two Grammy nominations, multiple Dove awards and countless other achievements, Jeff and Sheri are celebrating a new album and a love that just keeps on growing.
Any insights on how they've kept the spark going, as spouses who also work together 24/7? "Respect, number one," says Jeff. "And she's my buddy, my best friend. We do each have other friends, but we just love being around each other and doing things together."
Sheri offers another pearl: "Hands down, communication! Because you can't fix a problem that you are totally unaware of. In our 30 years, Jeff and I have found that most of the time, when I'm upset or he is, there really was no basis — it was just a misunderstanding of 'what I thought you meant.' So communicate often, and communicate well."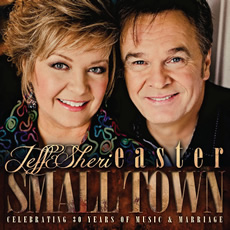 They continue to communicate inspiration and encouragement through the songs on their new album,
Small Town
, a title that fits their chosen home of Lincolnton, Georgia, population approximately 1500. Sheri can trace at least six generations of her family there. "The best thing about a small town is that it grows deep roots. We are attached to the earth in Lincolnton — very grounded there. It really is something wonderful to come home to."
Current events inspired the first single, "Jesus Loves You," on which Sheri collaborated with Kenna Turner West and Don Poythress. "I'd seen some horrible news articles and walked away thinking,
How can people be so mean to each other?
" Sheri explains. "I believe the reason is that somewhere along the way, we have lost the recognition of our values. We don't know that we are loved; we don't know that we are valued. I wanted to remind everybody,
you are loved; you are not forgotten.
" In addition to Sheri's rich, emotive vocals, "Jesus Loves You" stands out because for the first time ever, the Easters have added a choir of background vocals and a lush string section.
Then there's "Like You're Still Here," the first song Jeff picked for the project, written by country artist Mo Pitney. He felt an instant connection to the words, and he and Sheri realized they shared another bond with the writer. "We knew the Pitney family from way back when we first started singing," recalls Jeff. "They had a rescue mission in Rockford, Illinois, and Mo was a baby back then. His mom and dad were friends of ours." Mo wrote the song about his late grandfather, but later rewrote the second verse to reflect Jeff's relationship with his dad and their mutual love for playing guitar. Sheri says, "I love the line that says,
As I let your memory echo off the strings…
. That is such poetry and so poignant for Jeff and James."
Though James Easter is alive and well, the lyrics are meaningful for Jeff, since he is in Georgia and his dad is in Virginia. "The story of that song, 'I'm gonna try to live as if you're still here' means you have that much respect for your father — not only your Heavenly Father, but your earthly father," he says. "No matter what I did when I was a young kid and thought I was getting away with some stuff, my daddy pretty much knew exactly what was going on," Jeff laughs. "And of course, the older I get, the smarter Daddy gets."
The song's third verse also means a lot for father and son.
Last Sunday when that Johnson boy walked down the aisle / And gave his heart to Jesus, I could see you smile.
"My daddy thrives to see somebody get saved, because he knows where he was," says Jeff. "The first time my dad knew Jesus, he was pullin' a seven-year prison sentence in Halifax County prison as a young man. He never hurt anybody — just did a lot of ornery things when he was a kid. He turned himself in and did his time, then got out, met my mama, got married and started a family."
James' brother Edd wrote "I Love You," for his wife, Ann, and it's another one of Jeff's favorites from the project. "Edd told me, 'I sing it to her every morning; I sing it to her every night. So if anything happens to me while I'm away from her, she'll remember how I felt about her.'" The melody and verses reminded Jeff of Ricky Skaggs' older music. "I told the guys in the tracking room, 'Y'all make this one as country as you can — I dare you!" And so they did.
"The Light" recalls the early days of Jeff and Sheri's own courtship. "Bradley Gaskin came over to our house to write," says Jeff. "We live right across the road from Sheri's mama, and I said, 'See that streetlight over there? That's where I got my first kiss, right there.'" They locked on to that hook, and out came a lyric about two people who discover love beneath the glow of a streetlight.
Isn't it amazing / What a little light can do? / It's amazing … the light I found in you.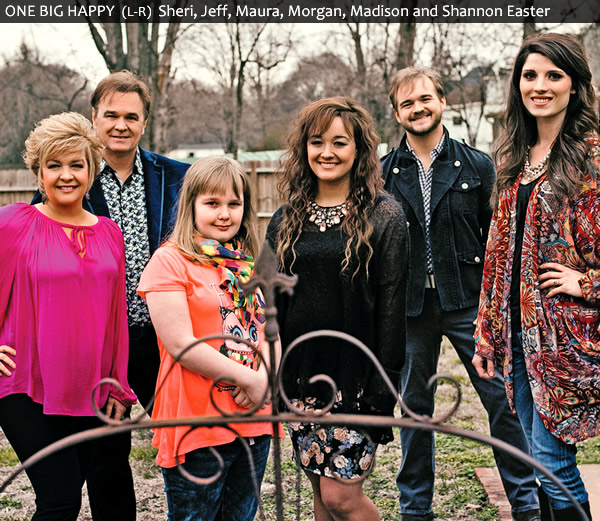 Of course, that first kiss led to marriage, which led to three younger Easters, two of whom can be heard on
Small Town
. Morgan, now 21, is featured on two songs, including "Someone's Listenin'," a heartfelt message about wrestling with doubt. During the week, she is a caregiver to her grandmother Polly, who suffers from Lewy Body Dementia. "It is sometimes hard to sing about God's faithfulness while witnessing the 'unfairness' that a godly woman is confined to her bed with no means of communicating because of a crippling disease," says Sheri. "Morgan is a good girl with a great heart; she is very deeply passionate and very affirmed that God is at work in her life."
Son Madison, 26, surprised Jeff by asking if he could join his dad on "My Wave," written by Jimmy Yeary and Ben Hayslip, which was already tracked at that point. Jeff laughingly shares, "First I thought, 'Oh man, that's my song!' Then I got to thinking, 'Lord, that's my boy wantin' to sing with me, and he's never done that.' I'm very proud of it."
Madison and his wife, Shannon, now pursuing their own musical path as a duo, announced another surprise recently — they are expecting a baby in January 2016. On May 5, Madison posted, "Can't hold it in another second … I'M GONNA BE A DADDY!! I've never been so happy!"
And what about little Maura Easter, age 9? "She's a wonderful kid, the life of the party," says Sheri. "Last year, her teacher gave her the 'Bucket Filler' award. She said we all carry around a little bucket and fill it up with whatever we choose — kindness, joy, smarts, hard work. If we fill up our bucket with good stuff, it overflows into the lives of others. Maura just brings us all joy. And she's funny — all my kids are funny, which is a very good trait to have within a family."
As the decades pass and the family continues to grow and change, some things still remain the same for the Easters. "Even though we've changed the way we record — from LPs and cassettes to CDs, from reel-to-reel to digital, and all the other technical changes — the messages of the songs are
exactly
like they were on our very first album," muses Sheri. "The messages are all still the same — faith, hope and love — and that's pretty exciting."

Click here to read the interview with Jeff Easter: Small Town Love That Lasts, Part One
Click here to read the interview with Sheri Easter: Small Town Love That Lasts, Part Two