With changes aplenty in their lives — a new radio show, new songs and the launch of their new trio, Jim and Melissa Brady eagerly anticipate what the new year will bring.
On a crisp fall day, the Bradys stroll into a little café in Franklin, Tennessee. Well, Jim strolls — Melissa limps along wearing a medical boot, due to foot surgery just a couple of weeks prior. Though recovery is painful, she still finds humor in the situation. "For one exercise in physical therapy, they have me sit down, put my foot on a towel on the floor and try to scrunch up the towel with my toes. After three minutes of scrunching, I'm worn out. I look down to see my progress — and the towel hasn't moved!" she says, laughing. Never mind — Jim and Melissa are not letting a limp stop them from walking through the many doors God has been opening.
Both children of traveling evangelist fathers, Jim and Melissa first met around age 13. He from Texas and she from Ohio, they met in Atlanta, Georgia, for the first time. Discovering a lot of common interests, they became fast friends and wrote letters back and forth for many years. Jim says, "I tried to pursue her, but her dad was funny. Any time a boy would ask to sit with her during the church service, he'd say, 'Well, come on the bus and let me show you my gun collection first.' So her dad would say I got past his gun collection."
In their 20s, they connected at a conference where Melissa was performing as a soloist. After that week, Melissa called her parents and said, "Don't be surprised if I'm married in a year." Now, more than 20 years after the "I do's," Jim says, "It is a cool thing when you've been together this long and know the good, the bad, the ups and downs — and you still like each other. I'd do it again, and hopefully she'd say the same thing."
Melissa adds, "I think it works because he makes me want to be a better person. He's the sandpaper in my life; he helps me smooth off my rough edges. It's a team; we both support one another." Commitment has been another key factor … and a sense of humor. "When we first got married, he said to me, 'If you ever decide to leave me, I'm going with you.'"
As a young married couple, the two toured together for 10 years as part of Melissa's family group, the Shulers. Then, Jim was invited to join the Booth Brothers. Though it was a blessing, it was also quite the adjustment for him to be away for 46 weekends of the year. Now, the time has finally come for the Bradys to move forward in ministry together — a desire God planted in their hearts years before. So, Jim gave notice to Ronnie and Michael Booth that he would be leaving the group once they were able to find a replacement.
"Being with the Booth Brothers has been a wonderful season of my life," says Jim. "We've been all over the world together — South Africa, Israel, Canada, Norway, Sweden. But when I was enjoying those blessings, there was always a part of me that was home."
He is grateful for how supportive the guys have been during the transition, as he finishes his final performances with them. Melissa laughs, "Michael will start teasing Jim on stage and then say, 'What can he do? Quit?'"
This is not to say that the decision was easy. Gerald Wolfe offered encouragement when they were wrestling with whether this was, indeed, God's will. Wolfe said, "If you think something is God's will for your life, take a step forward in faith. Then, see if God puts on the brakes." Once Jim made the commitment and started stepping out in faith, God started sending confirmation. "God hasn't put on the brakes," says Melissa. "He's put the pedal to the metal!'"
So, it's full steam ahead for the Jim Brady Trio, the third member being Tim Parton. The Bradys have known Tim for many years, crossing paths with him when he played piano with the Lesters and with Legacy Five, during Gaither video tapings and various other concerts and studio sessions. "We've always loved him," says Melissa. "He's a fun guy to hang out with, and we love his piano playing." Jim adds, "He's just such a gifted, incredible musician and a great singer. I called him and asked if he'd be interested, and he was all in!"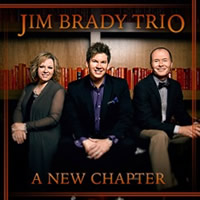 In short order, the JBT signed with the Harper Agency and Daywind Records, and dates began coming in. Their debut album,
Jim Brady Trio — A New Chapter
, releases in January and includes new songs penned by the Bradys, but also some familiar favorites like the old hymn "The Love of God," the Talleys tune "If It Had Not Been," and a Goodmans song, "That Sounds Like Home to Me."
"As a writer," Jim reflects, "I think it's good to sing your own songs, but it's also good to pull in some different colors from other writers. If it's a great song, I don't care if we wrote it. Great songs last — they get old because they're great."
A good bit of the new material directly reflects what they've been going through lately. "God of What's to Come" and "Stepping Out in Faith" are two of the original songs that reflect their reliance on God's faithfulness to light their way and point them in the right direction.
As they think about past roads traveled — both literal and figurative — the Gaithers come to mind. "I dare say a lot of us in this field would not be doing this if it were not for the Gaithers," muses Jim." As far back as I can remember, I was singing Gaither songs — my mom and dad would sing "Because He Lives," "I Will Serve Thee…"
Even now, Melissa tears up a bit at a childhood memory. "I was in junior choir and didn't realize that Bill and Gloria wrote 'I'm Something Special' and 'I Am a Promise.' I remember hearing those words and thinking, 'I'm special' ... I didn't know until 20 years later that it was them, but they had impacted my life so much."
Recalling his own youth, Jim says he may have seemed a little weird to his brothers, whose heroes were sports stars. "My heroes were the Gaithers and other songwriters — Squire Parsons, Rusty Goodman. That's kind of why I've become whatever I've become — it's what drew me into songwriting."
Jim and Melissa were able to spend some quality time with the Gaithers during Gloria's annual Songwriting Intensive. "Both of us have been students at the Intensive, and we love it," says Jim. "Bill and Gloria were really gracious to us — they are both teachers at heart, and they really poured into us. Bill drove me around, and that was educational — just listening to him talk about songs."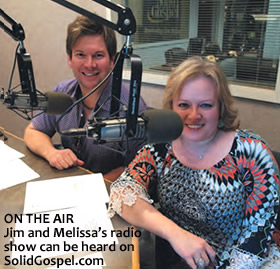 Another door God has opened recently for the Bradys is the launch of their own radio show on the Solid Gospel Network. Melissa had been interested in radio for some time, but was not quite sure how to get that ball rolling. Just before her annual "Something Beautiful" conference in Nashville last June, she and Jim were scheduled for an interview with Solid Gospel personality Greg Goodman. A family emergency detained Greg, and so instead of the expected Q&A format, the Bradys were asked simply to talk when the engineer pressed "record." They were naturals, and the resulting taping led to an invitation to do an ongoing radio show, which has gotten great response from listeners. "It's been very exciting, and a lot of people are downloading the app so they can listen on their smartphones," says Jim.
With all these irons in the fire, what do the Bradys see as their main goals for the new year? "For me, it's the same as every year—to live in the moment," answers Jim. "I have a tendency, because of my personality or the way my life has evolved … I either am looking for the next thing, or looking back. As a new group, you tend to look at the next big thing, the next step, the next level — and that's great. I don't want to lose sight of those goals, but I want to enjoy the journey, live in the moment and not miss what God is giving me today."
Melissa agrees. "We get caught up in the whirlwind of what we're doing, and we don't slow down enough. Gloria has said to me that as a writer, I need to give myself a place of quiet, to feed my creativity. I'm still learning to do that. It's life-changing, really, once you make yourself slow down — slow down, be still and know that He is God."