Congratulations to Jimmy Yeary, wife Sonya Isaacs Yeary and their son Ayden, as they welcome a new member to their family!
Gatlyn Solomon Yeary
made his entrance on December 8th, 2015, weighing 8 lbs., 10 oz. and 21" long. That day, Sonya posted, "Thank you Dear Jesus! A perfectly healthy boy and Ayden is smitten!!"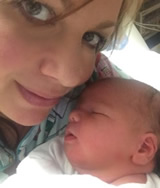 She later added, "I am so grateful for God's promises, restoration and faithfulness. The last time flowers covered [our] table was a little over a year ago, when we lost our precious baby Ayva. Today, with so many thoughtful and prayerful friends, we are celebrating the arrival of a promise. My Friend, God loves you and He is good. No matter what it looks like right now, hold to His Word and His promises and keep trusting and He will bring joy to you again!"