Whether one agrees or disagrees with Jimmy Carter's politics, few if any have questioned the sincerity of his faith — or the fruit of service that his walk with the Lord has borne over a long and storied life.
Most observers of recent American history tend to think of James Earl "Jimmy" Carter Jr. as the former Georgia governor and United States president (the nation's 39th, from 1977 to 1981) who has made a lengthy post-presidential impact as an advocate for human rights, affordable housing, peace and reconciliation throughout the world. Carter arguably has been the most visible past president in U.S. history, crisscrossing the globe to meet with international leaders one day, and sitting atop a roof hammering shingles into place as a high-profi le volunteer with Habitat for Humanity the next.
Fewer of us are likely to be as aware of Carter's familial connections to music that make him a not-too-distant "relative" of our gospel music community: His family tree links him as a distant cousin to June Carter Cash and, on his mother's side, a distant cousin to Motown founder Berry Gordy Jr. There have even been recent reports of fi nding a familial connection to Elvis Presley.
Among these and other distinctions, Carter also is the fi rst U.S. president to have been born in a hospital — in his case, Wise Sanitarium in tiny Plains, Ga. (near Americus), on October 1, 1924, the oldest of four children to James Earl Carter and Bessie Lillian Gordy Carter (better known to many as "Miss Lillian"). A voracious reader and gifted student as a child, Carter graduated from the U.S. Naval Academy, served with the Navy's fl edgling nuclear submarine program, married Rosalynn Smith in 1946 (and began a family of four children), and returned home to run the family business in Plains after the passing of his father in 1953.
Although his political career began locally in the mid-1960s, most Americans beyond Carter's native Georgia fi rst became acquainted with him during his race for the presidency leading up to the 1976 election. The Peach State governor, Baptist Sunday school teacher and peanut farmer ascended to the White House in the wake of the end of the Vietnam War, Watergate and the resignation of President Richard Nixon. After a single term marked by domestic economic struggles, continuing Cold War tensions and the Iran Hostage Crisis, Carter returned home again and began a lengthy tenure as a statesman and diplomat.
Over the past 31 years since he left office, Carter has authored numerous books — including a new devotional collection — and continued to teach Sunday school classes at his home church in Plains, Maranatha Baptist Church.
In a wide-ranging interview, Gloria Gaither talks with Carter about his faith, his time in the White House, and his passion for fostering reconciliation among Christians and throughout the larger world.
PRES. CARTER:
Good morning, this is Jimmy Carter.
GLORIA:
Good morning! How are you?
PRES. CARTER:
I'm just fine. My oldest sister was named Gloria, so I'm glad to talk to you. Gloria wrote a book about my mother, who was in the Peace Corps in India.
GLORIA:
Your sister Ruth wrote a very life-changing book about healing the inner child, way back when nobody was talking about that. Ruth's book had a tremendous effect on the whole world of psychology as a part of the healing of Christian conversions.
PRES. CARTER:
Ruth was one of the most wonderful, personal Christians I ever knew. She ministered to tens of thousands of people around the world. She wrote five books.
GLORIA:
Bill wanted me to ask if you remembered Hovie Lister from Georgia. He said, I know he'll remember Hovie Lister if he grew up in a Baptist church!
PRES. CARTER:
I do!
GLORIA:
Well, he was one of Bill's heroes as a little kid, growing up in an Indiana farm community. He got the Atlanta stations on the radio in the barn, milking cows, and that's what got him interested in music, and ultimately in a real relationship with the Lord, listening to the fourpart harmony from the South…so he owes them a great debt.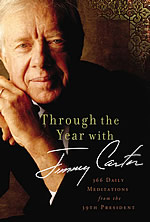 Mr. Carter, I have been inspired by your new devotional book,
Through the Year with Jimmy Carter: 366 Daily Meditations from the 39th President
. It is so basic, and you deal with so many topics that I would like to talk about, but there are several devotionals that focus on "counting the cost" in one way or another — that if we're going to be committed to Christ, it's going to demand something of us.
PRES. CARTER:
That's true. I think it is a great, not only opportunity and blessing, but also a responsibility to change our life to be compatible with the perfect example that Christ set for us. None of us can succeed in that, but it is a constant challenge and inspiration to us to reach for a superb life; a life that is acceptable to God which is one of our greatest opportunities and also challenges in our existence.
GLORIA:
One of Christ's themes throughout all of the Gospels is if we are following Christ we are going to care about the people who are in need, in trouble, hurt, poor and disenfranchised. In your devotionals, you have talked a great deal about the personal responsibility of individuals getting involved with the needs of people around them right where they are.
PRES. CARTER:
That's one of the most difficult things for us fortunate or wealthy people to do — and by wealthy I mean compared to millions of people around the world — to cross that chasm between us rich people and the poor people, and to do it in a way that is not arrogant or superior in its tone. One of the best ways that I have found personally to do that is through Habitat for Humanity. So Rose and I have gone every year now, I think for 28 years, combining with hundreds of other volunteers, sometimes thousands, to build homes for poor people in need. That's a matter of working side by side with families who have never had a decent place to live. They have to pay full price for the house, but we give them 20 years to pay. The Bible says you don't charge any interest so the payments are very low. We just got back for instance, in November, from building 100 homes in Haiti, and we will be going back to Haiti to finish the 500th house in the same place that was the epicenter of the earthquake. We do that every year. So that application of Christianity into our personal life is a challenge. We can also find a way to get across that chasm, just by reaching out to people in our own neighborhood, and sometimes in our own families if we apply the principles of Christ, which are peace, reconciliation, forgiveness and the alleviation of suffering of others.
GLORIA:
The post-presidential impact of your life has been tremendous. How has your Christian sense of stewardship affected the use of your high profile, as well as the power that comes from having a high-profile job like the White House— how has your Christian sense of stewardship impacted the choices that you've made since you've been President?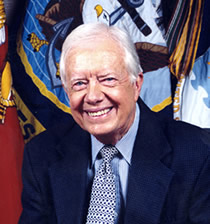 PRES. CARTER:
Well, one of the things that I did in the White House that was quite different from my predecessors and successors, was to maintain peace, because we worship the Prince of Peace. Although we had many challenges from other countries with hostages in Iran and the Cold War and more, I was able to avoid any sort of military conflict while I was in the White House. So one of the principles that the Carter Center set since I left the White House was to promote peace. We reach out to people, and sometimes we negotiate directly to end wars or to prevent wars. Peace is an important goal.
But 80 percent of our budget at the Carter Center is spent on health care — dealing with diseases that no longer exist in the rich world, but affect hundreds of millions of people for instance, in Africa. For example, one disease is onchocerciasis, or river blindness. The Carter Center treated 11.7 million people last year in Africa, so they won't ever go blind with this disease. Those are the kinds of things that we do, and it's not a sacrifice. It's just an opportunity for us to live an adventurous, unpredictable and very gratifying life.
GLORIA:
You grew up in Plains, Ga., or spent a lot of your life there, in a local church, teaching a Sunday school class. How has your regular life in a small town continued to inform your understanding of world affairs and impacted your decisions in the highest office in the land since you've left it?
PRES. CARTER:
Well, in microcosm, Plains, which has 630 people, represents pretty much the relationships of people around the world. About 60 percent of our citizens are African-American. We live in very close harmony. When I was a boy I lived on a farm, and I didn't have any white neighbors. All my neighbors were African-American, so I grew up in a black culture, you might say, and I've seen the ravages in white and black communities of segregation or superiority of one particular type of people over another kind of people. Plains is also a deeply religious kind of community. We have only 600 people, so we have 11 churches and each church has to be pretty small. In our own church in Maranatha, we have about 30 members who come every Sunday, and sometimes we have hundreds of visitors. We've had as many as 850 visitors in our little tiny church. Last Sunday, we had about 300 visitors. They are about 50 percent Baptist, and the rest of them are the Protestants, Catholics, Jews, Muslims, Hindus and Buddhists who come to hear a former President teach a religious sermon or a religious lesson. I've done this now just in Maranatha Baptist Church over 680 times; I keep a record in my computer. I also taught, by the way, when I was President; I taught about 15 times at a nearby First Baptist Church in Washington, without telling anyone that I was going to teach. This has been an integral part of my life. So Plains, Ga., doesn't restrict my understanding of the rest of the world. It kind of gives me an avenue to reach out, while at the same time maintaining a stable life.
GLORIA:
You have been very verbal about racial discrimination and about trying to promote reconciliation between the races. How have your Southern roots maybe been an impetus for you to be a peacemaker there?
PRES. CARTER:
One of the things we've done for the last three years is to have what we call a New Baptist Covenant. As you may or may not know, in the early days of our nation— in the early 1800s, for instance—there was a triannual convention around Philadelphia that included all Baptists. When the Southern Baptist Convention came into existence, they separated themselves from the black Baptists in 1845. So lately, a small group of Baptists and I have made an effort at reconciliation by combining ourselves together. Three years ago, in Atlanta, we had a New Baptist Covenant meeting. We had about 15,000 people come, about half of whom were black and half white. Then this past November we had a similar thing, primarily on media—using television and websites to communicate with other people. So we will continue this; that's one of the things that has been available to me and to some of the other leaders of the four major Baptist conventions who are black, and to other Christians of all races reaching out also to Hispanics and Asians and Native Americans in our country who have been excluded from the basic white Baptist organizations that we have known.
GLORIA:
I'm sure it must make you sad that our basic Christian denominations have not provided as much leadership as maybe they should have in that arena.
PRES. CARTER:
Well, it does, but I see in other continents a rapidly growing Christian faith. If you go to South America, Africa, Asia, South Korea and China, the Christian faith is exploding in its impact in the population. Although I think you might say in America, Christianity is kind of dormant, not growing or decreasing. In Europe, it's decreasing. On the other hand, the fastest growing Christian nation on earth is China, where freedom of religion and Bibles were permitted after our normalized relations with China in 1979. If you go to religious services in South America, like in Nicaragua, or if you go to religious services in Ghana, Africa, there's a vibrancy and an explosive emotional impact that we don't see anymore in America. I think we need to look at the global situation to see that Christianity is really vibrant and growing and is becoming a more important element in people's lives.
GLORIA:
Do you think that our being reconcilers will help to fuel a sort of revival in the American church?
PRES. CARTER:
I hope so. I don't want to be too naïve about it. It's a difficult thing. Now we are making plans—we have a meeting every three years—and I hope three years from now, maybe with younger leadership, we'll be able to have an even more effective impact on harmony and cooperation, not only with Baptists, but all Christians, because one of the things that has debilitated or handicapped the Christian church has been the divisiveness among us. I talk about that in many of my Sunday school lessons as shared in the new book, and that was one of the main things that Paul warned the early Christian churches against—division. He pointed out that there's no difference between male and female. There's no difference between slaves and masters. There's no difference between Jews and Greeks when we accept Christ as our Savior. We are equal in the eyes of God.
GLORIA:
You have a devotional that struck me particularly — the one for June 5th — about extreme fundamentalists across the world. You mentioned the hostages in Iran and that whole situation — but also the extremes of fundamentalists in general. Would you comment on what you see to be a fundamentalist? You gave these three words, as words that characterize fundamentalism: rigidity, domination and exclusion.
PRES. CARTER:
I think all three of those words are inimical or contrary to basic tenets of our Christian faith, a basic example that Jesus Christ set for us, that is not to be superior to anyone else, to be flexible in your accommodation of people who are different from you, to be willing to constantly stretch our hearts and stretch our minds to encompass more people with loving care and reconciliation, forgiving those who might have hurt us. When we try to make Christianity a narrowly defined, rigid concept that only applies to a superior people with the exclusion of others, I think that is inherently contrary to the teachings of Christ. In my Sunday school class I say what I really believe, and sometimes what I say is not completely compatible with everybody who comes to hear me teach. We have a wide range of different beliefs in there, but I always say what I think and I try to explain why. But the main thing I try to do in every Sunday school Bible lesson is to relate modern-day events and modern-day pressures to the Bible lessons from 2,000 or 4,000 years ago. I think it's very important for any religious faith to connect with daily experience; what we're going through right now, either personally or in our nation's development, or in political affairs or in global tragedies must be connected to what the Bible teaches us to do in cases like we are now experiencing.
GLORIA:
What has been your biggest challenge as a person of deep faith and as a believer in Jesus Christ and what He taught; what has been your biggest challenge in public life?
PRES. CARTER:
I think the challenge for everybody is to correlate our faith with our daily existence, and you mentioned about the political life. The biggest challenge I have is two-fold: One, we worship the Prince of Peace, and I was determined as President not to go to war if I could possibly not do it, and at the same time protect our nation's interests, and I was able to do that. There was one incompatibility between my faith and my duties as President, and that was to uphold the Supreme Court ruling on Roe v. Wade. I tried to do everything I could to minimize the need for abortion by making adoptions easier, and by giving women and children some care. In fact, a program that I initiated was the Women, Infants and Children Program, and that guaranteed from the government some care for women who had children and might be poverty-stricken. The number one cause of abortions around the world is the belief among pregnant women that they and their kids will not be taken care of when the baby is born. So abortion was a problem for me, but to maintain peace was the biggest challenge, and I was able to do that.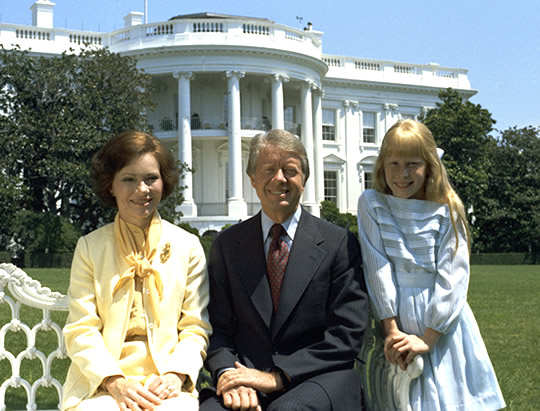 [President Jimmy Carter with his wife Rosalynn and daughter Amy — 1977]
GLORIA:
Thank you so much for talking to me about your book and your life. It's been a delight and your devotional book is not only really inspirational, it's biblically solid. I'm really pleased and will enjoy giving this to people.
PRES. CARTER:
Well, I've enjoyed talking to you too! Thank you very much.