As a member of both the Country Music Hall of Fame and the Gospel Music Hall of Fame, nobody would blame
Jimmy Fortune
if he just decided to rest on his laurels and coast the rest of his career. However, that's just not in his nature, as evidenced by his new CD/DVD aptly titled
Hits and Hymns
.
Working for the first time with producer Ben Isaacs, Fortune has crafted a collection that features such classic hymns as "How Great Thou Art," "Rock of Ages" and "Precious Memories" alongside some the most memorable hits during his tenure with the legendary Statler Brothers, including "More Than a Name on a Wall," "Elizabeth" and "Too Much on My Heart." The album also features a new song, "If I Was God."
"I was touring a lot, Ben was touring a lot," Fortune says of scheduling time to work on the record. "We talked about the songs, and then we got together. He'd listen to me playing them on my guitar and all that time he was forming a feel of what he wanted it to be. I really do feel like he's an angel. You see him on stage and hear his talent, but when you get to know him, it's even deeper than that. He's brilliant. He said, 'Jimmy, I'm just taking your talent and putting it out there in the light for people to see it and feel it.' And that's what he did. All I had to do is show up and sing — he did the rest."
Sitting in a studio on Music Row talking about the album, Fortune can't seem to stop smiling. It's obvious this is a project near and dear to his heart. It began with the selection of some of his favorite songs, and it got even better when Isaacs invited some of Fortune's favorite folks to sing on them. "After I'd laid my track and done my vocal part, Ben would say, 'I've got a surprise for you,' and he'd show up and have the Oaks singing on something or he'd have Vince [Gill] and Sonya [Isaacs] singing on 'Amazing Grace' and the Whites singing on 'I Believe.' He'd always surprise me with a little something and I'd be blown away. I couldn't believe it, but that's kind of the way all of that happened. I still have to pinch myself when I sit back and listen to it."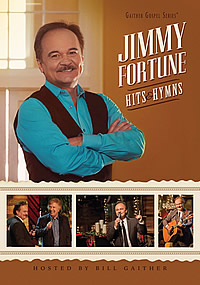 Among the many special guests, the Gaither Vocal Band joins Fortune on "Just a Closer Walk with Thee." Ben and sister Sonya add harmonies to "Elizabeth." Dailey & Vincent sing on "In the Sweet By and By" and the Oak Ridge Boys can be heard on "Life's Railway to Heaven." "The Oak Ridge Boys are a big part of a lot of my career because when the Statler Brothers retired, they took me out on the road helping me get my feet wet opening some shows for them," recalls Fortune, who joined the Statlers in 1982, replacing ailing original member Lew DeWitt. Fortune wrote many of the Statlers' hits including "Elizabeth," "More Than a Name on a Wall" and "Too Much on My Heart."
When the Statlers retired in 2002, Fortune moved from Virginia to Nashville and embarked on a solo career. "I felt like what I had in my heart, I still wanted it to live on and to always be an advocate for the Statler Brothers, somebody who would keep their name out there and always honor them because of what they had done for me," Fortune says. "They did so much for an old country boy from Virginia that never had nothing and probably would have never had nothing if it hadn't been for the Statler Brothers. I feel like what I'm doing now is not only for me, it's for them. It's a tribute to them. This is just a seed that fell from that and is continuing on. I'm just thankful to be here and to do what I do and to make a living at it."
Fortune says after the Statlers retired he was often asked why he didn't put together another quartet. "I thought about it, but I didn't think about it too long because I said, 'How are you ever going to top that? You can't,'" he says shaking his head. "I took their advice on a lot of things. Don said years ago, 'Jimmy, when you go out there, you can't be anybody else but yourself. If you be yourself, they are going to accept you quicker for that than if you try to be somebody else or do something else that somebody's already done.'"
Fortune has continued to tour as a solo artist and write songs, including the new tune on the album, "If I Was God," which he wrote with Tom Botkin and Jon Henderson. "I was on my way to co-write one morning and I always want to have a title to work with before I go in, so I just asked God, 'What am I going to write today?' Then it just hit me. 'If I Was God,'" recalls Fortune. "He just literally threw it into my brain. I was like, 'No I can't write that! I don't want to write "If I Was God." What are you talking about?' Then immediately right behind that came, 'No, it's a good thing you're not.' And I said, 'Oh, OK. I think we can write that.' We all thought of situations where we could have done something and how many people have thought before, 'Well, if I was God, I wouldn't have done that.' Well, isn't it a good thing we're not because man doesn't have that kind of understanding?"
In addition to his country hits, Fortune relished the opportunity to revive some of his favorite hymns. Raised in a Christian home, Fortune was baptized when he was 9, but says years later when his marriage was unraveling and his father was dying, God truly changed him forever. "I was separated from my wife and I was trying to figure out how to put it all back together, but it was so broken that I couldn't put it back together. Then I got a call that my dad was dying of cancer," he says, recalling that time in April 1993. "I was in a hotel in Arkansas and I looked over and saw this Gideon Bible sitting on the nightstand. It was open and I grabbed that thing like it was a drink of water, like I was thirsty. And I guess I really was. My spirit was thirsty and it was like I was dying in the desert and I grabbed that Bible … I felt like Jesus was next to me on that bed and saying, 'This is my word and how I speak to you, and I'm here. If you want me to come into your heart, let me into all those places. You let me into the living room, but you won't let me back into the other parts of your heart and I need to be there to really clean it out.' So I cried and talked to Him. It was a journey set in place at that moment that started changing my life.
"It's been a long journey, but I've seen God reveal Himself in so many ways, even up to this point right here with Bill Gaither and Ben Isaacs," Fortune continues. "When I went on my own in 2002, I promised God: 'Whatever I do in my music, it will be to honor you. It will be something positive and will be something to help other people and I won't do drinking songs or cheating songs.' I made Him that promise and He said, 'Well you do that and you watch what happens. There may be times when you are playing to 10 people. There's going to be times when you are playing to 10,000 people, but just keep doing what I ask you to do and honor me in your music and I will keep my promises.' And He's more than kept His promises."
Fans who enjoy the
Hits & Hymns
album will have a chance to hear Fortune discuss his life and music in detail on the companion DVD recorded at Gaither Studios in Indiana. It will air as part of a TV special on PBS, DirecTV, AT&T U-verse, GaitherTV, TBN, RFD, Family- Net, CTN, GMC, GMTN, Guardian, Liberty, TCT and TLN. "I'm really excited about it. I found myself sitting and looking at it like I was an outsider, like I was somebody else looking at it, and I found myself with a smile on my face," Fortune says of the DVD. "I don't like to look at myself on TV. I hate to even hear myself talk. But I found myself sitting there smiling. I hope if I'm smiling, maybe everybody else will smile and get something out of it too. I told Ben, 'This is probably the pinnacle of anything that Jimmy Fortune has ever done.' I'm just a grateful and thankful person that it's all happened."