Joey Feek
's final days have been bathed in the love of her family, friends and fans.
The country singer and Gaither Homecoming regular, who recently turned 40, was receiving chemotherapy and radiation for Stage IV cervical cancer. In October,
she stopped treatment
after doctors told her it was not slowing the growth of the disease. She went home, and has been spending time with many different family members, including her husband Rory, their baby daughter Indiana, and Joey's adult stepdaughters, Heidi and Hopie.
On Tuesday, November 3, with her hair falling out from the chemo, she asked Rory to shave her head.
He reports, "When it was done, and what was left of her pretty brown hair laid in clumps on the hardwood floor… we all told her that she was beautiful. But I don't think she believed us."
The next day, Rory says, "something strange happened… her best friend Julie's hair fell off. And then last night, the same thing happened to all three of Joey's sisters. And then a few minutes later, her daddy Jack's hair fell off… Even her little eight-year-old niece Alyssa's hair fell off. And all of a sudden, Joey didn't look different than the people around her anymore. And a big beautiful smile came across her face and everyone else's too."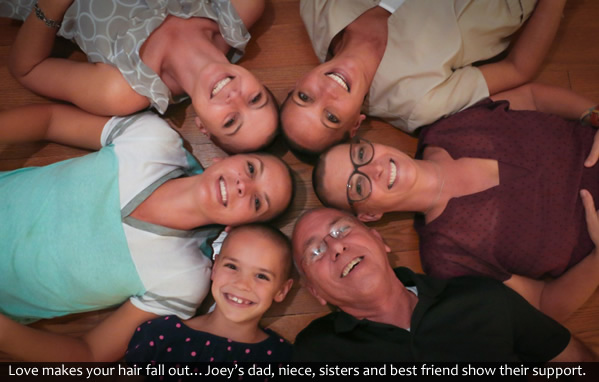 On Thursday, November 5, thousands across the nation held a prayer vigil and filled her Facebook page with messages of hope. On Friday, Joey Feek was rushed to a hospital in Muncie, Indiana, to get some relief from pain caused by the cancer she has been battling.
"I spent the night in the hospital with her last night. Today we are planning to bring her home," wrote Rory on Monday morning, November 9. "The last couple of mornings, I've brought Indiana up here to spend time with her mama. Both of their eyes light up the moment they see each other. It's been beautiful.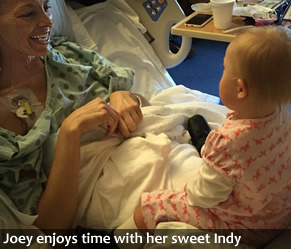 "Yesterday I sat her down in front of her mama and they smiled and played and loved each other the way that only mamas and their little ones can. Afterwards, when Indy got sleepy, Joey held her and sang 'In the Garden' and other hymns as she softly stroked her silky-blonde hair. Perfect love filled that hospital room as we all held our breath and wiped our eyes."
Joey will continue to receive hospice care at home.
"Joey is at peace with where she is and where she's going," says Rory. "So am I. An answer to prayer."
For more about their story, visit Rory's blog,
thislifeilive.com
.
If the link does not work, please try again later. Due to the volume of visitors to the blog, it has been overloaded at times.