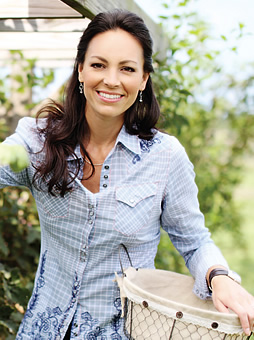 After a painful nine-month battle with Stage IV cancer, Joey Martin Feek met her Savior on Friday, March 4, 2016, surrounded by family and close friends in her native hometown of Alexandria, Indiana. Per Joey's wishes, a private service took place on Joey and Rory's farm in Tennessee and she was laid to rest on their property.
Though she was just 40 years old when she left us, her impact was eternal. Joey's gentle heart, beautiful voice and love for Jesus touched more lives than she ever could have imagined. And because she was so loved, Joey's hometown honored her at a public memorial service on Sunday, March 13. The service was hosted by Bill Gaither and held in Alexandria- Monroe High School's gymnasium, where Joey played high-school sports. More than a thousand friends, neighbors and fans gathered to remember her well-lived life. Moving tributes by her high-school coach, pastor, family members, friends and husband, Rory, told the story of a woman who was strong, yet gentle; talented, yet humble; hardworking, yet never too busy to be kind.
The following tributes, shared at the public memorial service by Gloria Gaither and Rory Feek, and Rory's words from the private service held at their farm, aptly summarize the gift that is Joey's legacy.

She would love everything about this.

As a lot of you know, this barn was built as a shop to hold a couple of old cars and boats that I could tinker on. Not because we needed it, but because my wife loved me. And she believed in me.

NSAI [Nashville Songwriters Association International] says "it all begins with the song" and they're right. Our life together began at the Bluebird Cafe with me singing and her listening. She said God told her we were supposed to be together. He didn't tell her in the Moses burning bush sort of way … she just knew. And she told me so. And all I had to do was believe her. And I did. Don't know why … I can't really explain it, but I did. And it has made all the difference.

Joey had many incredible gifts.

One was of course her beautiful voice … for years, I and her family and close friends were the only ones who heard her sing … and I used to say "it's a tragedy if the world doesn't discover how special she is and her voice is." I said "those" words. I hoped that the world might hear. And they have. Beyond her or my wildest dreams. Our career has been an unconventional one. We didn't have a TV, but wound up getting our start on a reality show. We rarely toured, and instead turned this barn into a soundstage and made our own TV show. My wife wanted to sing … but she wanted to be home, to grow her garden, sleep in our wedding bed, and make her family homecooked meals. So a man does what a man does—whatever he can do to make her happy. And I have been blessed for it. And when our career was really going good, we took it to the next level and stopped it all. To make sure that we didn't lose sight of what is most important. And we took a year off and stayed home. And had a baby. Joey's greatest fear was having a baby — and as God would have — it became the single greatest joy of her life. Indiana. Of all the things that make today hard … none make it harder than to pick our little one up from her crib, and know that Joey can never pick her up again or rock her or bathe or sing to her or watch her grow. But God somehow in His wisdom has said that it is what He thinks best. And my wife would be the first to say that I'm the perfect one for the job—because I've already raised two girls by myself. I will do my best, and I will never stop thinking of or lifting her up.

Another of Joey's gifts was her green thumb and love of life in its simplest form. It might be easier to buy it, than grow it, but it wasn't better.

But more than anything, I think my wife's greatest gift is love.

I used to say that when I pass, my only wish is that people might miss me. She never said it. She just did.

She left us better than she found us.
This farm.
My career.
This community.
This world.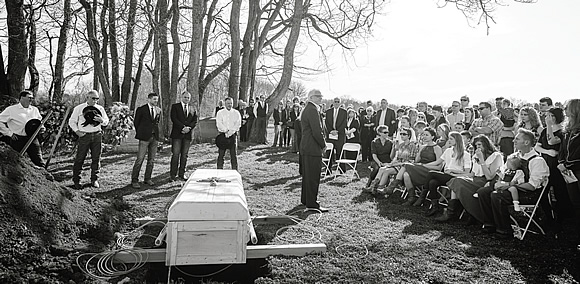 Gloria's Words
You must come with me! You must hear this child sing!" It was Katie Bracken in her thick German accent.

"I will as soon as I finish here."

"No, you must come right now and hear her!"

Mr. Wehsollek gave in and followed the elementary music teacher down the hall to where the children were rehearsing for the Christmas program. It was a kindergartner— one of the Martin kids—Mrs. Bracken wanted the principal to hear, her voice sweetly identifiable in the choir.

When Joey came home from school she had been assigned a solo on the verse of "Away in a Manger": The cattle are lowing, the poor baby wakes, but little Lord Jesus, no crying he makes…. "Sing it for me first," Joey begged her mother. "No, you can sing it fine yourself, Joey."

"No, sing it like you would sing it." So Jack got out the guitar and June sang it "like she would sing it," holding out the word "crying" to show how a baby might cry awakened in the night.

Maybe those early lessons in living the lyrics to a song, singing only songs that are true for you, and singing them "like you mean it" shaped in part the pure sincerity that became the magnetic pull of Joey's singing. From that first solo in "Away in a Manger" and later that same kindergarten year the performance of Dolly Parton's "Coat of Many Colors," to the deep passion of her final recording of "I Need Thee Every Hour," Joey lived what she sang and sang what she lived.

From the beginning she loved country, and she loved it when country wasn't cool. Like most kids who struggle to find their identities, Joey took some guff from other kids for her simple way of dressing, her cowboy boots and her love of country music.

She was taught out on the Martin farm to be responsible and to work hard. She made good grades, worked in the fields, detasseled corn in the summer, and, like her siblings, excelled in her chosen sports playing volleyball and basketball for Coach Jon Howell. She learned to budget both her money and her time, to follow through, and to have a plan before she went after a goal.

Maybe knowing she'd done her homework and counted the cost had something to do with her quiet confidence. She was never nervous when she performed. Maybe it was just living true and being real and knowing she had nothing to hide. But her open trust in God and in herself as God's child made her able to trust other people too, a rare quality in this world of ulterior motives and questionable schemes.

She loved large. She loved her siblings, her parents, her church and this little town, but her love would not stayed confined to this place. When she decided to take her dreams to Nashville, she also took her love of horses and nature and her experience in 4-H and lined up jobs working for vets in the Tennessee equestrian country to support her music habit.

One night at the Bluebird Café, where songwriters sit in a circle and take turns singing their songs, she saw the man who would become the love of her life. Together they would begin to navigate the sometimes treacherous waters of a country music career. The farm that Rory had risked a lot to buy became their home and refuge. The daughters he brought to their marriage Joey learned to love as her very own. The baby they had together became a special focus for Joey's energies and creative teaching skills.

And the land? The land would be a place for planting seeds: seeds of vegetables and fruit they would grow, harvest and preserve. There would be other seeds planted there too: the seeds of songs Rory would write about their lives, the seeds of recordings they would make in their own barn studio, the seeds of a TV show that would grow to embrace viewers in an ever-widening audience, and the seeds of a gathering of old friends and new that came to sing and experience their simple country music on their farm at a festival they would call Bibs (because of Rory's overalls) and Buckles (because of Joey's belt buckle and jeans).

But sunshine and rain seem to come together; challenge and reward are two sides of the same coin. Joey was diagnosed with cervical cancer soon after little Indiana was born and another journey began, a journey chronicled by Rory's unusual ability to "get stuff" and write this "joy and pain" dance in a beautifully transparent story that they invited us to share.

Through these epistles called This Life I Live the whole world has come to their farm and to their hearts. The seeds of two lovers and their music began to grow in the soil of our own lives, wooing us all to be more real, more forgiving, more pure in our motives. We all longed to follow Joey's example and shuck life down to the golden kernels and cast away the unnecessary accumulation and calloused facades.

Today we in this community that gave birth to this amazing soul, have come together to say not only goodbye, but "thank you." Thank you, Joey, for reminding us of the real life and faith and trust that on our best days we hope we gave to you. May the truths you insisted on leaving with us — the hymns that gave you courage and strength — sing their way back into our own souls on the days when hope seems in short supply and hidden in the mists of cynicism, and we have lost our trust in God and each other.

Thank you, Joey, for confirming in our hearts that love is stronger than hate, joy will conquer fear, and that sunshine and rain are both necessary and better than we think if rainbows are ever to appear.

Rory's Words
Two years ago my wife encouraged me to start writing a blog about our lives. We were about to take a year off and just stay home and I felt the need to document the coming months, to remember them. I didn't know why. But I do now.

Joey and I believed that God would give us a great story… not just a great story to tell, but a great story to live. And He has. It's a story filled with incredible triumphs and life-threatening valleys. A great story is not just a happy story filled with only joy. That's not a story, not really. You must have low points to understand and appreciate the high points that you get to experience in life. I'm a songwriter. I've spent the last 20 years writing what I believed were great stories. Lessons about life and death and about love. I wrote songs about a magical love, but I never knew it was real. That it existed. But it does. I'm here to tell you that it is possible to experience the kind of love that you see in movies. All you have to do is give it first. And that's not an easy thing to do. I had gone through my life and never seen such a thing until I met Joey. But when she came into my life, I saw what love looks like.

It is patient. It is kind. It doesn't envy or boast. It isn't proud and doesn't dishonor others. It is not self-seeking or easily angered and it keeps no record of wrongs. Love does not delight in evil but rejoices with the truth. It always protects, always trusts, always hopes, always perseveres. Love never fails.

Never. As the great screenwriting teacher Robert McKee says, "to the end of the line."

Joey showed me that love. Every day. A thousand times a day in a million little ways. And when you see that kind of love and get to experience it … and you know you don't deserve it, something bigger than you takes over inside you … and you start to give it. It has been my honor to give back some of the love to Joey that she has given to me and to so many others. I am just an ordinary man that has been given extraordinary love by this woman. And I am forever changed by it.

Joey didn't just somehow learn the secret recipe for love … she sought it out. Not in others or self-help books or marriage conferences, but in our Lord. In His example and His words. She got down on her knees and she asked Him to show her how to love her husband and stepchildren greatly, and when He told her how to love like He loves us, she did her best to do it. To the end of the line.

If you take nothing else from this life she's lived, take that. Love. Love your husband. Love your wife, your children and the neighbor you can't stand. If you want to feel that kind of love … give it first. That's how you change the world.

I stood over her bedside many times and told her that I would give anything to take her place. That it should be me — not her. And she only looked into my eyes and smiled and wiped the tears from my cheek and said, "If it was you, there would be no one to write about it. I will live it. And you will share it." And so she did. And I have.

In her last days I asked Joey if she worried about anything after she's gone … about us, or Indy or anything. Again, she just tenderly smiled and said, "No, hon. God's given us a great story. And I have every reason to believe that He will continue doing the same."

Friends, that is what you call faith. And a trust in something bigger than yourself. I don't claim to understand it all. I just know it works. It's alive and was in her and she passed it on to me and I will do my best to pass it on to others.

I'd like to thank this little town of Alexandria, Indiana. Joey's town. The place where her family settled generations ago and when it came her time to take their place … it's the place where she took her first breath. And 40 short years later … where she took her last. Thank you for loving her. For loving me.

Thank you, Bill and Gloria. Mom and Dad. Jody, Julie and Jessie. Thank you to all of you in this town and around the world who have followed our journey and shed a million tears and prayed for someone that you've never even met. Joey felt your love and here in this moment … we feel it now. We will take it with us and walk on. Me, and our little Indiana and Heidi and Hopie and all of Joey's family.

And lastly, I want to thank my beautiful bride Joey. For choosing me. And giving me the greatest gift I've ever had … your love.