It was a sunny October day in Tennessee when Bill Gaither visited Joey and Rory Feek at their farm this fall. Joey had just completed chemotherapy treatments and they were filming footage to be used for a hymns project she had always wanted to record.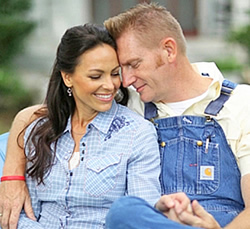 In fact, so great was Joey's desire to record this collection of hymns that she recorded the vocals for the album between chemo treatments in Atlanta. Using a makeshift recording studio Rory set up in their hotel room, Joey summoned the strength to capture some songs that had become more and more important to her and Rory over the years.
Just a few days after Bill's visit in October, Joey and Rory received the disappointing news that the months of aggressive chemotherapy Joey had just endured was not effective in keeping the cancer at bay. They made the heartbreaking decision to stop fighting it and let Joey live out her remaining days without any more harsh treatments.
She soaked up every moment possible with her precious 1-year-old and soon decided to go to the farm where she grew up in Alexandria, Indiana, to spend time with her family and lifelong friends. She had the conversations no one ever wants to have with loved ones — daughters, sisters, parents, friends, and of course this faithful man who has stood by her and told their story with such grace through his blog.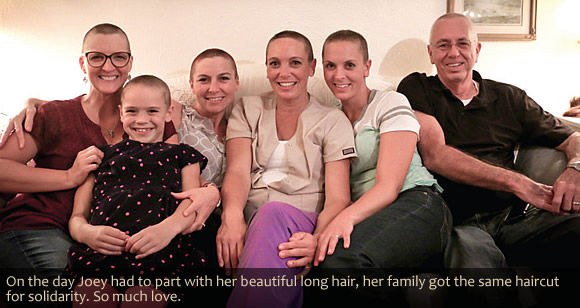 On Thursday evening, November 5, an epic worldwide prayer vigil took place for Joey and Rory. Starting with hundreds of friends and family who lined the streets of her hometown and spreading to listeners, readers and fans from the ends of the earth, countless prayers were lifted up for Joey.
There were prayers for healing. But there was another prayer Joey specifically asked that we pray. She asked for peace with whatever God decided. The world joined her and stormed Heaven on her behalf.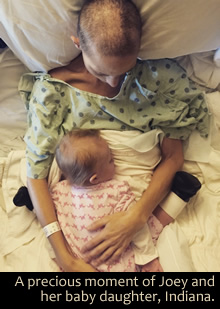 That very night, after thousands of prayers had been lifted for Joey, she was rushed to the hospital because her pain had become unmanageable. Hospice was called in a few days later. It was clear that God had not chosen to take away Joey's cancer. It is so hard to accept this reality, even for those who fully trust in God's goodness and sovereignty. We can all think of a thousand good reasons why she should be able to grow old, live out more years with this family that loves her so much, and keep singing her beautiful songs. Yet Joey didn't need a miraculous healing to know that God is alive and well, and that He can do miraculous things through her life, her legacy, and even through this battle.
As this issue of
Homecoming
goes to print, Joey is still hanging on. Weakened, battling the pain, savoring every waking moment with those she loves, yet unafraid to meet her Savior. All of us who love her know that this beautiful life she lives is about so much more than the here and now. So in spite of our sadness, we celebrate the eternal things Joey exemplifies…
The love she and Rory have modeled for couples who are trying to get this marriage thing right.
Her trust in God's plan for her life, even when she didn't understand.
The music she has created that will forever point us, and future generations, toward all that is important and lasting in this world.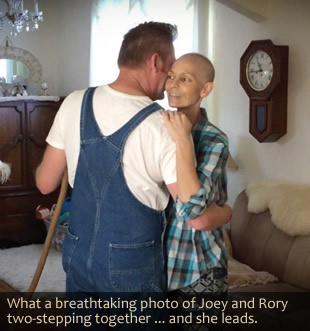 The way she has invested her time … loving people well and living by the principles she held dear.
The countless ways she has made this world more beautiful by simply being herself, caring for her garden, and watching over her animals.
That gentle lion heart that has shown millions of onlookers what trusting Jesus looks like on good days … and on bad days.
The love story of Joey and Rory is ongoing because it is rooted in something — Someone — so much bigger than they are. This kind of love lives on and on. And these hymns she was intent on recording are a testament of eternal love that cancer could never destroy.
Only a loving, sovereign, miracle-working God could find a way to redeem the pain she has endured and the loss her family already feels. Yet already, millions of onlookers are being drawn to this eternal love story Joey and Rory are living. Joey's dad surrendered his life to Jesus recently. Knowing she will spend eternity with her dad is another beautiful outcome from this journey through pain.
The photos and moments Rory has captured on his blog (some of which we share here in this article) have offered a breathtakingly beautiful window into their days, documenting both grief and hope intermingled.
Through national media coverage of their story and through their beautiful music, millions of individuals across the world are getting a glimpse of the kind of hope that no human can generate. Only our Eternal God. He is the very hope that Joey spent every ounce of her energy communicating.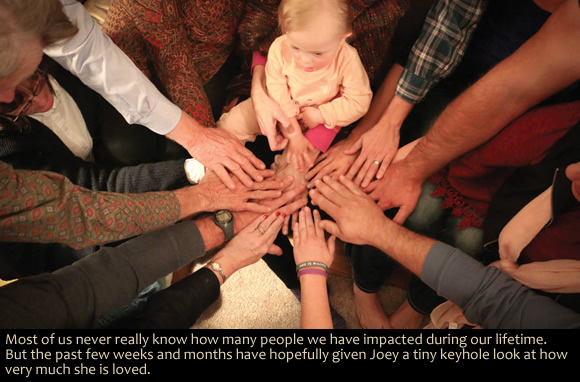 Among the important things she leaves us with on this beautiful recording of hymns, here are a few of the gems she bravely sings … and even more bravely lives out.
I need thee ev'ry hour,
In joy or pain.
Come quickly and abide,
Or life is vain…

All to Jesus I surrender;
Humbly at His feet I bow,
Worldly pleasures all forsaken;
Take me, Jesus, take me now…

And when before the throne
I stand in Him complete,
I'll lay my trophies down,
All down at Jesus' feet...

Precious Lord, take my hand
Lead me on, let me stand
I'm tired, I'm weak, I'm lone
Through the storm, through the night
Lead me on to the light
Take my hand precious Lord,
lead me home...

So I'll cherish the old rugged cross,
Till my trophies at last I lay down;
I will cling to the old rugged cross,
And exchange it someday for a crown.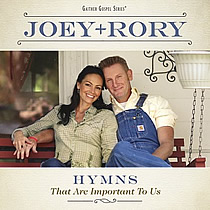 As we look into 2016, we have no idea what the year will hold. But if Joey and Rory have taught us anything, they have shown us that beauty and pain do coexist, that faith and questions are not mutually exclusive, and that firsts and lasts each hold incredible potential for God's wonder-working power.