Homecoming artists
Joey and Rory Feek
have celebrated several milestones in the last few days. In addition to receiving a Grammy nomination this year, the country duo's current release,
Hymns That Are Important to Us
, has taken the No. 1 slot on
Billboard
's Top Country Albums and Top Christian Albums chart. It is the first time Joey + Rory have found themselves in the No. 1 spot on both charts.
The album also reached No. 4 on
Billboard
's 200 chart. This marks the couple's first Top 10 album on the Billboard 200 chart with 70,000 units sold, also giving them their career best sales week. Since Joey is in the later stages of terminal cancer and this appears to be the last album they will record together, this is indeed a blessing for them.
Rory reported on
his blog
, "Our manager Aaron called us yesterday morning and told us that lots of folks have been buying our new
Hymns
album and that stores across the country have had a hard time keeping them in stock since they went on sale earlier this week ... When we hung up, Joey and I sat there holding hands … knowing that in time those sales could turn into some income for our family and that could really help, now that there are no more concerts or income from shows. We talked about what a blessing it was, and then she looked at me very seriously and said, 'I need you to do something for me.' I told her I would be glad to. Then with all the sincerity in the world, she said, 'I need you to be generous… God has blessed us so much. We need to bless others.' God, I love that woman."
And the family celebrated
another
very special milestone last week with the 2nd birthday of their daughter, little Indiana. Joey was overcome with joy as the day finally arrived, says Rory, since it was an answer to prayer. With an uncertain future, Joey had not been sure she would live to see it.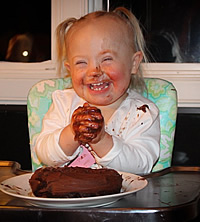 "Joey barely slept the night before Indiana's birthday. She was too excited. Jody said she didn't fall asleep until about 5 a.m., around the time that Indy and I woke up. When Joey woke up, a little before noon, I came in to see her … and tears were flowing down her face. I put my arms around her and asked, 'Why are you crying, honey?'
"'We made it…' she softly answered. 'We made it.'"
Rory says that the day was, for the most part, full of joy and more joy. "All day long (and for days before that) the mailman and the UPS and FedEx drivers kept knocking on the door — delivering more and more presents from strangers, family and friends … to Indiana in Indiana."
While only God knows how much time Joey has left to spend with her family, she and Rory are doing all that they can to appreciate the moments they have. He shares, "Please don't think that our life is all sappy tears and Hallmark-movie moments, like something out of a Nicholas Sparks novel, because it's not. There is lots of real pain and hurt and frustration and fun and laughter … and most times, we just pinch ourselves because we feel so darn lucky and blessed. But the moments that seem to stand out — the ones that matter and hurt the most, of course — have tears in them. And I can't help but share a few of the most powerful moments as they happen. To capture them. To remember."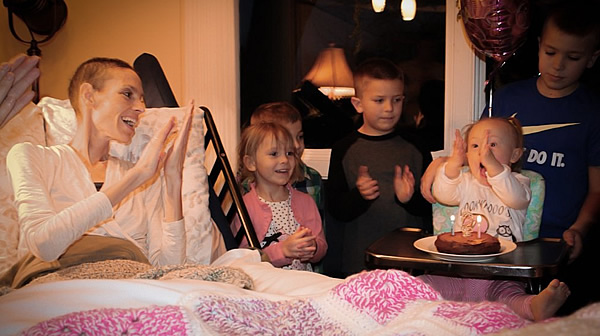 For many more photos and complete updates, please visit Rory's blog,
thislifeilive.com
.