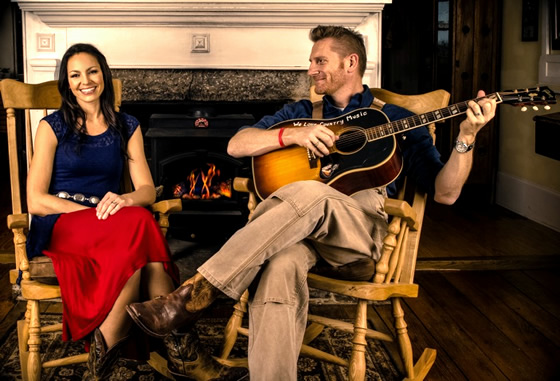 The music business can often feel like a fast-moving train and though the scenery might be nice, it goes by in a blur. Joey and Rory have found a way to switch tracks, change pace and enjoy the ride. Instead of spending most of their time on the road, the couple found a way to invite fans from all over the world to their Tennessee home with a series of live concerts, including their annual Bib & Buckle Festival, and "The Joey & Rory Show" on RFD-TV. They've also made time to fulfill their dream of recording a gospel album, aptly titled
Inspired
.
"We committed to not travel as much," Joey explains. "We've been out doing tons of radio tours and playing a lot of shows, festivals, fairs and events. We've done it all. We've said 'yes' to everything in the beginning because we really wanted to know what it was all like. We wanted to put our best foot forward and try our hardest to really make a go in this journey, in this music career, and so after years of doing it, we found that we know what we like to do and we know what we don't enjoy doing."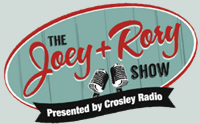 Joey and Rory like making music and performing live, but they also enjoy being home. With the TV show, they have the ability to reach their fans and spend more time on the farm, where Joey can indulge her passion for cooking and tending to her chickens. The show is filmed in the barn on their Pottsville, Tenn., farm — not far from Marcy Jo's Mealhouse, a restaurant Joey runs with Rory's sister Marcy.
It's a busy Tuesday morning at Marcy Jo's, and Joey frequently jumps up to pour coffee for diners and carry dishes back to the kitchen while she and Rory take time to chat about their new CD/DVD release,
Inspired
, a partnership with Gaither Music Group. "Church was always important to me as a kid and I loved the old hymns," says Joey, who grew up in Alexandria, Indiana. "I remember seeing my mom singing when I was a little girl. It was really touching and I've always wanted to do an inspirational album."
"My wife's voice is so special," Rory says. "I've never heard Joey's voice sound any better. She sounds really spectacular on this."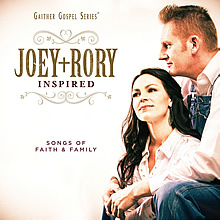 Inspired
features a blend of beloved classics such as "Amazing Grace," "In the Garden" and "Are You Washed in the Blood?" alongside originals such as "I See Him," which the couple penned with daughter Heidi, and "Hammerin' Nails," a tune Rory wrote solo. "Gotta Go Back" is a song Rory co-wrote with country traditionalist Josh Turner, also a devoted believer.
"It has a wonderful message," Rory says of the song. "We live on this farm and we find ourselves every day going back — not just going back home, but going back in time. There's so much value in the way that people lived 20 or 50 or 100 years ago. We're always doing that on a personal level, so that song always hits home to us."
The couple, who won the Academy of Country Music's Top New Duo Award in 2010, have always written and recorded songs that reflect their faith in God, love for country living and appreciation for a simpler time. "In the past, we have done at least one song, sometimes more than one on every album, that shares our faith," says Rory. "Having the chance to fill an album full of those is really what makes this exciting for us because that's the most important thing in our life and marriage."
Joey and Rory have been married for 11 years, and it all started when she saw him perform at a songwriter's night at Nashville's famed Bluebird Cafe. One of Nashville's most successful country songwriters, Rory has had songs recorded by Kenny Chesney, the Oak Ridge Boys, Clay Walker, Collin Raye, Blake Shelton and newcomer Easton Corbin. Joey was immediately impressed, but didn't strike up a conversation because she mistakenly thought he was married. Time passed and she landed a record deal and was looking for songs to record when she connected with Rory again. At the time, she was dating someone, but it didn't work out. When that relationship ended, she and Rory began dating.
"We started dating and within two months we were engaged, and two months later we were married," Joey recalls with a smile. "It was almost like it was a God-ordained thing when we came together. I just knew I was supposed to marry Rory. I just knew I was supposed to be with him. God put that together. He knew exactly what He was doing when He said, 'You go for him. You're going to marry him and I'm going to make all your dreams come true. Just have faith.'"
Joey and Rory have seen their dreams come true together. Their first break as a duo came when they placed third on the CMT talent show "Can You Duet?" in 2008. Soon after, they signed with Sugar Hill/ Vanguard Records, releasing their debut album,
Life of a Song
. Since then they've released three additional projects:
Album Number Two
in 2010,
A Farmhouse Christmas
in 2011 and 2012's
His and Hers
, which yielded the poignant ballad "When I'm Gone."
"He complements me and I complement him," Joey says of their partnership. "The times when I feel I can't do anymore or push anymore, he sees that and just picks up the load. And when I know he can't do another thing or really just needs to eat a good meal, I'll say, 'Hey, I'm going to cook for you and we're going to get through this.' We just complement one another really well. He's my biggest champion and I owe him so much."
The busy couple has a lot on their plate. In addition to their TV series, Joey and Rory have plans to launch a new radio show with Nashville's legendary WSM. They hosted their fifth annual Bib & Buckle Festival and will continue with their Farmhouse Concert series throughout the summer. They also have an endorsement deal with Kraft Foods, and have written a special song to be used for the Fighting Hunger Together Initiative. There are also plans for Kraft to shoot cooking demos at Marcy Jo's Mealhouse.
The restaurant features mouth-watering biscuits and incredible cinnamon rolls, and includes a charming gift shop upstairs in the loft. People come from all over the country for the good food and a chance to get a picture taken with Joey and Rory.
"They'll drive 500 miles to have biscuits and gravy because they've seen a segment on the TV show," says Rory. "We're trying to create a destination that people can come to. They can come to the restaurant and they can come to the shows. We can just walk across our driveway and share our music with people and that really works for us. You just move forward and keep doing what feels right and God has led us to a place that we never dreamed of. It is something that it doesn't seem like anyone else has done, but it feels right."
To cut back on their touring schedule and launch a TV show out of their barn might seem risky to most people, but Joey and Rory embraced the change and that leap of faith has been rewarded. "That change led to all the good things that we are doing now," Rory says. "If we hadn't done that, we wouldn't get to experience what we're experiencing today, so that encourages us for the future when there might be other changes that have to happen. We want to watch for those places that God wants to take us."
For more information, visit JoeyandRory.com