John Bowman
, husband of
the Isaacs' Becky Isaacs Bowman
, has long been known on the bluegrass music scene as a talented singer and multi-instrumentalist. He's played guitar with bluegrass legends Alison Krauss & Union Station and Doyle Lawson & Quicksilver, fiddle with J.D. Crowe & the New South, banjo and fiddle with the Isaacs and banjo, fiddle and guitar with the Boxcars.
His newest project,
Worship Him
(Crossroads), expresses both his passion for music and for his faith in God. John has recorded other albums, but this CD captures a certain sweetness and purity, since it is simply singer and guitar with no backing vocals or band. The songs move from the quick-rolling cross-picking style of "God's Not Dead," to the soothing lullaby style of "In My Father's Eyes," to the story ballad "I Love My Friends."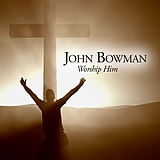 Confirmed as a minister in 1997, Bowman explains that the stripped-down format of
Worship Him
was inspired by his preaching experiences. He told
Bluegrass Today
, "When I've been preaching and singing, it was usually just me and a guitar. I've always wanted to do a record like that, so I decided to recreate on CD what I've been doing at these revivals and preaching dates. There are some new songs people haven't heard; several of them are pretty obscure, and I'll bet 90% will be new to bluegrass listeners."
Since its June release, Bowman's album debuted in the Singing News chart at number 17 and the Southern Gospel chart at number 153.
Recently, John has decided to go into full-time ministry. "Over the past year and a half, the Lord has given me unique opportunities to sing and preach all over the country. I know I have been called to do a work for God and I am ready to do it! I ask that all of you pray for the ministry. I have been blessed to have so many kind folks ask me how they can get me to their church or function. Just email me at
johnbowman10@bellsouth.net
. I am so excited at what God is doing, and I look forward to coming to your area to minister. God bless and be with you," Bowman says.
For more information on booking John Bowman to preach and sing, visit
johnrbowman.net
or e-mail johnbowman10@bellsouth.net.