JOYFUL NOISE SOUNDTRACK DEBUTS AT #1 ON BILLBOARD SOUNDTRACK CHART!
Soundtrack Features New Music Performed by Dolly Parton, Queen Latifah, Kirk Franklin, Keke Palmer, Karen Peck and Others.
NASHVILLE, Tenn. (January 18, 2012)
– WaterTower Music's soundtrack to Alcon Entertainment's and Warner Bros. Pictures'
Joyful Noise
debuts this week at #1 on
Billboard
's Soundtrack Chart, #2 on Billboard's Independent Current Albums chart, and landed a Top 20 debut on Billboard's Top Current Albums chart.
The soundtrack features performances by Grammy® Lifetime Achievement Award recipient and Oscar® nominee
Dolly Parton
; Oscar® nominee, Grammy® and Golden Globe Award winner
Queen Latifah
; BET and NAACP Award winner
Keke Palmer
; 11-time Singing News® female vocalist of the year, three-time Grammy® nominee and three-time Dove nominee
Karen Peck
; and seven-time Grammy®, 35-time Stellar, 12-time Dove, five-time NAACP, and two-time BET Music Award winner
Kirk Franklin
. Five-time Grammy®, six-time Dove, two-time Stellar Award winner
Mervyn Warren
produced and arranged the
Joyful Noise
soundtrack.
Parton, who penned three new songs for the collection, recently performed two of those songs on national TV: "From Here to the Moon and Back" on the Late Show with David Letterman, and "Not Enough," a duet with co-star Queen Latifah, on NBC's Today Show.
The third song Parton wrote, "He's Everything," is also on the soundtrack, which includes the film's stars performing renditions of memorable songs originally recorded by a wide range of artists: Chris Brown, Michael Jackson, Paul McCartney, Sly & the Family Stone, Usher, and Stevie Wonder.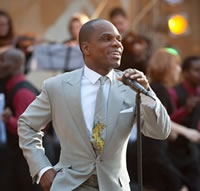 The collection also includes tracks by some of the finest acts in gospel and R&B. Grammy winner Kirk Franklin (pictured left) wrote and takes the vocal reins on his jubilant new song "In Love".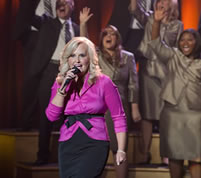 And award-winning gospel vocalist Karen Peck (pictured right) creates harmonic gold on "Mighty High."
Dolly Parton and Mervyn Warren will be featured on Sirius XM's "The Bob Edwards Show" on Friday, January 20, 2012.


ABOUT THE FILM
Oscar® nominees Queen Latifah ("Chicago," "Hairspray") and Dolly Parton ("Steel Magnolias," "Nine to Five") star in Alcon Entertainment's and Warner Bros. Pictures' "Joyful Noise," a funny and inspirational story of music, hope, love and renewal.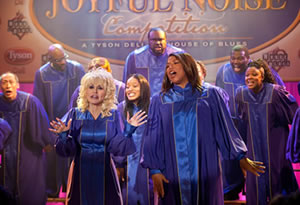 The small town of Pacashau, Georgia, has fallen on hard times, but the people are counting on the Divinity Church Choir to lift their spirits by winning the National Joyful Noise Competition. The choir has always known how to sing in harmony, but the discord between its two leading ladies now threatens to tear them apart. Their newly appointed director, Vi Rose Hill (Latifah), stubbornly wants to stick with their tried-and-true traditional style, while the fiery G.G. Sparrow (Parton) thinks tried-and-true translates to tired-and-old. Shaking things up even more is the arrival of G.G.'s rebellious grandson, Randy (Jeremy Jordan). Randy has an ear for music, but he also has an eye for Vi Rose's beautiful and talented daughter, Olivia (Keke Palmer), and the sparks between the two teenagers are causing even more friction between G.G. and Vi Rose. If these two strong-willed women can put aside their differences for the good of the people in their town, they—and their choir—may make the most joyful noise of all.
Starring with Latifah and Parton are Keke Palmer ("Akeelah and the Bee"), Courtney B. Vance ("Extraordinary Measures"), Jeremy Jordan (Broadway's "Bonnie and Clyde"), and Kris Kristofferson ("Dolphin Tale"). Rounding out the main cast are Dexter Darden, Angela Grovey, Paul Woolfolk and Jesse L. Martin.
Alcon Entertainment presents a Farrell Paura Productions/O.N.C. Entertainment Production, "Joyful Noise," being distributed by Warner Bros. Pictures, a Warner Bros. Entertainment Company. The film opened nationwide on January 13, 2012. For more info, visit
www.joyfulnoisethemovie.com