The new Pure Flix movie
Redeemed
, starring
Ted McGinley
, has just released to DVD. It's a redemptive story between a married couple with relatable pressing issues many marriages face today. It deals with a lot of the hard questions we sometimes don't talk enough about that creep on us when we're most vulnerable. How far is too far? Just what is adultery?
Paul Tyson (Ted McGinley) is a loving husband to Beth (Teri Copley), a devoted father and well-respected businessman on the brink of the biggest deal of his career. But when he meets Julia (Ana Ayora), the beautiful representative sent to manage the buy-out of Paul's company, Paul finds himself letting their relationship going further than he intended. As the pressures of a crumbling company creep in, and intense new feelings abound, wedding vows get put on the back burner and the question arises… Just what is adultery?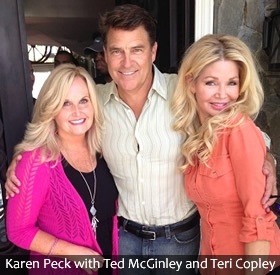 Homecoming friend
Karen Peck
co-stars as Rose, Beth's best friend, who helps her to stay strong and fight for her marriage. Karen tells us that while she never expected to be in films, she is so thankful and very much enjoying the process. And, she believes strongly in the message of
Redeemed
. "I really believe every married couple should see this movie. We really need more films like this in the world."
You can pre-order the DVD by calling Karen Peck's office (706-864-2082), by email (newriver@windstream.net) or you can purchase it at selected Christian bookstores.
The producer/director, David A.R.White, said of Karen Peck, "Working with Karen was such a pleasure, both personally and professionally. She may not have acted in many films, yet everyone could tell she was a consummate professional. Super natural and brought her southern charm to her acting. I loved working with Karen Peck. To me, she is America's Sweetheart."
Enjoy this preview of
Redeemed:


To learn more about Karen Peck, visit karenpeckandnewriver.com.